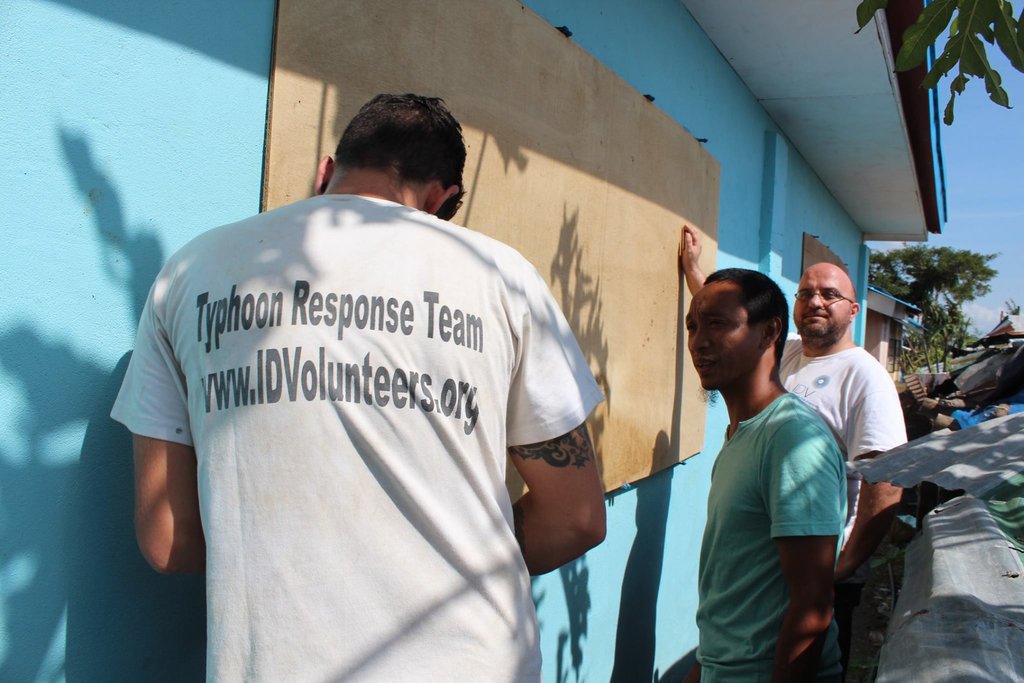 Since our last project report the Philippines marked the first anniversary of typhoon Haiyan.
A year ago last November typhoon Haiyan, known locally as "Yolanda", devastated the country. Up to 10,000 people were killed and an estimated 11 million people were affected.
For families still struggling to recover from Haiyan the approach of typhoon Ruby, less than one month after Haiyan's anniversary, was simply terrifying!
Ruby was the most powerful storm to threaten the Philippines since Haiyan and the potential for further devastation was massive.
But thanks to you, we were there to help Haiyan survivors weather this latest storm.
Before Ruby made landfall we visited our partners in Tacloban and helped with typhoon preparations. At the San Agustin school for example we boarded up classroom windows while teachers wrapped equipment in waterproof bags.
Working together, and motivated by past experiences, everyone helped try to limit Ruby's impacts.
Ruby struck on December 6, 2014, and as soon as the worst had past, we were out responding to the situation in Tacloban. Fortunately the typhoon's impacts were much less devastating than feared. Although there was damage, Tacloban avoided a direct hit and everyone's preparations had also paid off.
We learnt that many families in the area surrounding Tacloban had removed their roofing tin before the storm. This had prevented the iron sheets being lost, or becoming deadly missiles. This helped limit Ruby's damage, but now these families needed to rebuild their roofs.
Thanks to your generosity, this was something we were able to immediately help with.
While visiting our partners again after Ruby we took the opportunity to distribute over 150 Kg of new roofing nails to families on-route. For families still trying to recover from Haiyan these new nails, while simple, saved them valuable money and helped provide them with a secure roof after typhoon Ruby.
Over the next two days we were delighted to discover that, although our partners had all suffered minor damage, each of them had also weathered this latest typhoon without suffering major harm.
Of course, we still helped our partners to repair what damage there had been. At Lun Tad school for example we provided new paint and floor wax to fix water damage.
It's only because of your previous donations that we were there, both before and after this latest typhoon, to help those still recovering from typhoon Haiyan. Thanks so much for all you've already given.
There's still so much to be done to help families recover from typhoon Haiyan, so if you can, please consider donating to our continued work.
As always, if you ever have any questions about how we're using your donations, please don't hesitate to email Andy@IDVolunteers.org. I would be delighted to hear from you.