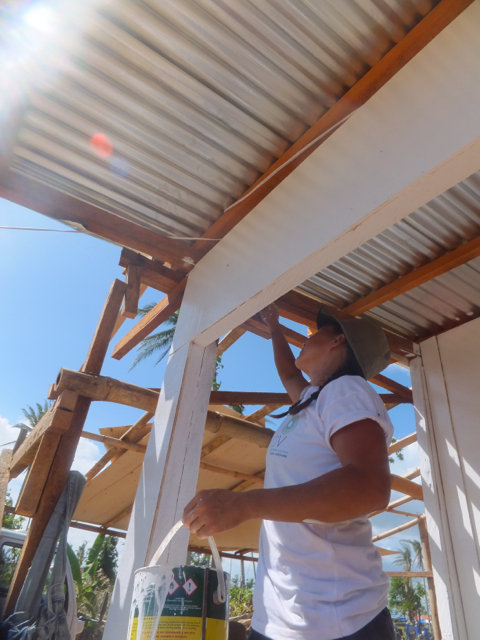 First of all, thanks so much to everyone who gave on February 12th! Your donations have inspired hope in the Philippines and allowed us to continue supporting survivors.
We'd also like to apologise for the long delay between our updates. Although Typhoon Haiyan struck over four months ago, communications are still very difficult. Our team doesn't have power much of the time, and getting information out is a challenge. We're actively seeking solutions so that we can update you more regularly, but until then we hope you'll bear with us!
Happily, difficulty in getting information to you doesn't mean the projects you've made possible aren't thriving.
In our last update we told you that we'd begun clearing debris to make way for homes. Well, since that update we're delighted to report that we've helped our Filipino partners, Gawad Kalinga (GK), build one of the first – possibly the very first – home constructed following Typhoon Haiyan's devastating impacts.
We're currently working with GK on how we can support shelter needs in Tacloban moving forward – stay tuned for updates!
We also updated you in February on our work providing school meals. Thanks to your gifts, we've now provided hundreds of meals to children who would otherwise have either not attended school or gone all day without food.
Happily, the local government and UN are now able to restart providing food in some schools. As their capacity grows, we'll work with other NGO parnters to develop children's outreach programmes including meals and support services. Once again – stay tuned!
As we provide meals, we're also piloting a new community gardening initiative to help families become more food secure. Before the storm, many families grew their own vegetables, but Haiyan washed away or contaminated most of their soil and destroyed their seeds.
Working with yet another Filipino partner, we'll bring in new soil and hold community gardening workshops. Families attending the workshops will learn more effective growing techniques, get advice on protecting gardens and learn how to use recycled material while gardening. At the end of each workshop, attendants will leave with the soil and seeds they need to restart their own gardens.
This is just a small sample of the work you've made possible in Tacloban – your gifts have also allowed us to support local livelihood initiatives, help with cleanup, work with local kids, and a great deal more.
Even better, because we always work in partnership with local groups, your donations are also allowing us to empower local leaders and build communities' capacities to help themselves.
We'd like to extend a huge thank you to each and every one of you for supporting our work. Your gifts are changing lives.
If you ever have any question about how we're using your donation, please don't hesitate to email me at Emma@IDVolunteers.org. I would love to hear from you.
One last time, thanks so much and we wish you all the best!