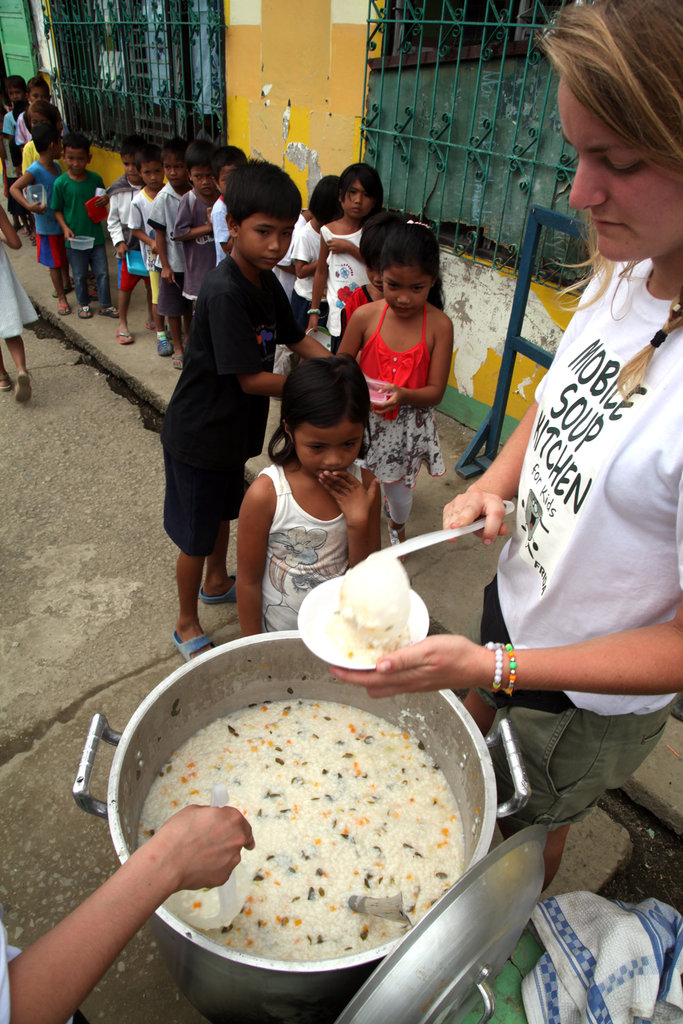 Thanks to your extraordinary generosity, our work in Tacloban continues to expand. We're continuing to meet with our Filipino partners to plan the construction of homes, programmes to get people back to work, and psychosocial support for families. As we set up these long-term projects, we're also working with our local partners to meet immediate needs.
Thanks to donations received right here on GlobalGiving, we've already been able to repair and re-open Tacloban's only school for children with development disabilities like autism. We're also now helping run a mobile soup kitchen. The soup kitchen moves from place to place daily, ensuring that families in the worst affected areas where aid isn't always available can have a hot meal.
The soup kitchen is not part of our long-term plan – with your help we'll invest in livelihoods programmes so that families can feed themselves. But right now, with aid still spotty and parents struggling to feed their children, our priority is making sure that the worst affected have a hot, nutritious meal and know that the world hasn't forgotten them. With conditions still tough, a bowl of hot stew nourishes both body and soul.
As we feed the most vulnerable, we're also laying the foundations for long-term reconstruction by clearing debris. Our first volunteer teams of both international and Filipino volunteers have begun clearing streets and the plots for homes. Debris clearance both clears the way for reconstruction and lifts spirits. Seeing a clear road where for months there has been a scene of destruction is invaluable.
We expect to begin our long-term programmes, like rebuilding homes and helping survivors get back to work, in the spring. Thanks to GlobalGiving's recent $55,000 grant we're closer than ever to getting these programmes off the ground!
But with work expected to cost hundreds of thousands, we still need donors like you to turn our plans into realities.
This Valentines day, we hope you'll show Tacloban a little love by giving what you can tomorrow, February 12th. Why the 12th and not the 14th you ask? Because on the 12th, GlobalGiving will add 30% to your gift! That makes February 12th the perfect day to help us feed more than 300 survivors a day with our mobile soup kitchen.
Thanks so much for all you've given, and if you have any questions about our work please don't hesitate to email Emma@IDVolunteers.org.