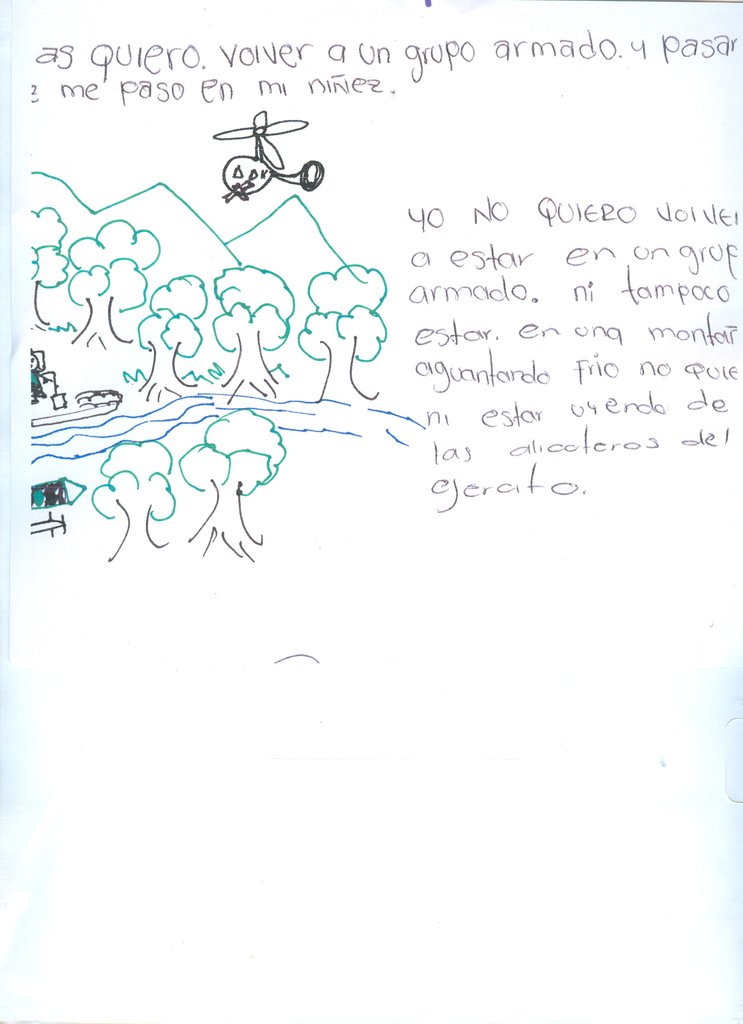 In Colombia, MADRE partners with our sister organization Taller de Vida to provide resources, rehabilitation, and healing through art to former child soldiers. When our partners gave a group of children the chance to express themselves through drawings, they spoke of their experiences and their hopes in their own unique voices.
Below are a few of their drawings and their thoughts.
Captions:
Drawing 1 – "I do not want to go back to an armed group and experience how I spent my childhood. I do not want to go back and be in an armed group or stay on a mountain and endure the cold or listen to the helicopters of the army".
Drawing 2 – "I want to take a few steps to teach me more about love, happiness, the most important thing for me is to lead a new life, watch the sun brighten more light my path every day. I want to help children and help them recognize the resources they have".
Drawing 3 – "I do not want to go back and live what I lived through. I do not want to shoot others and make them suffer in the worst possible way and feel alone in the world".
Drawing 4 – "The step I would like to take in my life is to take back what I never had. And now I would like to study to move forward and help my family and be happy which is why I do what I can to have moral and strength to be what I want to be: a nurse, and to always have my own thoughts".
Drawing 5 – "I do not want to go back to the hatred, the resentment, to a river of blood, pain, violation. I do not want to go back and see a lot of young people in the war. The world is full of obstacles that you need to know how to cross".
Drawing 6 – "What I want most is to feel as free as the air to take a step forward. And to overcome everything I would like to take a step to enable myself and be a good person. And I hope that tomorrow I can tell my story without fear and without fear and dread".