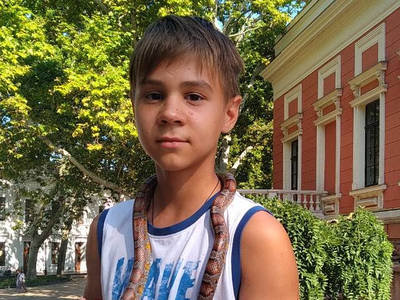 Happy Giving Tuesday! Thank you for joining us today in celebrating the day of giving, sharing and remembering. As you know, our work centers around supporting cancer patients from the former Soviet Union. Unfortunately, countries in that region are significantly behind developed countries in the quality of cancer care. This gap is even more pronounced in pediatric cancer. For example, procedures like bone marrow transplants are still not available to children with cancer in Ukraine. New and more effective medications take many years before making their way to the countries in the region.
Ivan's case is typical for child diagnosed with cancer in Ukraine. His fight for his life began 9 years ago, when he was only 4. On September 2, 2010 to his parents' utter shock he was diagnosed with acute leukemia. Ivan was treated at the local hospital in Nikolaev, Ukraine and the treatment went well. Once he completed it, Ivan went back to preschool and then entered elementary. Suddenly, when he was 8, Ivan collapsed with partial paralysis and loss of consciousness. The testing revealed recurrence of acute leukemia, and this time only bone marrow transplant could give Ivan hope for recovery. As it was not available to Ivan in Ukraine, in July 2015 his family took him to Bambino Gesu hospital in Rome, Italy. In November of that year Ivan received donor's bone marrow transplant. Again, Ivan was able to return to normal life – school and hobbies, math and kickboxing. His family hoped the worst was behind them. Unfortunately, four years later, in September 2019, Ivan started feeling unwell during practice. As it turned out, he had a second relapse. His family was shuttered by the news, but they came together and decided to return to Italy for treatment, as the local doctors had no experience treating patients post bone marrow relapse. Currently, Ivan is receiving immunotherapy and he is responding well. Ivan's parents are unable to work as they are taking care of Ivan in Italy. They need our support to ensure Ivan is able to finish his treatment.
Thanks to your kindness, we were able to grant Ivan's family with 1,000 euros to pay for the costs of living and lodging. If you would like to support other patients like Ivan, please donate to our project today! Your donation will be able to receive additional matching from GlobalGiving and help us earn bonus funds!
Thanks again for your generosity and support of our efforts!