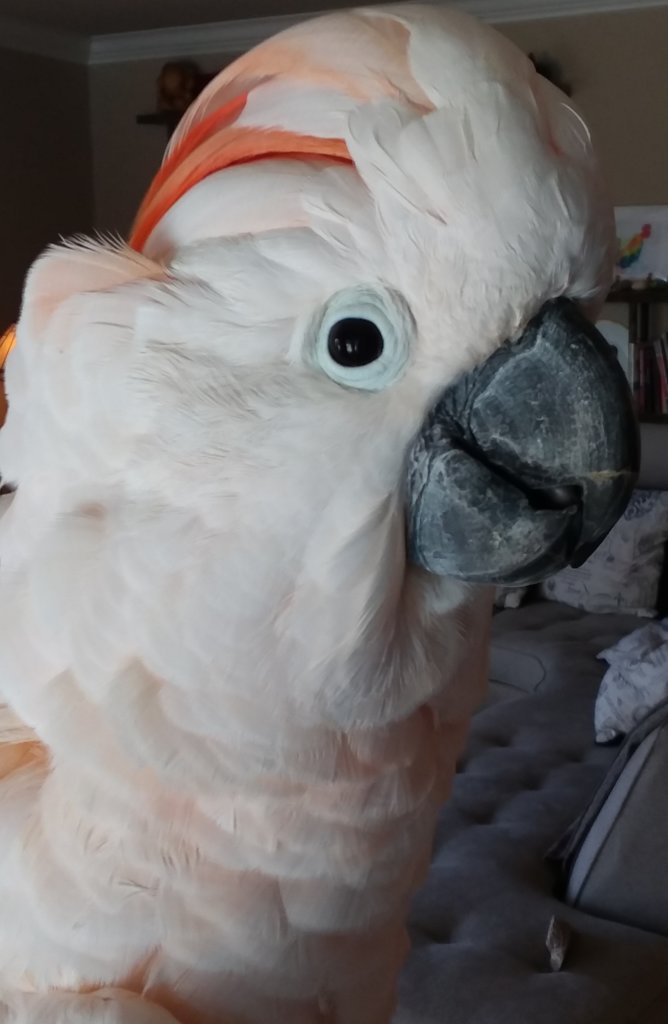 A new decade has begun and here we are, already into February of 2020. The winter rains once again have arrived in Southern CA, and our birds, especially the parrots, do not appreciate it, as they are not allowed outside in the rain with temperatures only in the mid 50's. Yes, mid-50's is actually warm to many of you outside of Coastal Southern CA, but our little ones aren't acclimated to wet, "chilly" weather, although that's not to say that they couldn't be.
We at ARC thought that in this first report of 2020, you might like to know how all the parrots that we adopted out last year are doing in their new homes.
Let's start with Chili Pepper, a very large male greenwing macaw who was with ARC for just under two years. Hugo and Vanessa, his new mom and dad, just love this big boy and all his antics. While he was here at ARC, Chili was always working his way into view when we had visitors or had treats to hand out to the birds. Chili has an amazing voice and when he's in the mood, he just loves to sing along to the radio or TV. The pictures of Chili with his new family seem to show a mutual love affair, and it warms our hearts. A final note Chili is learning to be bilingual.
Mozart is a small male blue-fronted Amazon, who came to ARC as Chili Pepper's roommate, and who achieved local fame as part of an educational installation in the San Diego Museum of Modern Art that described the sad plight of his species and other exotics in South America. Mozart has found himself a doctor to call his new companion; and although he started out with a mild screaming behavior in his new home, ARC kept its promise that we are always there to offer advice and assistance to our adopted birds and their owners. Mozart's dad informs us that after about 4 months the screaming is no longer a constant. This proves to us once again, that training birds takes time, patience, and dedication from the owner. Congrats to Mozart's Dad on a job well done.
Next is Waffles, who was so fortunate to find his new mom, Elle. Elle and Waffle fell for each other on her very first visit to ARC. Each and every time that she came to visit with Waffles, to take the adoption course, and to fulfill each of the steps in our adoption process, Waffles would light up and be so happy to see her. The photos that we have received sure do show a happy healthy little grey man, and we could not be more pleased at Waffles' and Elle's new-found love. Just a note, Waffle does not drink any of moms tea or coffee as she knows caffeine is not good for Waffle.
Miracles never seem to stop happening here at ARC. Tal and Tomas, two miligold macaw brothers, came to ARC a few years ago from Animal Control as part of a group of parrots we took in from a hoarding situation. These two were quite a challenge. Early on, we realized that Tal was being dominated by his brother, so we separated them, in the hope that being individuals and not a semi-bonded pair would aid in their rehabilitation. None of the tools in our tool chest worked, however; and after three years with us, both remained highly unpredictable, resulting in some serious injuries to our staff. Then Kaela, a longtime employee of ARC, stepped up once again to go beyond her normal work responsibilities. She offered to take Tal home to see if a change in environment would help in getting him to be more predictable, which could lead to his being handle-able without fear of injury. Kaela has reported that Tal is like a new bird after being under her care for the past several months. Congratulations Kaela and Tal on your approved adoption. Kudos to both of you!
Lala, the harlequin macaw who came to us some months ago from Animal Control, has an almost-perfect personality. She loves to be held like a baby and to swing from one's hand as she gently holds on to a thumb or a couple of fingers. Many of you know of Dr. Jeff Jenkins' Avian and Exotic Animal Hospital. One of that clinic's more recent additions to the staff, Vet Tech Casey, mentioned at one of our appointments that she would be very interested in adopting a macaw. I mentioned Lala to her, and after a couple of visits, Lala was all in for her new home. It's nice to know we'll see Lala from time to time as she helps her new mom at work. We wish Casey and Lala a long and happy time together.
George, a blue-and-gold macaw, came to us along with Sibbi (another blue-and-gold) and Lala. George and Sibbi bonded as flock mates early on, and although we are so excited that George now has a new home, we are sad that Sibbi is now alone waiting for the right person or family to come along and offer her a great new start with loving owners and a comfortable and safe home to reside in. George loves being the center of attention, and being an only bird in his new home, all of us at ARC have no doubt that he will be happy and very well cared for. Again, we can mention that one of our birds will be living in a bilingual home. His name is now Jorge!
We're happy that we have such amazing news to share with you, and want to thank you, because without your support, none of these birds would have had the chance at a new life that they were given at Avian Rehabilitation Center. Here at ARC, your money goes directly to support the rehabilitation work and adoption services we provide. Like with our two hybrids, ARC does not limit the amount of time a bird remains in the program. Each and every day, our staff evaluates the progress (or sometimes the lack thereof) of every bird that resides here at ARC. Using these findings, ARC determines whether the bird is solid enough in temperament and personality to be adopted, or if it requires more time in the hands of our skilled staff.
Those of us who work at ARC strongly believe in the idea of saving one life at a time. We are not about housing large numbers of birds in our facility. Instead, we are looking for those hard cases that, if we did not offer sanctuary/rehabilitation for those particular birds, they would end up being warehoused with very little human interaction by individuals as well as those claiming to be rescues. No bird deserves to spend its life in a cage; however we, as a culture, have placed them there, so the least we can do is to provide them the best life possible. Here at ARC, your donations allow us to give every animal under our care the "5-Star Treatment."
We'd like to remind all of you who have adopted from us that we offer boarding at ARC at a significantly reduced rate compared with other boarding facilities. This service is only offered to those who have adopted directly from us, as we know these birds and completely realize that even the best owners need a break from time to time. The birds also love coming back for a vacation and seeing their old friends, human and avian alike.
Our 2019 year-end fundraiser fell significantly shy of our goal of $50,000. But we want to tell you about the generosity of a woman whose mother left an amazing hyacinth macaw, Guy, to her. Over five years ago, before ARC's inception, Sandra contacted our soon-to-be director, Eric Kern, to inquire about his avian facility. She was looking to place Guy in a new home, as he was just a bit too noisy to be living in the San Diego City limits, and she freely admitted she just did not have the time that he required. So Eric took him in, and now, Guy is our ambassador, who goes out to the public with us to draw their attention to the plight of exotic birds that are kept as pets. Sandra, ARC cannot thank you enough for your generous $10K donation. It came at just the right time to secure ARC for one more year.
We are a 501(c)3 nonprofit, which means that we rely 100% on your donations to cover the expenses of running a sanctuary/rescue with a capacity of over 75 birds. We are supported by a generous yearly contribution that covers our payroll every week for our four employees. This means that your donation goes not to any salaries or administrative costs of running ARC, but directly to our birds. As an example, the next $1,700 in donations will go to the Avian and Exotic Animal Hospital, as we had some costs over our budget in 2019 for medical care. We would like to take this moment to thank Dr. Jenkins, his wife Lisa, and the staff for the outstanding professional and caring environment in which every one of their patients is seen.
There are many ways you can help us:
First, and for many the easiest, is a monthly donation using our GlobalGiving
account (simply type goto.gg/30226 into your browser and then click on the Donate Monthly tab on the right).
Other options are to mail a personal check to us at 13751 Jamul Dr., Jamul, CA
91935, or to use PayPal (ARCPresident@AvianRehabilitationCenterUSA.org).
You may also donate directly into our account with one of our vendors:
Avian and Exotic Animal Hospital (www.drexotic.com, 619 260-1412),
China Prairie (http://www.chinaprairie.com/, 916 917-5408),
and The Purring Parrot (admin@thepurringparrot.com, 619 223-2326).
Who knows - - after seeing what they have to offer, you may want to try
them for yourself!
One of the newest ways to help ARC is to sign up for an Amazon Smile account. You can do this by going to your regular Amazon account and changing it to Smile, and then denoting Avian Rehabilitation Center as the nonprofit you wish to support with your purchases. After that, you can go directly to Smile.Amazon.com when you want to shop. The merchandise and prices at Amazon Smile are the same as your regular Amazon's, and donating through Amazon Smile does not cost you a thing, as Amazon gives us a percentage of each and every purchase you make. We encourage you to ask friends and family to change over to Amazon Smile and do the same.
If you have any questions about making a donation, about our birds, or about anything else ARC, please don't hesitate to call us at 619 813-1776 and leave a message (9 times out of 10, we are working with the birds and unable to get to the phone). So now that we are back in the groove after the holidays and the start of a new year and a new decade, we simply want to say THANK YOU for your continued support!