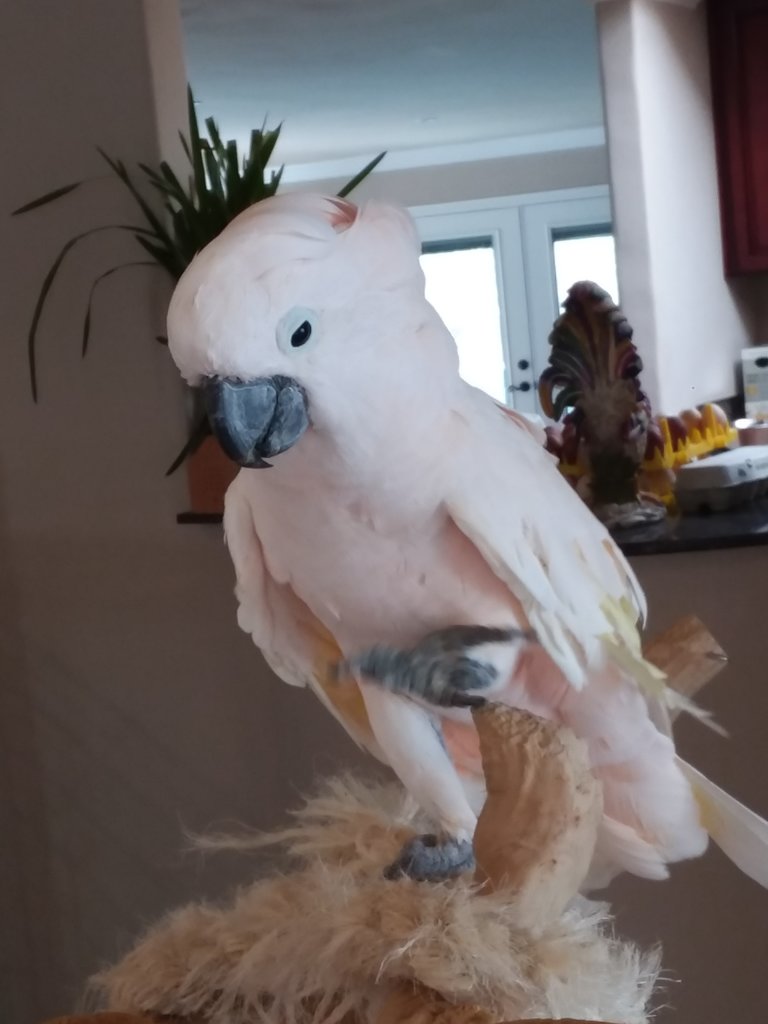 Well we need to start out with a serious apology for such a long dration between this and our last report on the happenings at ARC. It has definitely been a busy summer/fall and we are already into the fourth quarter.
Where to start? We have had a few staffing changings. Melanie Airessohn, our former assistant director has chosen to move on to other avenues. We all want to thank her for her undeniable help and care for ARC. She played a vital role in the startup process of our organization from filing with the federal and state agencies for our 501c3 status to the writing of our mission statement along with all other documents we currently use in running our amazing rescue/sanctuary for large variety exotic and endangered avian species. Again, we wish her well and a huge thank you for a job well done.
We have also posted an ad looking for a part time animal care person. We hope to have someone who could assist supervising the facility in upper managements absence, as we all need a break when working in rescue with animals. Burn out is a serious condition in this field of work and we all must remember to care for ourselves so that we may care for the lives under our care. We hope to find someone with large exotic bird experience.
Though ARC does not, in general, take on volunteers. We found it necessary to identify someone who has the time and ability to manage our social media work as it does seem that we are able to find time to keep up with this part of our outreach to you our supporters. I am very happy to announce we have found someone who comes to us as a first-time bird owner who has lots of ideas and suggestions for our social media footprint. We are currently updating our bird profile posts on Facebook and Instagram, our webpage as well as our binders that we have placed at local avian vet offices. Please do send your suggestions to us by responding to one of our recent posts as we are always looking for topics that interest you. It's our goal to post on social media not just the happenings here at ARC but information on topics from around the world that relate to birds of all kinds.
We have had a few adoptions these past few months: Chili Pepper, Mozart, Waffles, and Jorge have all found amazing homes. Most have had several check ins and the news and photos are very refreshing and always gives us the desire to continue our work. On a sad but good ending Rubio was adopted but returned to ARC several weeks after being adopted. As some of you might remember Rubio came to us with a serious case of feather destructive behavior. We had him, in a sense, in remission and over the last two years he was with us, he continued to show promise of new feather growth. After the normal fall molt, which many of our birds seem to experience, he definitely had filled in with more and more feathers. We evaluated the new family and Rubio on all 3 visits who seemed to show good interest in all the members of the family. The family had prepared their home following all the points they learned while taking our adoption class. After just less than 2 weeks we received a call that Rubio was acting aggressive and had started plucking his feathers. Sadly, by the time we arranged for his return he was hyper-focused on plucking his feathers once again and we had to start back at square one. At this time, he is off his meds and once again has new feather growth coming in and with that the board of directors and staff voted to make Rubio a permanent part of the sanctuary. Now, Rubio will be allowed to live his life out here where he obviously feels the safest and yes, we feel the happiest.
This year has also seen several birds passing. Paco, our Thick Billed Parrot, a jewel you might say in ARC's Crown, past on at the age of 38. He came to us many years ago prior to ARC being formed. He was a case of owners needing to enter assisted living care and Paco not being allowed to go with them. Over the years we have kept up to date with the daughter of the owners so she could let her parents know he was doing well and flourishing. We shared important data on his wellbeing to people directly involved with the conservation and restoration of the species in its native habitat. On his passing we donated his remains to the San Diego Wild Animal Park so that they might learn even more about this very endangered species. We will all miss his greeting us in the morning with his very unique "High Paco". We would like to take a moment to mention the other resident birds that have passed on this year: Contessa, Swainson Toucan, Santiago, 80+ yrs. old, Scarlet Macaw; Pierre, age unknown, Goffin's Cockatoo. Both lived long lives of happiness and contentment. Though we all mourn the loss we also reflect on the amazing care we are able to give every bird through the support of people like you.
ARC had to take steps this year to implement a very strict but necessary bio security program. Southern CA had an outbreak of virulent Newcastle Disease (VND), formerly Exotic Newcastle Disease. VND is a contagious viral avian disease affecting many domestic and wild bird species and in rare cases is transmissible to humans causing a mild fever and /or conjunctivitis. At the facility we started making sure we sprayed our shoes with Lysol which kills the virus. Those that clean the aviaries are required to where boots that do not leave the property. The hardest part was having to ask supporters that called to set up a visit with the birds and those that had a serious interest in adopting whether or not they had chickens or other domestic poultry. In cases that the answer was yes, we explained that we could not take the risk. If the virus was found on our property, the state would have the legal right to euthanize all the birds that call ARC home not just chickens but all avian species. If the person was serious about adopting and owned chickens, we would arrange for us to do the adoption requirements at their home or in a public location like a coffee shop. The closest case was found in Ramona, so we have taken all the steps we feel are necessary for the safety of the birds that call ARC home.
Over the course of 2019 ARC has installed 5 new aviaries, a new waterfowl enclosure for ducks and swans, as well as a safety enclosure where all the waterfowl go at night to be kept in an enclosed safe sleeping pen. This pen was designed like all our other aviaries with metal mesh 6" under the ground to prevent predators digging into the enclosure and also has a completely enclosed roof. We are working on designing nesting beds for the waterfowl and will let you know once we have them installed. This is but one project your donations assisted in funding.
A difficult project that we worked on was coming to understand the capacity of our facility and the financial needs that brings with it. The grand total of Avian species is 75. Obviously, each species has different housing needs so some we can take more of and others we can only handle smaller numbers. This new policy will help the staff in the difficult decision of do we take a bird in or do we work with them to find another rescue that we feel is equal in care and dedication to the cause.
In our next report we will be submitting our 2020 budget so that you will have a comprehensive understanding of how your financial support will be allocated. As our donors and supporters, if you have a particular area that you wish to support all you need to do is include instructions with your donation and we will place your donation in that particular category. If you wish to donate directly to our medical expenses, you are welcome to contact the Avian and Exotic Animals Hospital in San Diego CA and make a donation over the phone for ARC. All we ask is that you also drop us an email notifying us of the donation so that we may provide you with a receipt for tax purposes.
We cannot thank you enough for your continued support and interest in our work. We realize there are many parrot-rescues you can chose to support. Keep in mind we are one of the few that is not parrot exclusive but are able to work with many other avian species as, though not as common as a pet, swans and cranes are also often purchased and then the owner realizes they are not suited to care for these amazing animals. Our care is often referred to as the 5-star treatment. We offer a discounted rate for boarding to those who have adopted from us. We do not board for the general public but offer this as a thank you to those who have given one of our birds a home. We say that once a bird of ARC, always a bird of ARC. This is a way in which we are able to keep in touch with those who have adopted from us. We want you our supporters to feel like we give you the 5-star treatment as well. It's not us here at ARC that keep it going. It's you spreading the word to others along with your financial support. We are an open book to all. If you want more information or have a questions please contact us and we will do w