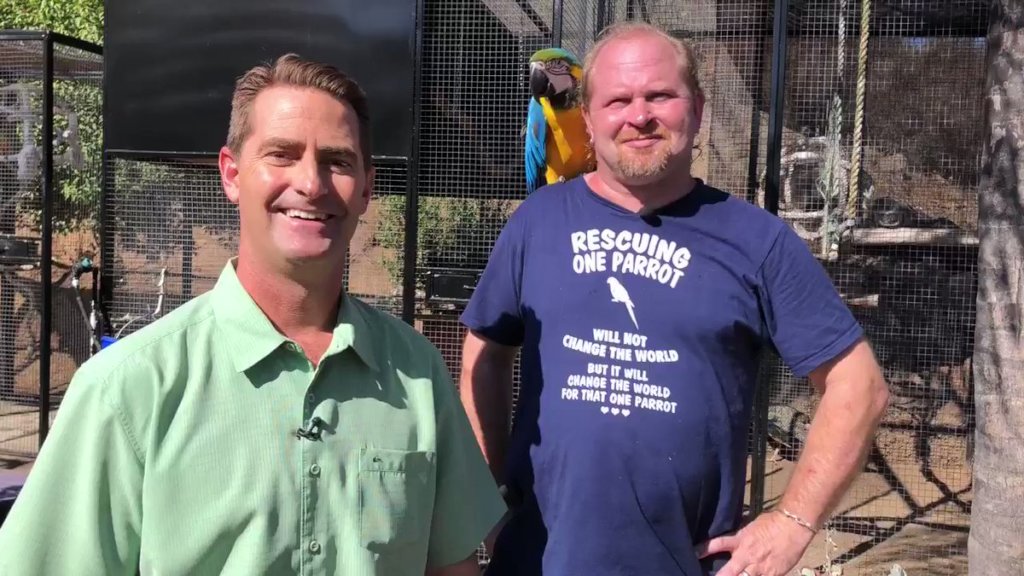 Dear ARC Friends and Supporters,
Well, we are about to wrap up the summer. It has been a challenging season, with the severe heat and the constant alert for possible wildfires that might result in evacuation. We have installed misters for all our non-parrot avian species here at ARC, along with large industrial fans in their outdoor areas. We had several days of temperatures over 100 degrees and one very intense day of 117 degrees which was very difficult, even with the misters and fans running on full speed. This winter, we will be replacing the misters in the parrot aviaries, as we have new nozzles and a new way to protect the tubing from inquisitive parrot beaks. The birds' purported desires to chew on things within their environment proved to be completely founded, and much of the misters' water tubing sports holes of varying sizes from the parrots that spent many summer days in their aviaries.
We are happy to report progress in the rehabilitation of some of our residents. Rubio, Buddy, Kiki, and Sinbad continue to show no evidence of return to their former feather destructive behavior. All are on low doses of Haldol, which is only given at night. We have tried several times with each of them to remove the Haldol from the protocol that we follow for their care, but always, within 3-4 days, we see new evidence of FDB in the morning when we do our rounds to check in on everyone prior to feeding.
Tal, Tamas, and Pierre are the remaining three of the five parrots we took in last fall from the County Department of Animal Services. The two macaws, Tal and Tamas, both willingly step up on command now, and we have gotten much better at reading their body language. We have changed their routines to include sleeping in large macaw cages at night. They had been living in very small wire cages prior to being seized by Animal Services, so from November 2017 until this past July we did not cage them, but allowed them to sleep on Java play trees indoors and spend all of their waking hours either on a play tree or outside in one of the large aviaries. Slowly, they became more trusting and easy to handle, so as of September, they are now sleeping in regular macaw cages at night and spending their days outside in the aviaries. We are getting very close to being comfortable adopting them to someone with some basic parrot experience, though we still feel it might be best that any potential adopter have some background in working with large parrots, or at least be willing to visit the rescue/sanctuary for some guided hands-on work.
Pierre, the Goffin's cockatoo, continues in many ways to be a work in progress. He is a very moody and nippy boy. Oddly enough, though, he has started to like being toweled to come out of his cage and then placed on a play tree for the day. He is not afraid of the towel; he tunnels deep inside it as if hiding, and then pops his little head out when he gets to his tree or his cage. We normally would not encourage this behavior as a way to exit and enter a cage, but for a small parrot that is struggling with what might be described as PTSD, it works. We still hope to transition him to stepping up on a hand to exit and enter his cage, but we will approach that in baby steps.
Both of these updates prove that rehabilitating parrots is not a short-term, instant-result process. It can take months and sometimes years to get the results one hopes to achieve. Rubio, a greenwing macaw, has been with us for two years, and is just starting to show regrowth of feathers on his chest area, shoulders, legs, and back, all of which were areas where he had no feathers at all when he came to us. He continues to amaze us with new feathers every month, which makes us hopeful for a much better recovery than we had first anticipated. Initially, we had strong suspicions that he had permanently damaged his feather follicles, which would have resulted in an inability to grow new feathers in those areas.
We find that owners tend to give up much too soon when it comes to training to resolve an unwanted behavior. Patience is an absolute necessity when working with exotic birds. Each is an individual with a unique personality, so what works for one bird will not necessarily work for another. We encourage people to take the time to get to know their bird, so that they may understand its body language and also determine how well their training is going.
Just in the last couple of weeks, we have had two new additions to the flock: Chili, a very large greenwing macaw, and Mozart, a blue-fronted Amazon. The owner who relinquished them to us traveled extensively for work, and was not able to give the birds the attention that they deserved. You might remember us writing last fall about Mozart and the work he was doing on behalf of all parrots. He was the center of an art exhibit that focused on the regions the blue-fronted Amazons call home. Mozart's outgoing and gregarious personality made him an instant hit at the Museum of Contemporary Art here in San Diego, where he remained on site in the exhibit from September 2017 until January 2018. During that time, we had many calls from people wanting to adopt him; and we now have started the process of adoption with a wonderful couple who contacted us early on during Mozart's time at the Museum. Chili, on the other hand, might be listed as a sanctuary bird here at ARC. He had been in several homes before finally coming to the owner who relinquished him to us, and we don't think it's fair to him to make him re-adjust to yet another home when clearly, he is so comfortable here at the facility. I have had the opportunity to work with Chili on many occasions, and he is a big love with great potential to assist in the work we plan to do within our local community.
We continue to work on designing and developing our concept of a "parrot-immersion event" for children in grade school and high school. We want to offer the kids a chance to have an up-close and personal experience with these amazing animals, and to educate them on the time and cost associated with the care of an exotic bird. We also will educate them on the reasons that in the wild they are endangered and listed on CITES, while here in our country, there is such an overpopulation of these same species. We strongly feel that we need to educate the younger generations, because the world we are leaving them, unfortunately, is not in the best of health. Only by educating them on the factors that lead to an animal being placed on the endangered list, can we encourage them to find ways, as adults, to halt and possibly start to reverse the damage that man has done to so many wild animal species and the environments inwhich they live throughout the world.
On September 7th we had a visit from Jeff Zevely, a reporter with CBS Channel 8 here in San Diego, who had contacted us about doing a piece on ARC and bringing our mission to viewers of Channel 8. After everyone had been fed, we spent the morning chatting and visiting with all 70+ birds that call ARC home. It's amazing, if not a bit difficult to believe, that we have gone from just a few birds to such a large number in just 16 months. Many are up for adoption; others will live their lives in safety at the sanctuary. Please click on http://www.cbs8.com/clip/14617416/exotic-bird-rescue-working-together-to-help-birds-of-a-featherto view the interview. We have had a tremendous number of phone calls and emails as a result of the Channel 8 piece and are very happy with the results. We hope that many of the viewers will continue to follow our postings and quarterly reports.
We have made giving to ARC even easier than before. If you do not wish to donate directly to ARC, you may call the Avian and Exotic Animal Hospital of San Diego (619-260-1412)1and ask that your donation be placed on our account to be used for veterinary costs associated with the birds at ARC. The Purring Parrot (619-223-2326) is working with us and will now take donations on our behalf for purchase of the wood we use to make the parrot toys for their sleeping cages and play trees. (We no longer hang toys in the aviaries, as there is so much natural stimulation outdoors that the birds don't pay attention to toys.) Finally, Nuts.com has a gift package that we have put together for those who wish to help by purchasing nuts on our behalf. We are trying to give our supporters many different ways to help ARC. All donations are tax-deductible. We always welcome and are thankful for financial donations that you may give via GlobalGiving.org, PayPal.com, and good old fashion' snail mail with a personal check enclosed. We also want to remind you that we will be kicking off our year-end fundraiser a bit earlier this year, on November 10th. We are so grateful to Dr. Jason Crean for offering to kick off this year's fundraiser with a lecture on parrot nutrition at the San Diego Humane Society on November 10th at 3pm. Please email us at ARCCoDirector@AvianRehabilitationCenter.org if you plan to attend, so that we can be sure we have sufficient space for all.
To round out this quarter's report, we want to bring to the forefront some of our parrots that are looking for permanent loving homes.
Rubio: Greenwing macaw, Male, 13 years old
Tal: Miligold (Blue and Gold x Military) macaw, Male, Unk age
Tamas: Miligold (Blue and Gold x Military) macaw, Male, Unk age
Rima: Military macaw, Female, Unk age (suspected by our avian vet to be appx 35 years old, due to an early cataract formation, which is common in macaws of that age)
Pierre: Goffin's cockatoo, Male, Unk age
Mozart: Blue-front Amazon, Male, 5 years old
Peafowl: India Blue, 2 Males, hatched May 2018
Hal: White ring-neck dove, Female, Unk age
Contessa: Swainson's toucan, Female, 15 years old
Along with these parrots and other birds, we also have the birds that will call ARC home for the rest of their lives. Some of these parrots are members of our outreach flock. The grand total in just under two years of operation is nearly 80 birds in total, some as individuals and some as flocks of like birds.
We want to conclude by thanking all of you, our supporters. We could not do the work we do without you. Your continued support has given us the opportunity to expand in an appropriate manner at such a rapid rate (though we do hope to slow down a bit and increase our adoptions). Thank you for taking the time to read our Third Quarter 2018 Report. If you have questions at any time, please contact us via email, website, or phone, and we will get back to you within 48 hours or as quickly as possible. Happy fall to everyone, and may we all enjoy another change of season!
Kindly,
Eric Kern, Founder and President
Melanie Ariessohn, Co-Director and Board Secretary
Links: