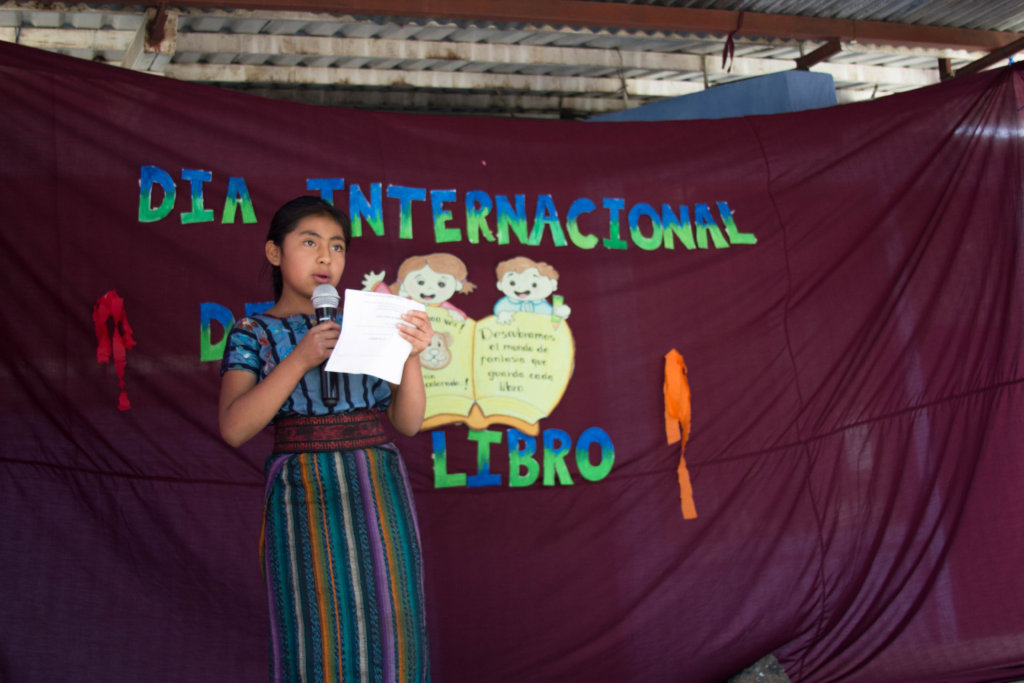 In April, our beneficiary schools celebrated World Book Day. Observed around the globe every year on April 23rd, students and teachers at La Cumbre Primary School gathered for an afternoon filled with skits, games, puppets, and books. "A book is more valuable than new toys, shoes, or clothes. A book can expand your imagination and open up opportunities," said Ricardo Sitan, La Cumbre's School Principal, as he introduced activities for the day.
"We're grateful for the support of Pueblo a Pueblo, which makes it possible for us to have this great library, where students can read and take books home. Students are inspired by the stories they read," Sitan adds. For students Helena, Rosa, and Juan, they were each awarded a prize at the start of La Cumbre's World Book Day assembly for borrowing the most books during the school year.
After, three students ran on stage to set up a puppet show. The 141 students in the audience focused their eyes on the sock puppets, watching the story of Goldilocks and the Three Bears unfold. "Ahhh, this porridge is just right," exclaimed Goldilocks, and students giggled as Goldilocks moved on to try out three different chairs.
At the end of the assembly, students split into groups to travel to four different game stations. Each station focused on a different aspect of literacy. At Ms. Lea Tzina's station, students were given the phrase: "The witch flies at night," and had to make up the rest of the story from there. With Mr. Francisco Cutzal's station, a 4-foot long poster covered the wall with the question "Why are books important in your life?" and students grabbed markers to write, draw, and illustrate their answers.
World Book Day marks the gains that La Cumbre Primary School has made in encouraging reading in their community. On their pre- and post-literacy diagnostic tests, students increased their scores by 17%. And now more students are borrowing books from the library to bring home-- meaning that the learning continues outside school walls. We are excited to see La Cumbre Primary School, their library, and students grow even more!