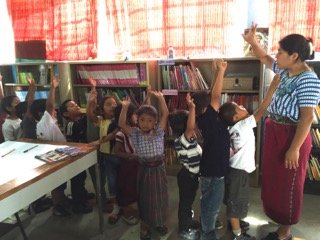 Following the success of the Pathways to Literacy project in Chacaya and Chukmuk, Pueblo a Pueblo is excited about our most recent expansion of school libraries in the La Cumbre School! La Cumbre is located in Cerro de Oro, another coffee-farming community in the Atitlan region. In the past, other Pueblo a Pueblo projectsincluding Organic School Gardens and WASH, have thrived at La Cumbre, thanks to the dedication and enthusiasm of their teachers and students. Now, the school can also boast a dynamic and functioning library of its own.
The La Cumbre library first opened on April 14, 2015 and is currently stocked with 1,700 books. A lending program allows students and teachers continuous access to books both inside and outside of school building. Lidia, our project manager, along with the school librarian lead activities for students focused on improving literacy skills as part of their school day.
The library is a particularly important addition to La Cumbre because most students are not only illiterate, but also solely speak Tz'utujil and do not understand Spanish. Since the library has opened, students who started out completely unable to read are now capable of reading and understanding Spanish texts!
We are currently expanding the library's collection of books, as well as organizing and cataloging existing resources. Replicating our model from Chacaya and Chukmuk, Pueblo a Pueblo's goal is to ultimately embed literacy into the fabric of rural primary schools, and have the program entirely run by the schools' staff.
The students at the La Cumbre School exhibit their excitement about the new library daily with active participation in library activities and frequent visits throughout the day to browse the selection of books lining the shelves. They take pride in their new library and love helping us organize and prepare library materials.
Thanks to your support, and the support of the Cerro de Oro community, students at the La Cumbre School now have a communal space and collection of books that allows them to indulge in their curiosity and develop literacy skills in creative new ways.