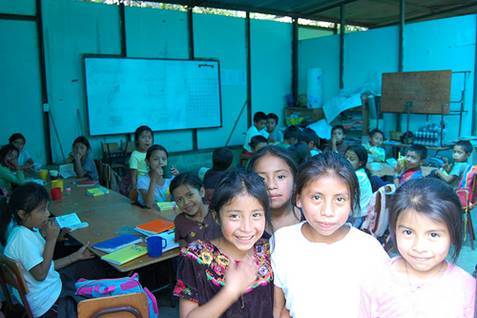 In February, six GlobalGiving donors traveled to Guatemala for a week of exploration, cultural submersion, and welcomed visits to four GlobalGiving projects.
One of these projects was Pueblo a Pueblo where they are building a library/reading room at a school damaged by Hurricane Stan and induced landslides. Here's one account of the group's visit:
"Over to Lake Atitlan which is stunning if not infected with cyanobacteria and used as a dump for pretty much everything dumpable. Pueblo a Pueblo is a smaller operation focused on helping indigenous families whose village was destroyed in the mudslides of 2005. They're building a library for the school and just started a large organic garden to supplement the healthy lunch program where a different town mother cooks lunch for all of the school children each day.
One of the largest problems in Guatemala is the malnutrition. Ironically farmers whose livelihood is growing fruit and vegetables are better off selling it since it brings in more money, so they subsist off of very little food and not nearly so nutritious - primarily corn. They also have two sponsorship programs both of which are 300$/year - one to support one child throughout the school year to provide them with supplies and to support their classroom and teachers. The other is a maternal program for pre and post natal care and nutrition through the first 5 years of the child's life. 10% of children in Guatemala die before the age of 5. TEN percent. That's nearly incomprehensible."
If you want to visit Pueblo a Pueblo's project page click here: www.globalgiving.org/3666
And just if you're curious about the rest of the trip and where they were headed after Pueblo a Pueblo:
"Almost every day in Guatemala brought us to projects which are doing important work for the people of Guatemala. This is a country devastated by decades of war, which suffers all of the consequences of crushing poverty, especially in the rural areas. Although I often felt disheartened to learn of the high rates of child malnutrition and low rates of education, projects like WINGS, which promotes family planning through education and improving women's health; the vocational school being built from recycled tires and plastic bottles by Long Way Home; and the community-run lending libraries facilitated by the Riecken Foundation, were terrifically uplifting. We repeatedly met enthusiastic people committed to doing good for the poor of Guatemala in culturally sensitive ways, which was the perfect antidote to the feeling of sadness or hopelessness that comes from hearing bleak statistics and seeing people living with so little."
To check out the other visited projects go to:
The Frances and Henry Riecken Foundation – www.globalgiving.org/3339 WINGS – www.globalgiving.org/2394 Long Way Home – www.globalgiving.org/2402