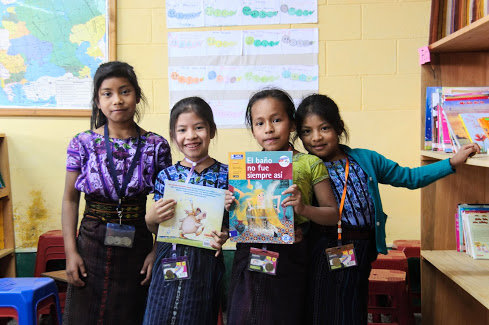 Over the past few months, our community here in Santiago Atitlán has experienced a number of big changes as the COVID-19 pandemic wears on. In accordance with government restrictions, all of our typical in-person programming has been suspended. In addition, schools have been closed since March, and students have been working remotely to finish their studies for the year.
Throughout these difficult times, Pueblo a Pueblo has been working to find innovative strategies to continue making reading a priority in our community! One way has been through online workshops.
On July 29th, Rebeca and Johanny teamed up to lead a workshop entitled "Animación a la lectura en casa" or Encouraging Reading at Home. 17 participants, made up primarily of local teachers and parents, tuned in for this one hour workshop.
In it, they learned a variety of techniques about how to keep children engaged and excited throughout the entire reading process and beyond. Rebeca and Johanny shared that pre-reading and post-reading activities are especially important for enhanced comprehension and continued interest in reading!
Although we definitely miss our in-person interactions with students, Pueblo a Pueblo is proud to still be engaging with our community from a distance!
Currently, classes are winding down for the school year, and Pueblo a Pueblo is working with teachers and administration at Patzilin Abaj Primary School, the site of our active School Library project, to develop strategies for the coming school year! Our team is reviewing the content for upcoming "teacher-training" workshops so that when schools open again, we will be ready to equip Patzilin Abaj teachers with the knowledge they need to continue building a culture of enthusiasm and curiosity around reading!