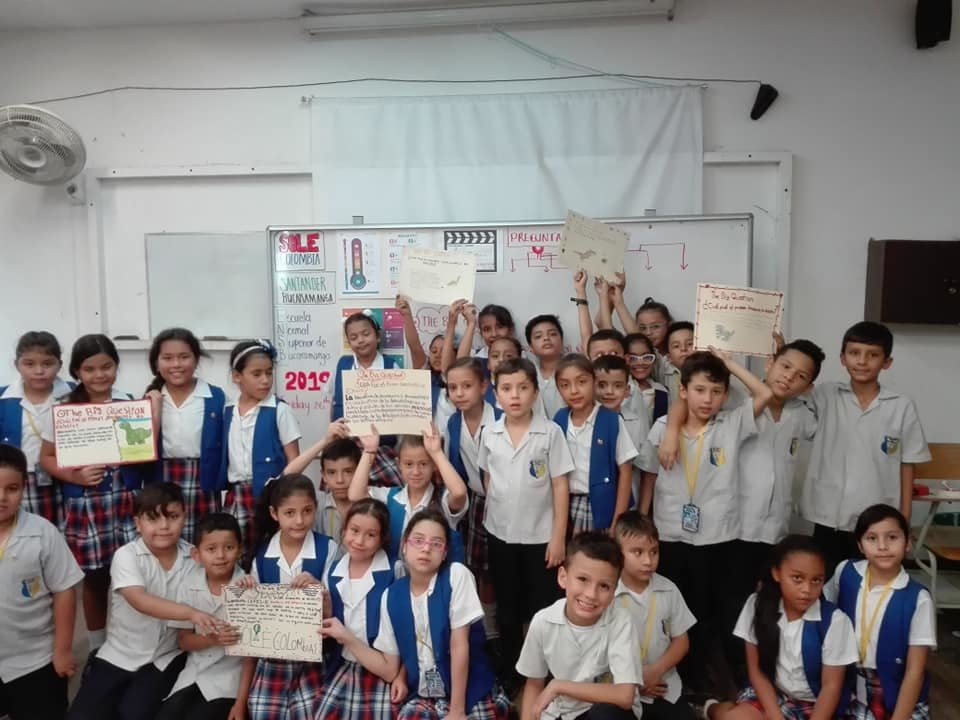 Join us on a walk on the Playground in The Cloud!
As you might have read from our last report, we alerady have been inviting different people around Colombia to come and visit, share, learn, connect and have fun on the Playground in The Cloud.
There are already people like Julio sharing their stories on how they're working to transform learning in their own commuinities.
"We use SOLE with the students from 3-6 grade as a pedagogical strategy to develop mental skills and abilities in the formulation of questions, teamwork, collaborative work and appropriate use of ICTs." Julio, teacher in Bucaramanga.
Julio is a passionate and motivated teacher from the city of Bucaramanga who is working hard and has a big dream, to have a SOLE Lab, or special place in the school, where the students can create their own Self-organized Learning Environment and develop other skills necessary to navigate our present and future world. We invite you to read more about Julio's story here: https://parqueenlanube.padlet.org/solecolombia/compartetusole
There's also a lot happening in the rural community of Pisamal, in the coffee growing region in the department of Caldas. The community has re-activated their SOLE, and children and adults are coming together every week to learn together starting from their own questions and interests. Now, thanks to the generosity of many donors and SAP Colombia, they're preparing to build a SOLE Lab, an important place in the community with internet connection where the neighbours can come together to learn, research and solve their own challenges using the internet and connecting with other communities around the world. They're now learning how tu use The Playground in The Cloud, and you'll see soon some of their stories published on the platform. You can also read here more about this beautiful community in the middle of the mountines: https://www.globalgiving.org/projects/build-a-school-in-the-cloud-for-pisamal-colombia/
Like Julio and the neighbours of Pismal, there are other SOLE ambassadors, librarians, teachers, community leaders and others, from different corners of our country who are starting to visit the Playground in The Cloud to connect with others and share what they're doing.
Even though we have this great news and have invited and reached many people, there are many other we would like to join us on our daily trips to the Playground. There are still thousands of people who are isolated and who would love to learn with others and connect to the world.
We thinks we're living in a special time where we have the opportunity to use the power of the internet to connect, know more about each other, learn from other realities and build together better ways of living, all these without having to move from our own community or special place in the world.
This is why we are also inviting you to join this effort to connect with each other using the Playground in The Cloud and to share with us any idea you have in mind that could help us find more awesome people interested in supporting what we do, with their donations, time and any other great idea that could help us grow. All of our donors are for us part of this transformation and we are convinced that we together, are already changing the world. If you have any idea you would like to share with us, we're inviting you to share it on The Playground in The Cloud: https://parqueenlanube.padlet.org/solecolombia/home. You also can write to us anytime to hola@solecolombia.org
Thank you for your constant support and stay tuned for the coming news!
Maryam, Sanjay and all the SOLE Colombia team