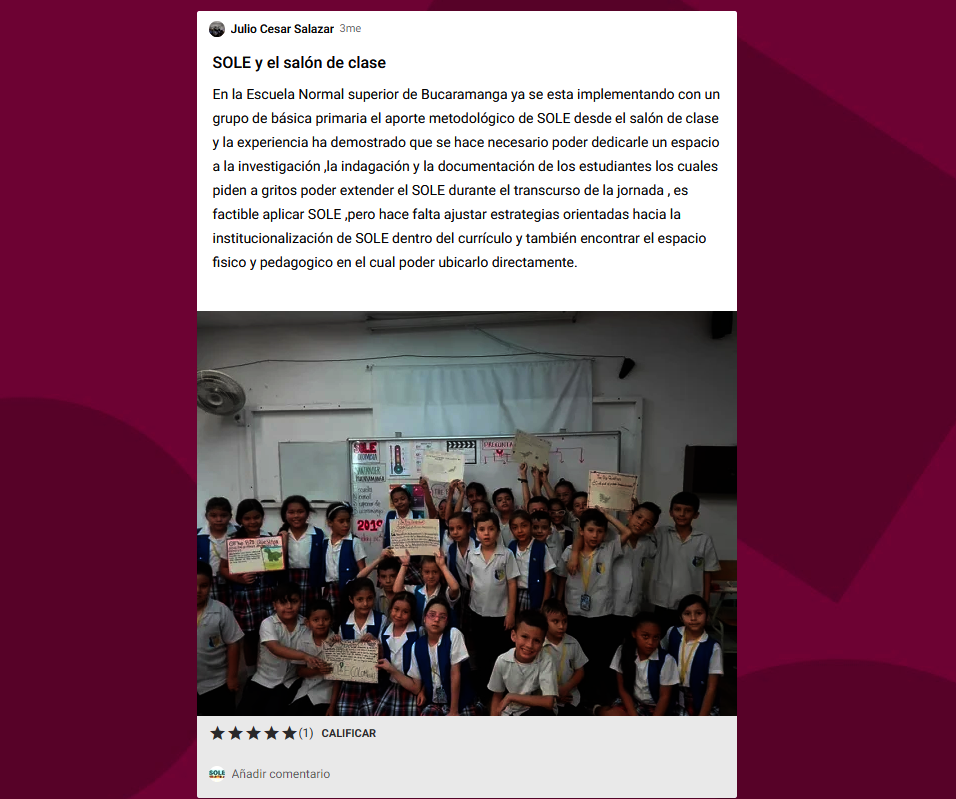 Have you already visited the Playground in The Cloud?
In our last report we shared with you some BIG NEWS about the Playground in The Cloud: https://www.globalgiving.org/projects/help-build-a-playground-in-the-cloud/reports/#menu. Thanks to all the support we have been receiving from you and many other supporters from all over the world, we have now a platform where people who are interested in learning -no matter from what backround they come-, can connect, share, talk, ask, learn and have fun together with other people around Colombia and the world.
After having the platform ready, we have been working during the last 3 months to reach and invite more people to visit our platform and share with the world their stories, questions, experiences and more.
There are already more than 170 people registered in our platform who come from all over the country and from very different backrounds: teachers, librarians, entrepreneurs, community leaders, students, activists, educators from different kind and many more.
On the Playground in the Cloud all people can find useful information, connect, share, talk and enjoy feeling they're part of a larger community.
If people are looking to start a SOLE (a Self-Organized Learning Environment) in their own communities (schools, libraries, public spaces and more) they can go to the section PARA APRENDER (to learn). There they can find the steps and tools to start SOLE where they want.
If people want to share who they are, their SOLE experiences, their questions and other kind of information, they can go the PARA COMPARTIR (to share) section.
And because we don't want anybody to feel lonely in this journey, if people are looking for connections with others involved in SOLE, they can go to PARA CONECTAR (to connect) and there they can coordinate a joint SOLE session with another SOLE in the world, connect to the Granny Cloud (Nube de Abuelitas) or just connect to other people who are interested in the future of learning.
We also opened a space for the people to start a conversation about any theme they want. Anybody who's interested, just has to go to the PARA CONVERSAR (to talk) section and start the conversation or participate in any other that someone else already started.
And last but not least, like any other playground in the world, people go to play and have fun. That's why there's also a section called PARA JUGAR /(to play) on The Playground in the Cloud. On this section people can find any kind of information and we are inviting all to share anything they find cool, useful, amazing, fun or just interesting.
Thanks to all the generous support you and many others have given us, many people all over Colombia and other countries and regions can have access to this platform and enjoy diverse aspects of SOLE and get more in touch with the future of learning.
And even if we already reached many, we still want more people in remote places that have been isolated, -due to the armed conflict-, for many years from the rest of the country and the world, to get involved and connect with others.
From our initial goal of $10,200 USD, we already reached $7,749 USD. We are thankful with you and many people around the world who have donated to this beautiful project. To reach other regions with SOLE through the Playground in The Cloud, we still need to reach our initial goal so we can have the ressources needed to engage more people and dedicate more of our time and effort to those regions that need it most.
We will be working on this during the next months and will send you some news about the next steps we're taking. During this time we invite you to visit The Playground in The Cloud. Enjoy, explore, connect, ask Big Questions and have fun!
Thank you and stay tuned!
Sanjay, Maryam and all the SOLE Colombia Community.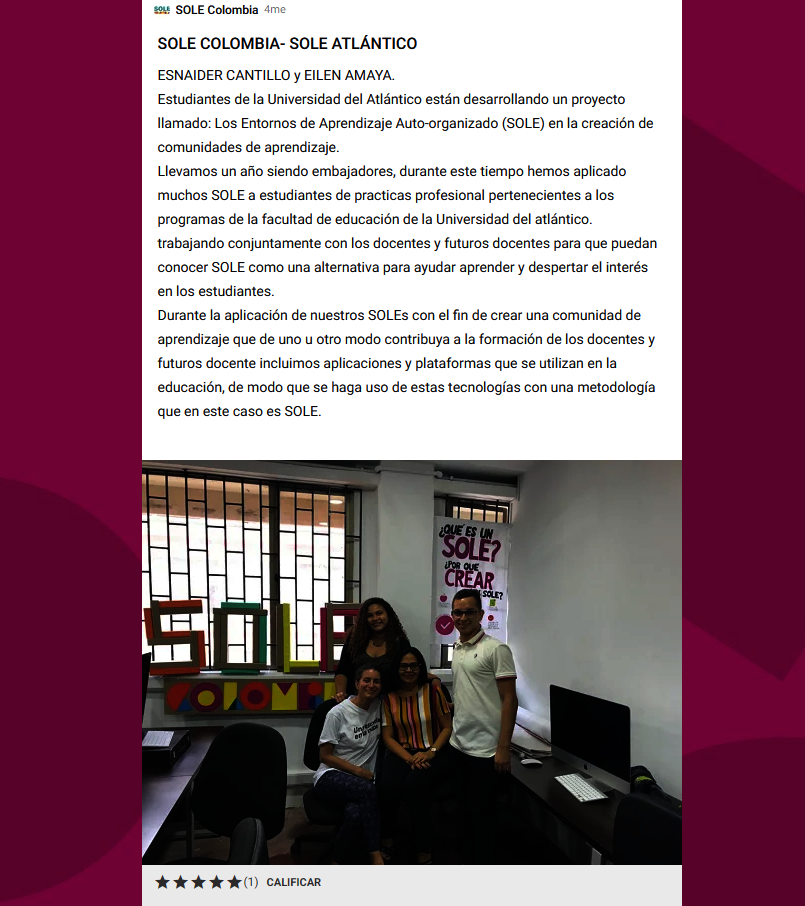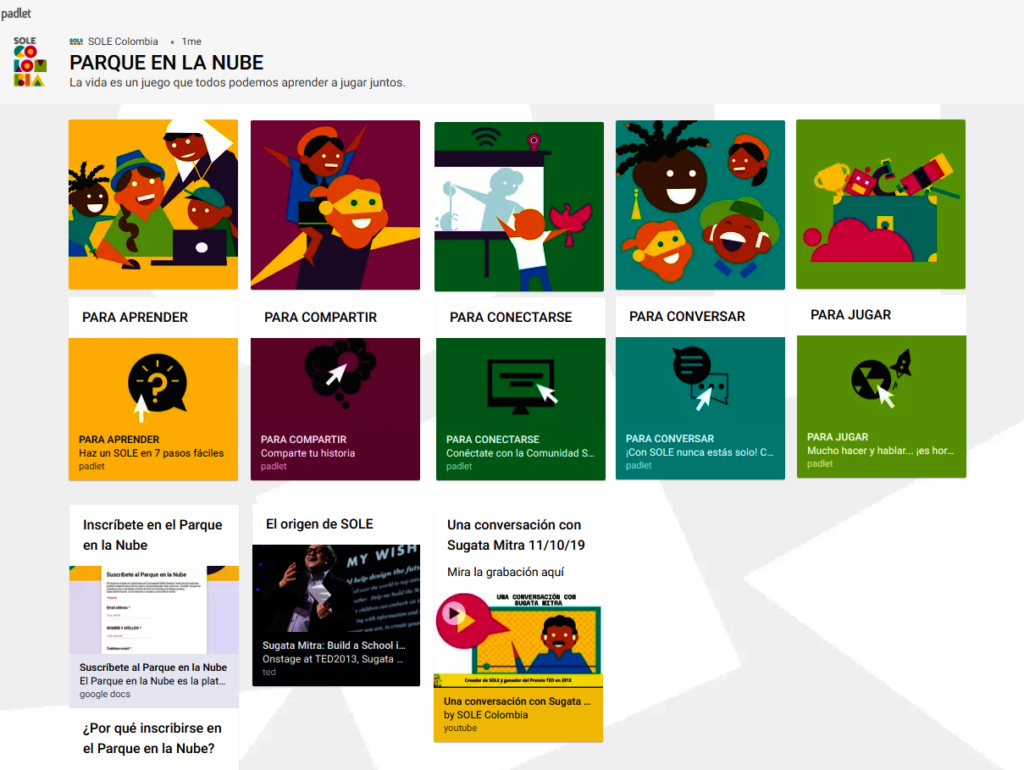 Links: