Project Report

| Jun 3, 2022
Report 1_We are Ready to take on the world!!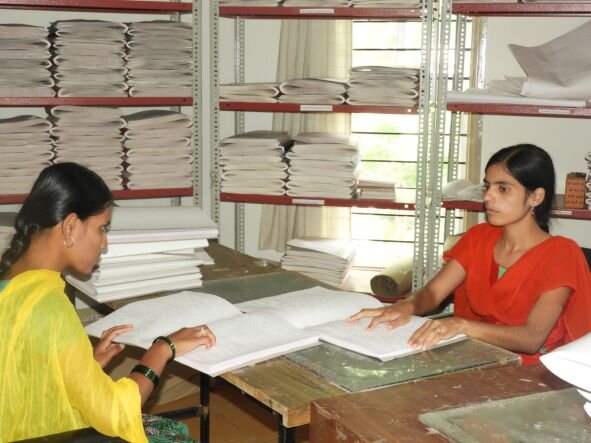 Story of Shilpa and Seema
In the words of Hellen Keller, Optimism is the faith that leads to achievement. Nothing can be done without hope and confidence".
This is true of sisters Shilpa and Seema who have won against all odds to achieve success. They hail from a tiny village of Allan Taluk in the Gulbarga District of Karnataka. Their parents work as daily wage labourers and were heartbroken when both their daughters were diagnosed partially blind since birth. However, that did not stop them from providing basic education to the girls. Both the girls attended Shrimati Anbubai Blind School in Gulbarga from Grades 1 to 10.
It was after completion of their high school that the parents decided to approach Mitra Jyothi for the Higher Education Program. Their seniors from school, who are beneficiaries of the Braille Press at Mitra Jyothi paved their way for this.
At Mitra Jyothi, both Shilpa and Seema were helped to obtain admission into the Government College where they are currently pursuing PUC. The girls who had already learnt Braille in their previous school, were keen to learn Contraction Braille. The Braille Press at Mitra Jyothi provided them not only with academic material, but also with Contraction Braille books. In addition to this, the girls who also love reading story books have borrowed so many short stories from the Braille Press that have contributed to their wisdom and confidence. Shilpa and Seema now feel empowered to continue their education and aspire to become government servants in the future.
Mitra Jyothi has been illuminating the dark world of the visually impaired students since the last 32 years by providing educational and non-educational material in multiple accessible formats. The Braille Press has over 350 plus books covering a wide range of topics for various age groups. It also has catered to reference material for aspirants preparing for various competitive exams. The Braille Press also has in-house publications, named Gnana Samhitha and Insight.
Summary: The primary objective of the project is to provide accessible reading material in Braille format to people with any kind of visual disability (from low vision and complete blindness to people at risk of losing vision with time). This applies to people from economically backward and marginalized communities with the intent of promoting education and enabling subsequent employment to many more beneficiaries like Shilpa and Seema.