Project Report

| Jun 20, 2023
Orphaned rhino Thaba - one year on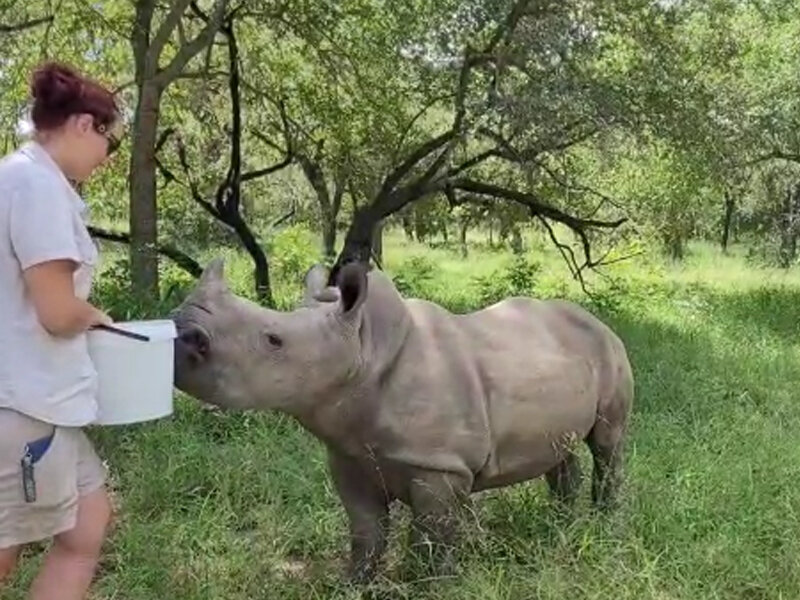 Orphaned rhino Thaba is still making great progress and has been at the Hoedspruit Endangered Species Centre for a year!
Thaba is now being fed 6 litres of milk three times a day and also munches on lucerne to supplement his nutrition. He loves his mud baths and looks forward to a good tree scratch afterwards too. He has learnt so much from his surrogate big sister Esmé and likes to lie down next to her under the shade of the trees during the day.
While Thaba might still be a baby rhino, one can never underestimate the strength he already has. When the curators feed him his milk, he is inclined to push forward excitedly when the bucket gets emptier, which could cause the curators to fall over. Hence, they must resist him by pushing forward when they feed him those last few slurps. He can be quite the feisty little guy too, so the milk must be ready and waiting!
If you follow us on social media, you would have seen that Thaba spends his time not only with Esmé, but also with companion sheep Mielie and Vlooi. Unfortunately, Vlooi, while recovering so well after his dislocated leg injury, succumbed to Bluetongue, which is a non-contagious viral infection spread through biting midges or ticks. The disease affects sheep, cattle, deer, goats, and camelids – but sheep are severely affected. It was a devastating loss for everyone, and Thaba lost yet another companion. Thankfully, he still has Esmé and Mielie around to comfort him.
Once again, we want to thank everyone who has supported him this past year, and who continue to support him on his path to becoming a big and even stronger rhino bull.