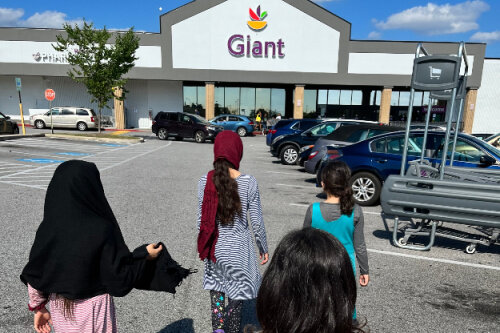 This report is going to the 32 generous friends who have donated to our appeal on behalf of an Afghan family in Maryland. The fifteen family members are among more than 74,000 Afghans who have arrived in the US since the fall of Kabul on August 15, 2021.
Our goal is to help the family start a catering business from their new home and your combined pledges have raised $2,030 so far, including a match from GlobalGiving. We transferred the money this past week to the Gloria Dei! Lutheran Church in Arnold Maryland which has provided a team of dedicated volunteers to support the family as they resettle in the US.
The family members and their volunteers will take it from here. They will start by investing in materials and supplies including pots, pans and trays to keep the food warm during transport. They need to be well prepared for their first catering event, expected in the spring.
Finding actual events has proved harder than we expected. The family received an offer recently but several family members would have had to take time off work to accompany their mother (seen in the photo below) who is the lead cook. That would have been difficult. The other challenge would have been distance and transport. The event was to take place in downtown Washington during rush hour, about 90 minutes from the family home. We were all disappointed, but it was the right decision.
The search is now on for events closer to home in Maryland. If anyone receiving this email has suggestions we would be happy to pass them on to the family and their volunteers. Email us at iain@advocacynet.org.
The resettlement process continues to be difficult for many Afghan refugees, particularly those who left family members behind in Afghanistan and came from rural areas. In addition to problems of language and culture they now face legal worries after the US Congress recently rejected the Afghan Adjustment Act, which would have given the refugees a legal pathway to permanent residency. The idea that they could have been airlifted to the US only to face the possibility of deportation - however remote - adds enormously to the stress of adjustment.
We analyzed some of the pressure in this article last September and hope to update the story soon.
In the meantime, we continue to be inspired by the resiliency of the refugees and the dedication of their American volunteers. Cooking is certainly a logical way for refugees to find an outlet for their talents while also bringing in an income. You might be interested in two strong community-based programs along the same lines: Emma's Torch and the Mera Kitchen Collective.
We will report back again when our Afghan friends complete their first commission.
Once again, many thanks! We are enormously grateful.
Iain and the AP team