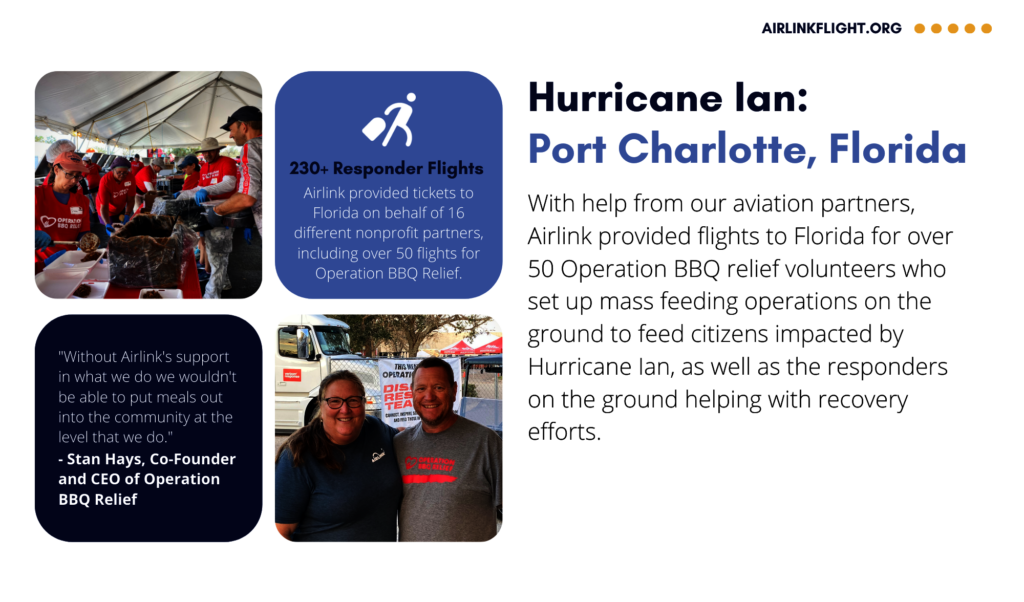 The morning after Hurricane Ian barreled through southwest Florida, leaving millions without power and catastrophic damages, Airlink had emergency responders on flights to assist in recovery efforts. In four months since this response has started, Airlink has provided flights for over 230 emergency responders on behalf of our NGO partners assisting with clean-up efforts, home repair, food aid, psychological support, and more.
Based on the damage, recovery is expected to extend into 2024, if not longer. Airlink is still supporting flights for several NGO partners including Missions on Wheels, ITDRC, and Inspiritus.
Hurricane Ian NGO Partner Highlights
IsraAID:
With assistance from United Airlines, Airlink was able to get 20 volunteers from IsraAID's Emergency Response Team on the ground to help with debris removal and clean-up efforts. They particularly prioritized supporting people who cannot easily undertake physically intensive work, individuals who are uninsured, and those who lack the financial means to clear debris themselves.
Operation BBQ Relief:
With help from our aviation partners, Airlink provided flights to Florida for over 50 Operation BBQ relief volunteers who set up mass feeding operations on the ground to feed citizens impacted by Hurricane Ian, as well as the responders on the ground helping with recovery efforts.
"Without Airlink's support in what we do we wouldn't be able to put meals out into the community at the level that we do." - Stan Hays, Co-Founder and CEO of Operation BBQ Relief
Links: