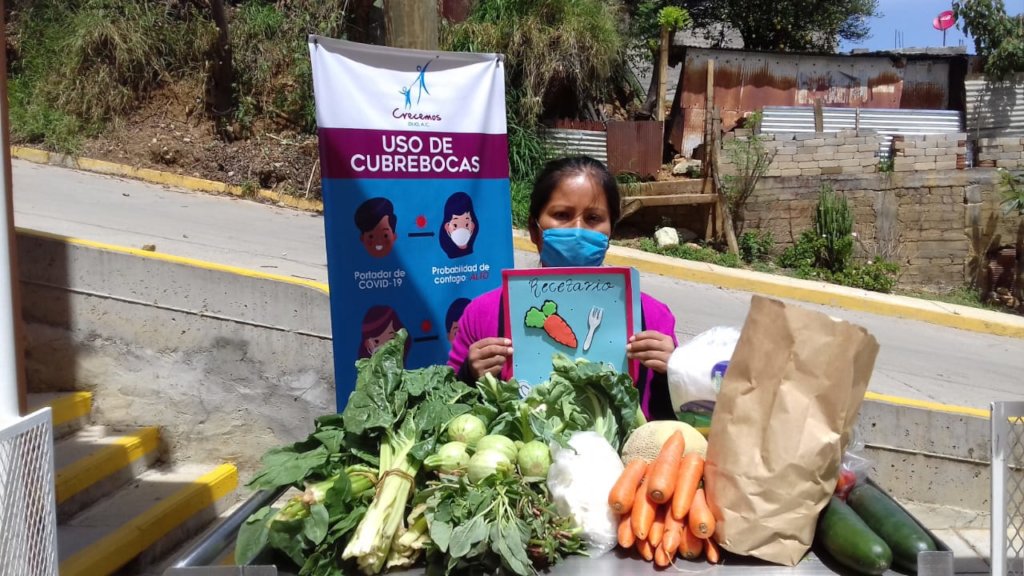 As of March 23, the government of Mexico decreed the National Healthy Distance Period due to the COVID-19 pandemic. Crecemos DIJO stopped operating regularly and began remote work. For the identification of the needs, a socioeconomic analysis was made taking into account their main source of income. The study concluded that 98% of families do not have a formal income and depend on street sales and informal jobs, which is why it was anticipated that in mid-May it would be when families stopped receiving their already precarious income.
This is how the Emerging Nutrition Project begins: Food and nutritional support for girls, boys and their families in a precarious economic situation, exacerbated by the COVID-19 pandemic.
Starting on May 18 at the María de Guadalupe Community Center, nutritional meals are provided to girls, boys and their families, in the "to eat at home" modality, under a strict hygiene and safety protocol. The goal is to provide 300 daily servings of food, a total of 31,500 servings from May to September, a period in which the economic crisis will suffer due to the absence of normal activities.
"...My husband lost his job, because they closed where he worked, we barely had enough for tortillas and beans. The nutritional packages have been of great help, it has helped us to eat nutritionally. I have prepared the recipes that they offer us: green beans with egg, chicken with vegetables, soy in ceviche, cheese tacos with vegetable soup, it is very delicious !. I am very grateful, my children are happy eating tasty and nutritious. Thanks to all who collaborate with us..." Reina
In Oaxaca, families in poverty suffer a lot because of the pandemic, because they have stopped receiving their precarious income, but they are not alone, we are together to help them and get ahead because the crises resist if we are together, if there are heroes like you who strive to support others. Your help makes a difference!