In our last report, we wrote about the successful gathering of women leaders from 21 villages, who convened in the town of Djiamande to formally "call the rebels home" to their communities (with your support!). Their actions included rituals, traditional song and dance, and community meetings to discuss the peace process. The rebels' spiritual obligations to fight for independence were formally removed by the regional priestess of the sacred forest, assisted by women from the villages throughout the area. In case you missed it, this local news report, from Senegal, includes footage of the event:
News report from Senegal: event led by women in Djiamande
(subtitled, 2 minutes)
Our current total raised through GlobalGiving since we began fundraising last year is $6,053. Thank you! We spent $5,800 of that money on the gathering of women leaders in Djiamande. Because local villagers donated bags of rice and people gave each other rides to the events, we were able to reduce costs of food and transportation so that each donation we received stretched a long way.
Now, we have turned our attention toward next steps. Since the gathering in Djiamande, we have raised $253 through GlobalGiving which we have set aside to support a series of community meetings and peace advocacy with combatants. Our fundraising goal for this is $4,500. To plan the next phase of work, our Senegalese peacebuilding associate, Joachim Diene, has been gathering information about community needs in Goudomp Department, Casamance, which has been hard-hit by the conflict. In that area, there are a number of dormant rebel encampments, and nearby villagers recently became worried those encampments could be reactivated—by rebels returning from The Gambia due to the political changes, and by combatants who were not influenced by our previous programs with priestesses.
The Casamance region of Senegal strongly values the traditional democracy of its local villages; it is said that each village is a republic. The collective advocacy of villages in Goudomp, together with our previous efforts with women in the areas of Oussouye and the Blouf, could be a deciding factor that keeps rebel forces involved in the peace process and prevents them from taking up arms again.
In order to allow us to fundraise over a longer period of time, we have included this newest initiative as part of our overall project on GlobalGiving rather than as a separate microproject. As a result, we have increased the goal for our project.
Thank you for your support of grassroots peacebuilding in Senegal!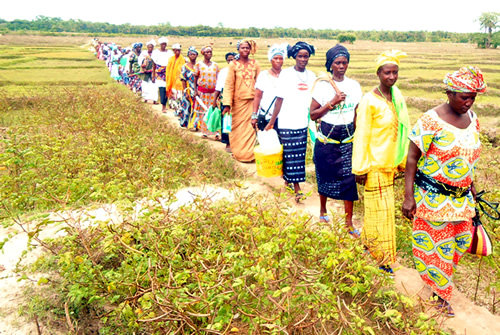 Links: