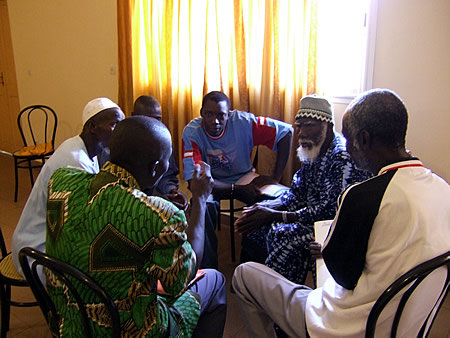 Thank you for supporting peace work in the Casamance region of Senegal! We have some updates to share, in response to events that affect ongoing progress toward peace.
Current overview of the conflict
Because Senegal's national government is only holding peace talks with one faction of rebels, the more moderate majority faction (85%) is excluded from the formal peace process. This lack of engagement, combined with the hesitancy of some key leaders within that faction to move toward a peace process, creates a tense situation in which small clashes could lead to a return to violence. However, there is hope: many of the rebels maintain connections with their families and home communities, even if those ties have become strained. A negotiated peace process remains possible if pressure toward peace remains constant on both sides--if on one side, rebel factions are pressed to engage in negotiations by community members who earnestly desire peace and if, on the other side, the government agrees to shift its position to include all combatant factions in peace talks.
As we mentioned in our last report, 14 people collecting firewood were attacked and killed in a Casamance forest in January. Suspecting rebel involvement in the attack, the national army bombarded rebel encampments in the area. Tensions were heightened, especially because the rebel forces present in that area of the Casamance are among those excluded from the formal peace process. Unfortunately, since that time, there have been other small incidents of violence in which blame is unclear, including a reported (but not yet confirmed) clash between individuals aligned with the MFDC rebels and Senegalese army soldiers on July 13.
This project report focuses on our response to the January violence, since that response was our most recent GlobalGiving-funded action. Unlike many of Karuna Center's other peacebuilding programs that are funded at least in part through grants, this work in Senegal depends on exactly how much money we receive from individual donors. Once we have raised enough money for a peacebuilding intervention, we develop a collaborative plan of action, and wire the full amount to our Senegalese peacebuilding associate (as a lump sum, to minimize bank fees).
Our Senegalese peacebuilding associate, Joachim, worked with the leadership of APAC (Alliance pour la Paix en Casamance: a peace coalition formed out of earlier Karuna Center workshops) to advocate directly with key actors in the Senegalese government as well as with political representatives of the relevant MFDC rebel factions.
Meetings to influence government
Originally, the intent of the meetings with the government was to advocate for peace talks with both military branches of the MFDC. However, based on the changing context, we also advocated the national army cease its bombing campaign of the area in January, in order to avoid falling back into the violence that previously characterized the Casamance conflict.
In meetings with those positioned to influence President Sall, Joachim and APAC conveyed their close knowledge of community concerns. They asked government negotiators to include both major factions of the rebel forces in the peace process, even if this requires two tracks of negotiation. This advocacy is a very important link between national-level and community-level work for peace. Like our community-based efforts, these meetings can have a large impact but require only a small amount of funding to cover transportation and meeting costs.
Joachim and the head of APAC met with the maribou (spiritual advisor) to the President of Senegal, who listened intently and asked questions about the potential impact of excluding the largest rebel faction from peace talks. Following a long and productive meeting with the maribou and religious authorities, Joachim's team met with members of the National Assembly, as well as a state negotiator who is in dialogue with rebels.
The national army's retaliatory attacks stopped after our meetings with these officials, who had pledged to work for an end to the bombing. However, it would be naive for us to claim sole credit for this outcome, because there were others who also advocated strongly for an end to the escalating violence.
Meetings to influence rebel forces
Joachim and representatives from APAC also met with people in a position to influence rebel leadership directly, through a groupe de contacte established during previous Karuna Center programs to help rebels listen to community concerns. This allowed us to have indirect communication with the rebel faction that is excluded from national peace talks. Through these meetings, we were able to communicate that local villagers want the rebel forces to maintain a ceasefire despite being excluded from the process.
We also learned about additional barriers to peace on the rebel side. As we anticipated, some lieutenants within this faction do not want to negotiate, and they exert significant influence over the leadership. Even if the leader of the faction maintains the ceasefire, he does not have 100% control of his men; and if his lieutenants continue to feel ignored by the government, their frustration could lead to violence. (In fact, this may already be taking place.) We also learned about economic barriers to peace, especially the significant challenge of providing adequate legal employment to former rebel combatants who have profited from illegal trade.
We still believe that all these concerns could be addressed, beginning with inclusive talks--providing there is a will for peace. That will for peace is alive and well at the community level, and the task ahead is for both rebel and government leaders to listen.
We will keep updating you about this project as the context, needs, and opportunities change! If you have any questions, or if you would like to be kept more closely in the loop on our program planning and fundraising process, we would love to hear from you.
Again, thank you so much for your support!
All of the money we receive through GlobalGiving goes directly to the work in Senegal; Karuna Center does not take overhead from these initiatives.
Please note: Photo is from an earlier Karuna Center program in Senegal, because it was not appropriate to take photographs during this phase of the project.