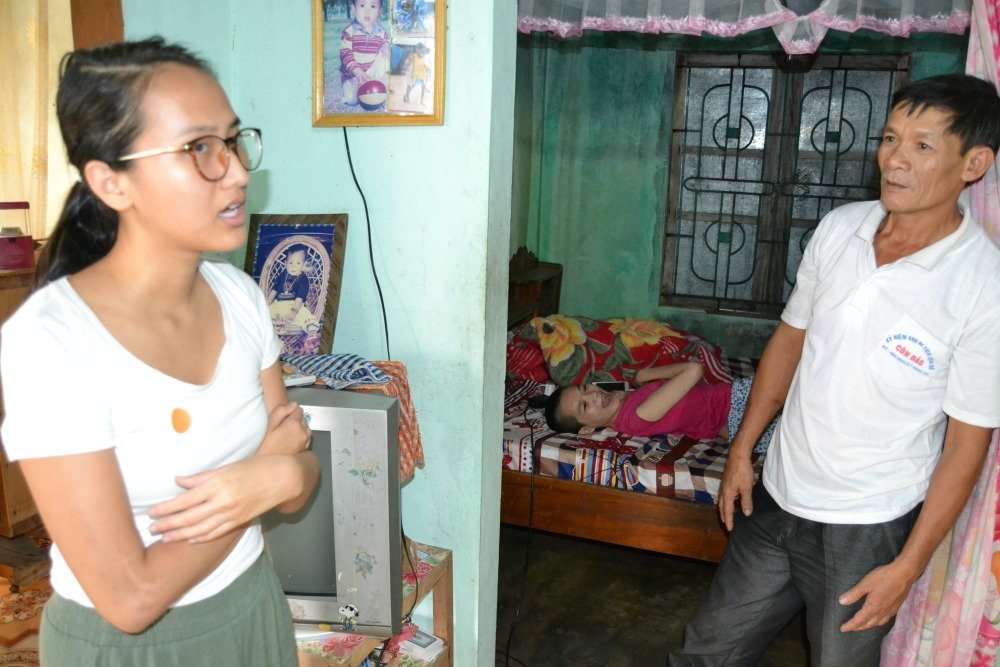 The Value of Service
This report on our fellowship appeal through GlobalGiving will feature three accomplished young professionals who served as Peace Fellows for The Advocacy Project (AP) in 2016. The three are among eleven Peace Fellows who were deployed last year to work with our community-based partners. Each has given us much to reflect on as we start recruiting for 2017.
Ai, pictured above, returned from her fellowship in Vietnam shortly before Christmas and is now in the middle of her final semester at the Mailman Institute of Public Health at Columbia University in New York. Rose served in Mali and studies at Georgetown University. Allyson, from the Fletcher School at Tufts University, worked with refugees in Jordan in the summer. All three will graduate in May.
As you may remember, our fellowship program seeks to draw on the skills of graduate students, and make these skills available to our community-based partners. In the process we expect that the Fellows will benefit personally, academically and professionally from the experience. We are seeking funds to deploy up to 40 Fellows between 2016 and 2018.
How have we done so far?
Fundraising
Many of the organizations that hosted Fellows last year have deep roots in their communities and are incredibly effective advocates, but lack technical skills and contacts. This is where our Fellows come in. Ai was particularly useful to her organization, the Association for the Empowerment of Persons with Disabilities (AEPD) in Quang Binh province, Vietnam, because she was born in Vietnam and was able to stay for six months. But she also helped them to fill some important gaps.
AEPD works with people who suffered disabiltiy in war and is particularly concerned with families that were poisoned by Agent Orange – the herbicide that was dropped on Vietnam during the war. Ai has raised over $4,500 for four families, most of it through her own appeals on GlobalGiving. This enabled AEPD to buy cows and chickens for the families and provide them with some economic independence. Ai is pictured above with one of the beneficiaries, Mr Le, whose three daughters were paralyzed by Agent Orange.
Last year's eleven Fellows raised around $10,000 – a record.
Building programs for social change
We also ask Peace Fellows to help their hosts launch innovative programs/campaigns for social change. We have written elsewhere about the work done by Peace Fellow Rose in Mali, where our partner organization (Sini Sanuman) supports survivors of war rape. This program trains survivors to make and sell soap. Rose helped by supervising the construction of a storage shed, commissioning new soap molds, improving the quality of the soap and introducing a systen of book-keeping to track sales.
The results of Rose's intervention, which lasted 10 weeks, speak for themselves. Our partner Sini Sanuman produced and sold almost 26,000 bars of soap last year – above the target of 25,000 bars. The beneficiaries now keep 60% of the profits. Our German donors were so impressed that they have agreed to fund the program again in 2017 to the tune of $180,000.
Advocacy quilts
We see another encouraging outcome in Jordan, involving refugees from the wars in the Middle East. Over the summer Peace Fellow Allyson (Fletcher School at Tufts University) worked at the Collateral Repair Project in Amman, where she helped refugee women to describe their journey to safety through 25 embroidered squares. The photo shows two artists at work on their squares.
Allyson brought the squares back in August. We then handed them over to Quilters by the Sea, a leading quilt guild in Portsmouth, Rhode Island for assembly into quilts. Working under the leadership of Ruth (photo), six experienced quilters assembled the squares into two spectacular quilts which can be seen on this page.
We have ambitious plans for the quilts. First, we are making them available to events that promote understanding about refugees, particularly at universities. This past week alone, the quilts were shown at Georgetown and the University of Maryland. Other universities – Salve Regina, Yale, George Washington, Houston and West Virginia - have expressed interest.
Our second goal for the quilts is to generate an income for the artists, and with this in mind we are seeking corporations and firms that might use our quilts to decorate their office walls. Several other quilts are currently being assembled, featuring tigers in Nepal and camels in Mali. If, as we hope, this can evolve into an income-generation project we will have Fellows like Allyson to thank. Almost all of our quilts were made under the watchful eye of Fellows.
Impact on Fellows
The other broad goal of our fellowship program is to ensure that our Fellows benefit personally, academically and professionally. We track these three impacts carefully and ask Fellows to complete an extensive questionnaire when they return home. We have just posted new pages on our website which feature some of the remarkable young men and women who have served since 2003. Here is one of the entries:
"Compassion: Danita (Missouri University, 2008) is one of several former refugees who have signed on as Peace Fellows to repay the kindness they received while they themselves were in dire need. Danita's family lived in the besieged enclave of Bihac, Bosnia, when the family was given asylum by the US during the Bosnian war. Danita spent four months as a Fellow working with blind children in Bangladesh and used her own money to donate to a school for blind children run by her host. After her fellowship, Danita returned to Bangladesh to work with Rohingya refugees."
Again, we hope you will check out these pages and be as impressed as we are.
Looking ahead and recruiting from the Global South
With a strong year behind us, we are now gearing up for the second year of this program/appeal. We hope to recruit eight Fellows. This is slightly down from last year, but we feel the need to focus. In addition, we will be asking host organizations to recruit graduate students from local universities to help our Fellows with transport and translation. These eight graduates will become associates to our program and volunteer with our partner organizations for the rest of the year.
This will produce two important results. First, it will further enrich the experience for our northern students. Second, it will expand our fellowship program to the Global South and empower skilled and committed local graduates. We receive many applications from qualified students in countries like Nepal, but are unable to bring them to the US for training. We will test out this new approach in 2017 and are excited at the prospect.
We will introduce you the 2017 cohort of fellows in our next report, and follow them through the summer. It promises to be another active year!
Thank you!
Iain and the AP team