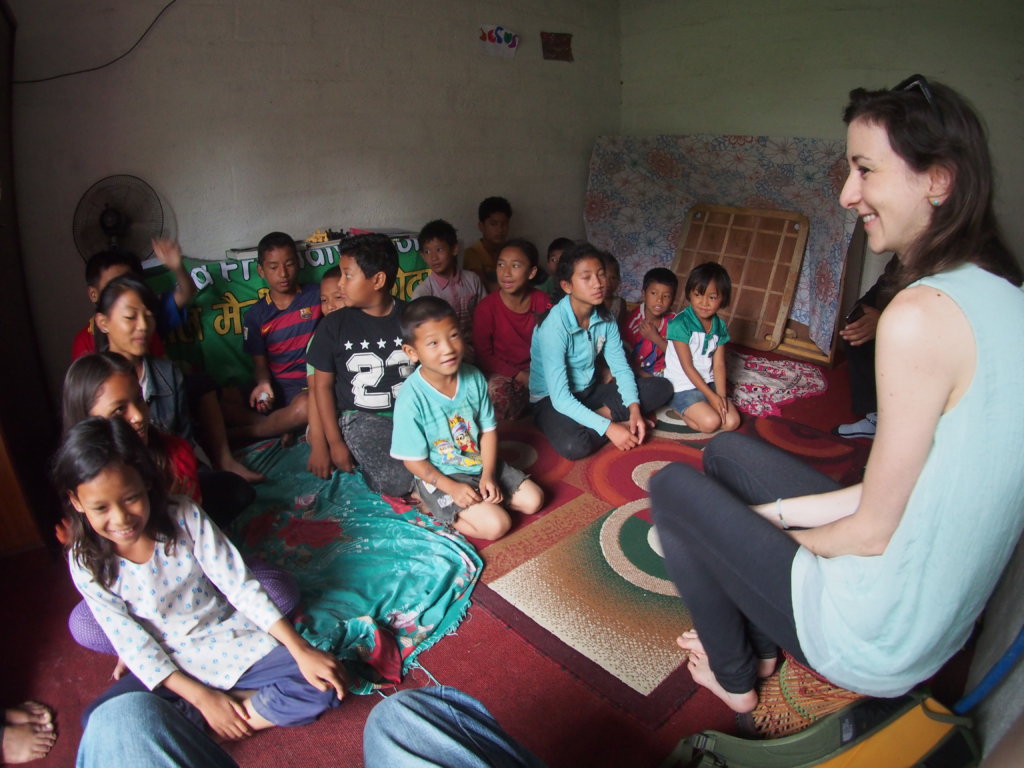 The Value of Service - Peace Fellows Trigger Social Change and See Their Own Lives Changed
A second report from The Advocacy Project (AP)
Lauren Purnell, pictured above, spent ten weeks this summer helping to free child laborers from the brick kilns of Nepal. Lauren was one of 11 remarkable young professionals who volunteered in 2016 as an AP Peace Fellow. Your donation to our Global Giving appeal helped make it possible.
In this report we explain what our Fellows have achieved this year. But first, a reminder. Peace Fellows are graduate students who take time off from university to work with one of our partner organizations. We have recruited 285 Fellows since 2003. Eleven served this year in eight countries - Nepal, Vietnam, Kenya, Uganda, Mali, Jordan, Greece and Peru. You can read their profiles here.
Peace Fellows provide valuable technical support to our partners, but we also want them to gain personally from the experience. This report will explain how it all happens. We will end by introducing you to another 2016 Fellow - the inspiring Ai Hoang, who has returned to volunteer in Vietnam, where her family suffered during and after the war.
1. Preparing Fellows for deployment
We described the 2016 recruitment process in our first report. This included a week of professional training that prepared Fellows for their role as technical advisors. Judging from the evaluations, they found the sessions on photography and video editing particularly useful and also appreciated the podcasting training, which was given by Ash Kosiewicz, a former Peace Fellow who works at the World Food Program (photo). We were also grateful to Emma Hersh and Tia Donjon, from Global Giving, who showed Fellows how to post a microproject on Global Giving. As you can see below, this has generated over $9,000 for AP partners.
We measure the success of recruitment by the quality of Fellows, and the 2016 cohort was one of the strongest ever. But there is always room for improvement. For example, we hope to build stronger partnerships with academic programs like the Fletcher School at Tufts University or the School of Foreign Service at Georgetown. We would also like to take students from minorities and low-income areas who are highly motivated but struggle to raise funds. That's for the future.
2. Building new partnerships
This year we sent Fellows to open up three new partnersships with: the Collateral Repair Project (CRP) which helps refugees in Jordan; the Children Peace Initiative, which promotes reconciliation between warring tribes in northwest Kenya; and the Greek Forum of Refugees, which advocates for asylum-seekers in Greece. We have high hopes that all three organizations will develop programs in the future that we can support year-round.
3. Supporting existing programs for social change
Several Fellows worked on innovative programs that AP helped to launch in past years:
4. Telling the Story
As well as supporting programs, our 2016 Peace Fellows publicised the work of their hosts through more than 100 blogs, 930 photos, podcasts, news bulletins and videos. Many are of high quality. For example, Dorothy Khan blogged about the practice of chhaupadi in Nepal, which forces women and girls to live in a shed during menstruation. Mattea Cumoletti's photos, blogs and podcasts exposed the lack of protection for refugees in Greece. Rachel Wilson blogged about how the Children Peace Initiative in Northern Kenya uses cows to resolve conflict between warring pastoralist tribes. Our photos have been viewed over 70,000 times since June.
5. Raising funds
Eight Fellows launched microprojects through Global Giving and raised $9,042 for their hosts from 188 separate donations. Two Fellows – Lauren in Nepal and Ai Hoang in Vietnam – launched two appeals each and all have both been fully funded. If you donated, thank you!
6. Advocacy quilts
Over 50 women told their story through embroidered squares in Jordan and Nepal under the watchful eye of Peace Fellows. In Jordan, Allyson Hawkins helped refugee women from Syria and Iraq to describe their terrifying journey to safety through embroidery. The squares will be assembled into two quilts by experts in Rhode Island and used to publicize the plight of refugees in the US.
In Nepal, 35 wives of the disappeared have also told their story through embroidery, with help from Peace Fellow Megan Keeling. Their squares were exhibited for the first time in Kathmandu on August 30, International Day of the Disappeared, and will shortly be taken to the US to be assembled into quilts. At least one will return to Nepal and be used by advocates for families of the disappeared.
7. Impact
Being a Peace Fellow can be life-changing and we ask Fellows to report back on how they were affected by the experience.
In their evaluations, many of the 2016 Fellows refer to the new skills they have learned. Almost all are better communicators than when they left. Lauren, Daniel and Allyson became adept at writing proposals. Megan and Mattea became IT experts. Mattea and Amy turned into enthusiastic podcasters. Lauren and Megan produced short video films. These skills will be useful in the years that lie ahead.
We also expect that working in tough conditions will build character. This was certainly the case for Dorothy Khan, who spent much of her fellowship in an isolated village in central Nepal without running water. In a final blog, Dorothy also wrote about the value of direct experience: "I also learned about the many forms of discrimination that women (and girls) face in Nepal. From seeing the open huts that these girls sleep in, to watching them be isolated merely because they menstruate, I am not sure if I would have understood what these women feel if I hadn't worked there."
After working with refugees in Greece, Mattea Cumuletti shared the same sentiment: "There is no better way to understand the depths and complexities of the refugee crisis than from working with and listening to the people who are going through them."
Several Fellows have kept up their good work since returning home. Daniel Prelipcian gave a presentation about his alpaca project in Peru at his church in Manhattan. Rose Twagirumukiza gave the keynote address at the annual meeting of the Zonta Women's Club of Washington and spoke movingly about her own personal journey - from the genocide in Rwanda to university in the US and back to Africa as a volunteer.
8. Meet Ai Hoang
Ai Hoang (photo) is the only Fellow who remains in the field and she exemplifies the extraordinary qualities of this year's cohort. As noted above, Ai works with victims of Agent Orange in Vietnam and it has not been easy. But Ai has also gained strength from seeing the courage of people so much worse off than herself. She has raised over $4,000 with help from family members, some of whom themselves suffered persecution in Vietnam. It is another sign that Peace fellowships bring out the best in people and offer hope in a troubled world.
With your help, AP will continue to recruit Fellows through 2018 and beyond. Once again, thank you for supporting this strong program!
From the AP team
*
For more information: