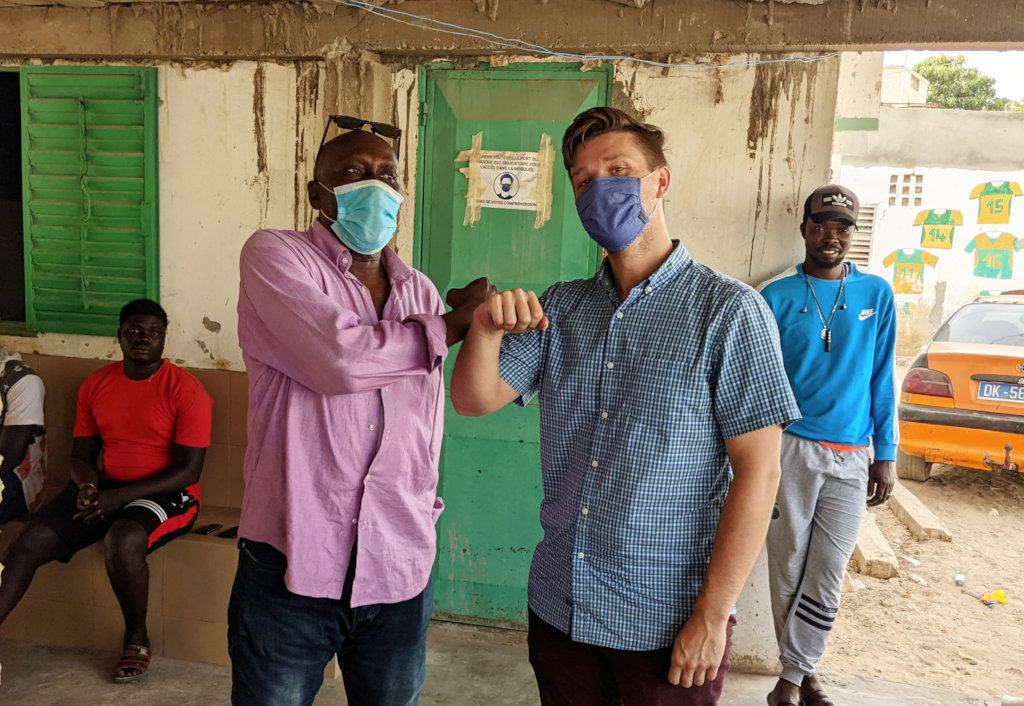 This report is being sent to 212 friends of The Advocacy Project who have supported out fellowship program, Fellows for Peace, through GlobalGiving. With your help, we have raised $35,166.26 for the program and deployed 316 graduate students to more than 40 countries since 2003. Thank you!
June is normally our favorite month of the year, because this is when we recruit Peace Fellows for the summer. We particularly look forward to the week of training in Washington, because it brings everyone together in one place before they head out and builds team spirit.
COVID-19 put a stop to that in 2020. This year we have taken some baby steps back to normality and sent three graduate students out to Africa (sadly, without the training), but even this has been anything but smooth sailing. Thankfully it has been a different story here in the US where ten talented Fellows are working remotely from home and doing a fine job.
This report will review both parts of our fellowship program, in the field and in the US. We hope to show that it remains as creative as ever, in spite of – or maybe because of – the pandemic.
Taking on Migration, Ebola, and Sexual Slavery in Africa
The three brave souls who took on assignments in Africa are Matthew, Anna and Jeremiah. All three are studying for a Masters degree at the Fletcher School at Tufts University.
Matthew (photo), a Liberian national, returned to his home country to help survivors of Ebola recall their experience of the epidemic through embroidery. As we explain later in this report, story-telling through stitching offers a great way to launch a start-up with a new partner and is enormously popular with women. Matthew also hopes to learn some lessons from Ebola about the challenges that will face survivors of COVID-19.
Anna went to Gulu, in northern Uganda, to support a long-standing partner, the Gulu Disabled Persons Union which has – with our help – launched start-ups to make soap and masks. Anna also established a new partnership with Women in Action for Women, an association for Ugandan women who were forced into sexual slavery by the Lord's Resistance Army in the 1990s and have still not recovered. They too have decided to start with story-telling through embroidery.
Our third Fellow from the Fletcher School, Jeremiah (photo) is in Senegal working with former migrants who risked their lives to escape to Europe but have been forced to return home. They will also describe their ordeal through embroidery. We hope to learn what prompted them to leave, what they faced on the journey, and whether they plan to try again. Jeremiah's research may also throw some light on other migration hot-spots like the southern border of the US. His latest blog, entitled Barcelona or Death, suggests that it will not be reassuring.
These three subjects – Ebola, sexual slavery and migration - have been selected by the local partners. We have embraced them with enthusiasm because of their importance and because they will provide our three Fellows with an opportunity for strong research.
In the same spirit, Savannah, an undergraduate at the University of Maryland, is researching the link between climate change and conflict for Children Peace Initiative Kenya (CPIK). Savannah is also advising us on how to nominate CPIK for the Nobel Peace Prize.
Tripped Up by COVID-19
This resumption of foreign travel, though modest, has been greatly complicated by the pandemic. Perhaps we should not have been surprised, because nothing about COVID-19 has been predictable. But we never expected to see such a sudden spike in infections in Africa, where Fellows are working this summer.
This has caused all manner of problems - some serious, others less so. Anna almost missed her flight to Uganda because KLM demanded a COVID test and result within 24 hours of her departure. In spite of being fully vaccinated, Anna then faced the ethical question of whether she might unwittingly be endangering her hosts. She left the decision to her hosts, who were desperate for renewed contact with the outside world. But this did not save Anna from being accused of having a "white savior" complex, after she discussed her dilemma in a blog.
Anna then faced a much more serious challenge. Infection rates began to soar in Uganda within days of her arrival, and the government imposed a lockdown for 42 days. One of Anna's Ugandan team members, who heads the soap-making project, came down with the virus.
With less than 1% of Ugandans fully vaccinated, this was not the time for Anna to take chances. It also became clear that she would be denied the opportunity to work alongside partners and produce the interviews, photos and profiles that make our fellowships doubly rewarding. Anna managed to celebrate her birthday with Emma and Victoria, two inspiring partners in Uganda, (photo) before heading home. This was a huge disappointment.
Anna's return has forced us to regroup and re-assign projects. After being been repeatedly caught off-guard by COVID-19 we will also keep a close eye on the pandemic in Vietnam, Nepal, Mali, Liberia, Uganda, Kenya, and Zimbabwe where we support partners. All seven countries are ill-equipped to respond to the new wave. None of them manufactures vaccines, and their health systems are fragile.
Marginalized communities are particularly vulnerable: when we asked girls in poor neighborhoods of Harare to describe their experience of COVID last summer, their stories were all about police brutality.
There is a limit to what The Advocacy Project can do, but we are collecting first-hand information from partners and hope to make a noise about the scandalously slow rate at which vaccines are reaching the Global South. This is a massive moral failure by the North.
Expanding Support for Start-ups
The pandemic may have led to reduced opportunities for graduate students, but it has also opened up exciting new possibilities for our Fellows here in the US and even enabled us to invest in more projects abroad.
First, a little about the Fellows. We have received around 35 applications this year and accepted 19 so far. The Fellows are, as always, wonderfully diverse. Three are first generation Americans, whose families came from Vietnam, the Ukraine and Cape Verde. Seven were born abroad, in Iraq, Liberia, Nepal, Turkey and India. Our youngest Fellow, Nina, 16, is still at High School. The team is managed by Abby (just graduated from the University of Illinois) and Delaney (University of California San Diego). Both joined AP as Fellows and got hooked.
This large and talented team represents a wonderful resource for our partners, and of course with the pandemic surging the need is greater than ever. These seem like two good arguments for doing more not less, and we are currently supporting 18 start-ups in 10 countries. So far this year, we have transferred around $31,000 to partners, of which $16,000 came from donors and the rest from our own core funds. This is far more than last year.
Here's how it works. Once our team approves a request, we will help the partner to develop a plan and budget for 3-6 months and invest between $500 and $1,000. A Peace Fellow will be assigned to the project and asked to meet with the partner on Zoom or WhatsApp every week to review progress. If the start-up meets its goals, we may help the partner to develop a long-term plan and seek larger funding, as we did with Children Peace Initiative in Kenya and Women Advocacy Project in Zimbabwe.
Only two of our grants this year have been emergency hand-outs. The rest are funding some of the most innovative start-ups we have ever helped to launch. They include the first-ever composting project by women in the informal settlement of Kibera, Nairobi; a program to conduct COVID-19 testing and improve access to vaccines in 60 villages in Nepal; the purchase of a fishing boat in Bangladesh that will improve the nutrition of River Gypsies; and training for the parents of children with albinism in Kenya.
Several of the new start-ups will use embroidery to tell stories which – as we noted above – is empowering for survivors of trauma and can make a powerful statement. The first squares to reach us this summer have been made by the women in Uganda who survived sexual slavery. Our Peace Fellow Anna almost broke into tears when she saw them.
Parallel to this, Fellows have also helped to take our program of advocacy quilting in exciting new directions. Over 200 artists from Zimbabwe, Nepal, the US, and Kenya have told their story of COVID-19 through stitching. We recently displayed their art at the first-ever digital exhibition of quilts.
These activities and projects would have been a lot more difficult without the help of our Peace Fellows in the US.
Encouraging Creativity
As well as assigning them projects, we also give Fellows tasks that match their skills and interests.
For example, Nina, 16, is working with friends from her High School in Georgia to make Clean Girl soap like the girls in Zimbabwe: any profits will help the Zimbabwe girls complete school. Beliz (photo) is using Tik Tok, while also supporting the composting project in Nairobi. Grace, 18, was featured on PBS for making face-masks during the pandemic in the US (photo); she is now advising Mama Cave, a tailor with limited mobility in Uganda who also makes her own face-masks. Miriam, in New Haven, is indulging her passion for Canva by designing a catalogue of advocacy quilts. We are proud that AP can encourage such creativity.
But working remotely in such a large team with partners all over the world has also strengthened AP as an organization, by making us all more disciplined about communications and respectful of other team members. The first prize should probably go to Delaney in California, who rises at 6.00 am on most mornings to attend meetings with partners from Asia and Africa. Some of us are on Zoom for more than five hours a day, five days a week.
Looking back, it's hard to think of a summer when so much good work was done by our team in the US. This cannot substitute for personal contact in the field, but it does mean that when international travel fully resumes – as it will – we will be well placed to provide great back-up.
Your support helps to make it all possible. Thank you again.
We'll be back in touch early in the Fall. In the meantime, please stay safe and enjoy the summer!
The AP team