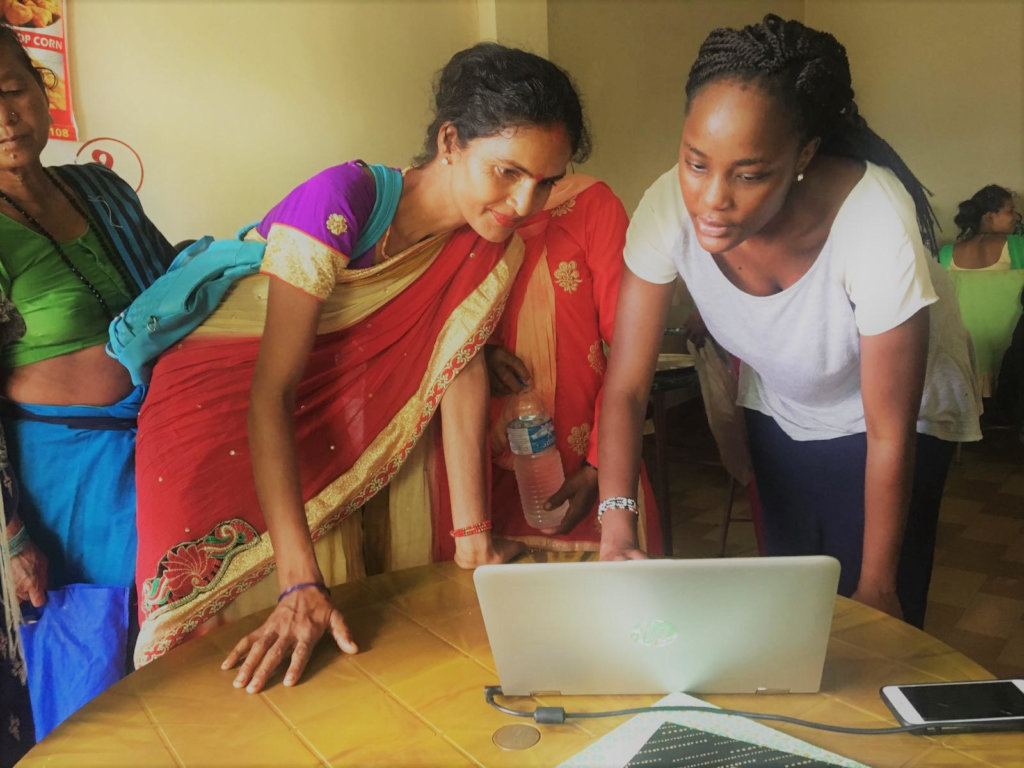 Let me start this report with an apology. It's been some time since you heard from us because we wanted to wait until we began recruiting Peace Fellows for the summer of 2018 – something that is made possible by your generous support. This is now under way. I want to share some reflections about last year and what lies ahead.
*
First, a brief reminder. We work with several marginalized communities around the world and help them to develop innovative start-up projects that will promote social justice. Every summer, we send them graduate students, or Peace Fellows, to provide technical support. Our hope is that Fellows will strengthen their host organizations while at the same time undergoing a rich personal and professional experience. We like to say that this is the only fellowship program that matches the skills of graduate students with the needs of community-based advocates.
Your support helps to make this happen. We offer each Fellow a stipend of $1,000, plus insurance, and we also cover the cost of travel and translation so the costs mount up! So far, we have raised $14,077 through our Global Giving appeal, against our target of $45,000. This is significant.
2017 Fellows: It certainly came together again last year. We sent nine Fellows to work in six countries - Jordan, Nepal, Vietnam, Uganda, Kenya and Lebanon. Together they raised $31,375 for their hosts – three times the amount raised by Fellows in 2016 - and made important contributions to their start-ups:
• Jacob (Fletcher School at Tufts University) purchased a buffalo for a family affected by Agent Orange in Vietnam
• Rachel (Sciences Po) designed a strategic plan for strengthening the Dhankuta district medical services in Nepal
• Vicky (Fletcher School) and Kirstin (Georgetown University) strengthened a cooperative of wives of those who disappeared in Nepal and commissioned the first-ever sample bags made by the wives. Vicky is pictured above. Born in Kenya, she studies in the US and decided to spend her summer in 2017 helping victims of abuse in Nepal. We are proud to be able to make such cross-cultural connections possible.
• Cynthia (Maryland University) interviewed 44 children who have been rescued from the brick factories of Nepal with our help and made important recommendations for improving the education of the children
• Lauren (Middlebury Institute for International Studies) helped the Gulu Displaced Persons Union (GDPU) to install accessible WASH facilities in the Ogul Primary School, northern Uganda
• Reina (UC Santa Barbara) funded training for over 40 women refugees in Jordan and commissioned them to produce embroidery for sale in the US – a first step towards opening a US market
• Talley (George Washington University) supported the innovative program of Children Peace Initiative Kenya in northwest Kenya and helped to draft a proposal for the German Foreign Ministry.
Several of our partners have acknowledged the contribution of their Fellows. Monica Kinuya from the Children Peace Initiative Kenya had this to say about CPI's 2017 Fellow Talley Diggs: "We are looking forward to receive another peace fellow - either long term or short term is welcome. If we get someone as vibrant as Talley, that will be cool!"
We are starting 2018 in a strong position thanks to the inspiring work of Talley and her colleagues last year. At the same time, we will be learning lessons and making improvements, as we do at the end of every year.
2018 Partners: This year, we will be sending Fellows to seven organizations that we worked with last year (in Vietnem, Nepal, Uganda, Kenya, and Jordan) and two new partners.
The Women's Advocacy Project (WAP) in Zimbabwe works to end child marriage and does important work. We feel a Fellow could help. The second new fellowship will address a damaging cultural practice in Nepal, known as chhaupadi, that involves banishing women and girls to a cowshed during their menstruation (photo). AP has long been horrified by this practice and we exposed it in a news bulletin last fall. The host organization (The Centre for Agro-Ecology and Development (CAED)) has taken several Fellows in the past. We look forward to resuming this very fruitful partnership.
Website: As you may have noticed, we have made some changes in our website. We are pleased to report that the site received 169,845 unique visitors in 2017 – a sharp increase over the previous year.
Recruitment: We recently posted the fellowship openings for 2018 and are now visiting schools to spread the word. So far we have presented at Columbia, Tufts, and the Kennedy School at Harvard, with more to follow. The deadline for applications is March 15. Those who are selected will be invited to Washington in May to attend a week of training. We are delighted with the quality of applicants so far. They include talented young professionals who served in the Peace Corps and Americorps and clearly have a passion for international service.
Deployment: Last year for the first time we also began recruiting graduates from the Global South to work with Fellows. They include Prabal from Tribhuvan University in Nepal, seen in the photo below. We feel that AP "associates" like Prabal will help to sustain the good work of Fellows and also extend the benefits of our work to students from the south who are unable to attend training in the US.
Measuring impact: I referred to the work done by Fellows for their hosts earlier. What of the impact on Fellows themselves? We look for three results – personal, academic and professional - and ask all Fellows to report back in a final evaluation. We are delighted that several 2018 Fellows have already advanced professionally with help from AP:
• Reina secured a paid position at Global Communities in Washington DC
• Rachel secured an internship at the office of the UN High Commissioner for Human Rights in Geneva
• Talley secured an internship with US Senator Catherine Cortez Mastro of Nevada
• Cynthia advanced to the final round of the Young Professional competition at the World Bank
• Jacob Cohn placed an article in the New York Times on his experience with Agent Orange families in Vietnam.
Perhaps the last word should belong to Lauren, who helped install an accessible toilet in a Ugandan school last summer. Lauren wrote to us recently:
"I just wanted to say thank you for a great experience last summer! I keep reflecting on my time in Uganda and everything I learned from AP, GDPU, and through the experience overall. It definitely gave me the confidence to be able to do projects like that on my own. I'm currently working in Mombasa, Kenya with Search for Common Ground on their programs addressing violent extremism on the coast while I finish up my final semester at the Middlebury Institute. I'll be here until about mid-May but am hoping to find a more permanent job in the area because I absolutely love it here. I see the recruitment is going out for next summer and I have actually gotten contacted by a few current MIIS students who are looking to get involved - so you might have some more MIIS applications coming your way!"
*
We look forward to introducing you to the next cohort in May. In the meantime, we hope that you'll check out our bulletins for news about our prograns in the field. And thank you again!
Iain and the AP team