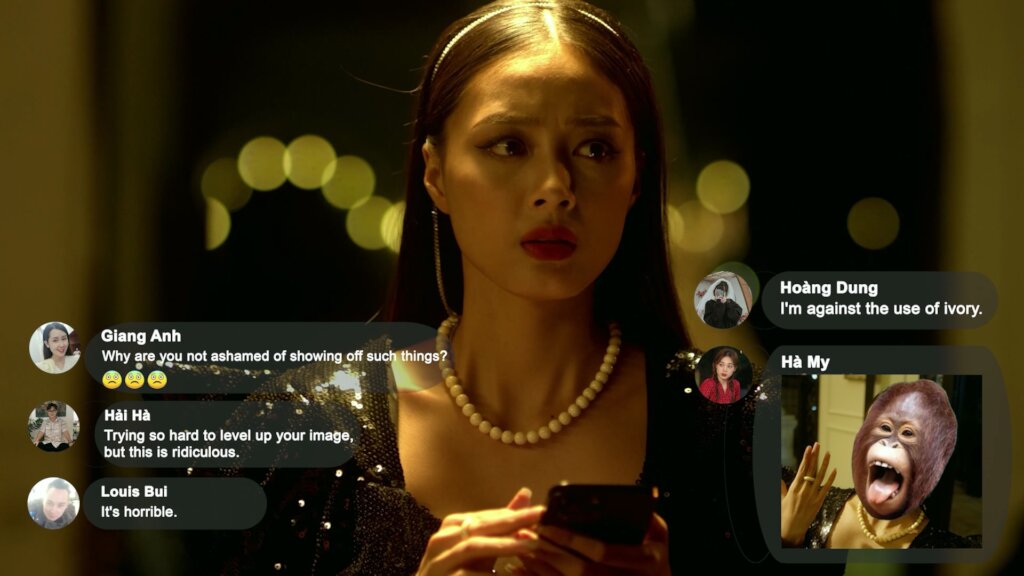 Today, we are excited to share with you the latest successes from ENV's all-women team in the fight against Vietnam's illegal wildlife trade!
At a glance, in 2022, ENV facilitated the seizure and voluntary transfer of 3,223 live wild animals, and our Wildlife Crime Unit handled 3,405 wildlife crime cases.
As the statistics for the second quarter of 2023 are being compiled, we are pleased to announce that during the first three months of 2023 alone, a total of 994 animals have already been seized or voluntarily transferred, with our Wildlife Crime Unit logging 819 cases.
Below, we've summarized some of the most recent and important news from the field – all of which would not be possible without your ongoing support.
Notable cases:
Five souvenir and jewelry shops in Dak Lak province were involved in the seizures of ivory products by the police, following ENV surveying the shops and reporting the violations to the authorities. This resulted in the following seizures per shop: 113 ivory products, 27 ivory products, 33 ivory products, 36 ivory products, and 115 ivory rings respectively. In at least two cases, the products were suspected or reported by the subject to be fake, and samples have been taken for testing.
Otters were confiscated in two separate cases, one from an online seller in Ho Chi Minh City and the other from an online seller in Tay Ninh province. Both cases came as a result of reports to the ENV hotline by members of the public, with ENV gathering information and collaborating with the relevant authorities.
ENV received a public report from someone regarding several macaques held captive at a residence in Ho Chi Minh City. This included two long-tailed macaques, two pig-tailed macaques, and a stump-tailed macaque. We gave the information to the Forest Protection Department, who confiscated all five macaques and transferred them to Cu Chi Wildlife Rescue Station.
ENV received a report from a member of the public regarding a restaurant selling and serving wildlife in Binh Duong province. After a search yielding no results, we got further information of a civet being kept at the restaurant, and the Forest Protection Department checked again. They successfully confiscated two ferret badgers, a common palm civet, and a long-tailed macaque. The restaurant received a fine of VND 10.5 million, and the wild animals were transferred to the Wildlife At Risk Rescue Center.
Two bird shops in Hanoi were found to have wildlife violations following a survey carried out by ENV. After working with the relevant Forest Protection Department, they successfully confiscated 110 birds from one shop and 107 birds from the other. Both shop owners were fined VND 3 million for their crimes.
Policy and Legislation Team
Our Policy and Legislation Team continued to communicate with prosecutors and other authorities on critical wildlife crime cases, as well as disseminating information and sending correspondence regarding modifications and proposals to wildlife protection legislation and policy in Vietnam.
ENV sent communications to a wide range of stakeholders, including commercial wildlife facilities and non-commercial facilities, notifying them of legislation relevant to the operation of their establishments and urging them to fully comply with the law.
In 2023, we sent a correspondence on wildlife protection to 1,125 pagodas and 586 churches in 63 provinces of Vietnam, urging these religious establishments not to allow wildlife to be 'released' on the premises and for all wildlife to be reported to local authorities or to the ENV Wildlife Crime Hotline.
Moreover, in the first three months of 2023, ENV sent postcards to 1,207 traditional medicine shops in 9 cities/provinces, inviting them to join ENV's Wildlife-friendly Traditional Medicine Businesses/Practitioners Network and commit not to sell traditional medicines derived from endangered wildlife.
Key prosecutions:
In the first quarter of 2023, ENV was involved in 27 wildlife crime prosecutions. We worked closely with police and judicial authorities to make sure wildlife criminals were brought to justice and sentenced according to the law. While the trials of these cases are still ongoing, and we will update you in due time, below is a list of key prosecutions which occurred since our last report:
In August 2022, five live pangolins smuggled from Laos into Vietnam were seized at Bo Y Border Gate in Kon Tum province, and two men were arrested. In January 2023, the two men were sentenced to prison terms of six years and eight months and seven years and six months respectively.
In July 2022, nine black rhinoceros (Diceros bicornis) horn pieces and 43 white rhinoceros (Ceratotherium simum) horn pieces – all weighing a total of 138 kg – as well as 3.108 tonnes of lion bones were seized at Da Nang port. In February 2023, a subject involved in this case was sentenced to a total of 13 years in prison, comprising 10 years for wildlife violations and three years for fabricating an organization's seal or documents. In addition, he also had to pay a fine of VND 50 million.
In January 2022, 456.9 kg of African elephant (Loxodonta africana) ivory and 6.2 tonnes of pangolin scales were seized at Da Nang port. In February 2023, the subject was sentenced to 13 years in prison and received an additional fine of VND 50 million.
In July 2022, 11 sun bear (Helarctos malayanus) claws and some African elephant (Loxodonta Africana) ivory pendants, an African elephant (Loxodonta Africana) ivory bracelet, and numerous fake wildlife products were seized from an online seller in Ba Ria - Vung Tau province. In March 2023, the online seller was sentenced to 12 months in prison.
In September 2022, a man in Nghe An province was arrested for illegally transporting five Indochinese box turtles (Cuora galbinifrons), a big-headed turtle (Platysternon megacephalum), a tokay, and two hoary bamboo rats by motorbike. Police later inspected his house and seized 0.17 kg pangolin scales, as well as various other live and dead wildlife species. In March 2023, the subject was sentenced to 13 months in prison and fined VND 6 million.
In October 2022, two Sunda pangolins (Manis javanica) and other wildlife were seized in Ha Tinh province. In March 2023, the transporter was sentenced to a prison term of 15 months.
Communications and Public Awareness Team
ENV's communications team has continued raising public awareness through in-person events in various cities across Vietnam, viral campaigns on social media, and wildlife protection news shared with the local press.
In February, to challenge the belief that elephant ivory is a symbol of luxury and good fortune, we released our 54th Public Service Announcement (PSA), "Luxury Party", which was distributed and broadcast by 54 national TV channels. In addition, the PSA was aired at Buon Ma Thuot Airport and featured on the Dak Lak Provincial People's Committee website, as well as on the Dak Lak Department of Information and Communication website.
In addition, as part of ENV's Wildlife Protection Volunteers activities, different events were held in the first quarter of 2023, including exhibitions to promote wildlife awareness and networking events to recruit and train volunteers. Several public awareness exhibitions were held in Hai Phong, Can Tho, Da Nang, Hue, and Hanoi, where volunteers gathered more than 1,800 pledges from the public to protect wildlife.
Your invaluable support of ENV is the driving force behind all of the above. Thank you, and until next time!