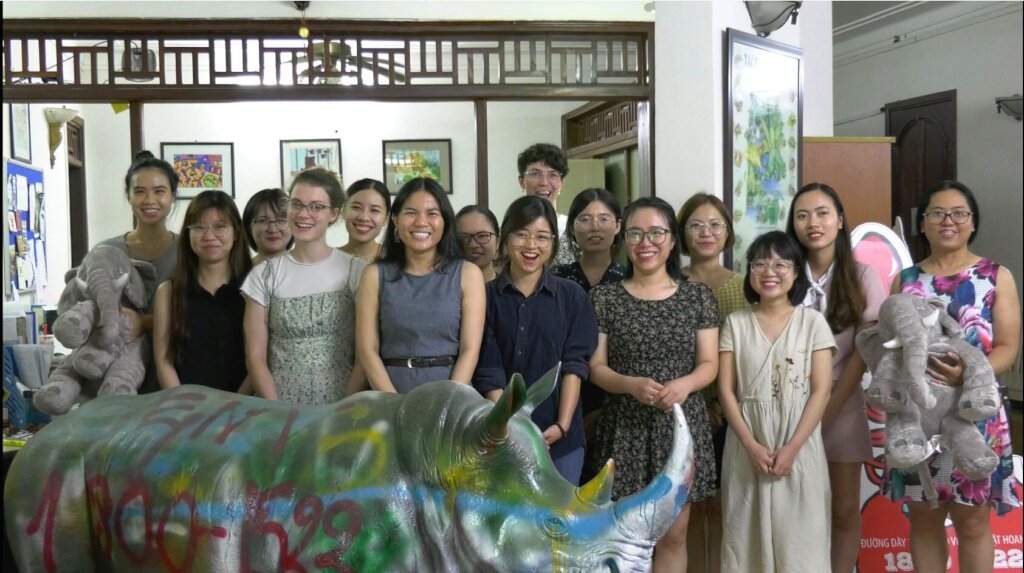 Our crime fighting women have lots to update you on in the fight to end Vietnam's illegal wildlife trade since our last report! In the first three quarters of the year, from January to September 2022, the ENV Wildlife Crime Unit has handled 2,600 cases, consisting of over 6,100 violations. These have resulted in the rescue of over 2,100 live wild animals, already exceeding the total for last year! The species have included macaques, lorises, pangolins, bears, otters, leopard cats, squirrels, and various turtle and tortoise, snake, lizard, and bird species, amongst other wildlife. These successes have all been thanks to your generous support of our team of wildlife crime fighters. Some key cases these past few months include:
7 Asiatic black bears transferred from farm in Phuc Tho, the bear bile farming hotspot of Hanoi, by the farmer who had been caught with 350 vials of bear bile.
From June through to August, our Wildlife Protection Volunteers helped to monitor 584 pagodas in Hanoi and Ho Chi Minh City, checking the premises for captive wildlife. This resulted in the rescue of over 50 turtles from pagodas, where they had been the object of 'release' practices.
An increase in bird cases as authorities crack down on illegal hunting and trapping of wild birds following a directive issued by the Deputy Prime Minister in May 2022 – cases include dismantling of nets, confiscation of traps and other equipment and the confiscation of hundreds of wild birds.
81 sea turtle products were confiscated from two souvenir shops in Kien Giang, following information provided by ENV to the Environmental Police.
In October, 2 otters were confiscated in Bac Lieu province following a girl posting photos of the otters on her Facebook, which was reported by a member of the public. That same week, 2 otters were voluntarily transferred to a rescue center by a zoo in Lam Dong that was unsure about the legality of the wildlife they had received from a restaurant.
Policy & legislation team
In July, ENV held a prosecution training with participants including 33 judges from Dak Lak Provincial Court, and 15 from surrounding district, city and town courts. This was the first time ENV held a prosecution training at the court in Dak Lak, providing them with vital insights in prosecution and punishment of wildlife crime in Dak Lak and nationwide. Having handled over 25,000 cases since our crime unit began logging cases, ENV can offer specific guidance to courts on varous issues that may arise when dealing with wildlife crime.
In September, ENV held a media workshop in Hanoi regarding our proposal for a 'clean list' of wildlife that can be commercially farmed in Vietnam. This list would exclude any species that are endangered, do not breed or grow well in captivity or who's breeding would be harmful to wild populations of the species. This clarity of what can be bred will make it easier to regulate animals that cannot be bred. The workshop resulted in 29 news articles and was featured in 2 TV segments, generating interest and discussion around the 'clean list' proposal.
Key global trafficking news & notable prosecution:
On June 22nd, a subject was arrested from transnational wildlife smuggling ring in Da Nang, in connection to imports of around VND 300 billion (almost $13 million) worth of wildlife products.
In August, three high-level Vietnamese traffickers were arrested for smuggling pangolin scales from Nigeria and have been connected to many other shipments of ivory, rhino horn, and other wildlife parts.
On July, 4 subjects were given a total of 18 years in prison between them for trafficking nearly a tonne of pangolin scales, estimated at the value of VND 1.3 million (around $55,570)
A VND 500 million (around $21,350) administrative fine was imposed upon a restaurant for possessing live wildlife and wildlife meat
20 years in prison was issued between 6 subjects for transporting red-shanked doucs' vital body parts, amongst other wildlife, in Thua Thien Hue province.
Key communications:
In July, ENV collaborated with the Department of Information and Communication (DIC) in Dak Lak to hold a media roundtable meeting about wildlife and ivory crime, with the participation of 32 local journalists and reporters. This issue is especially pertinent to Dak Lak province, the elephant ivory hotspot of Vietnam. The event aimed to increase media coverage on the ivory issue, promoting the role of the media in wildlife conservation efforts. Following this event and the wider campaign in the province, the ENV Wildlife Crime Hotline was added to the Dak Lak Community Portal Website for users to report ivory and other wildlife crime to ENV.
In October, the DIC sent a text message to their audience of 2.17 million subscribers in Dak Lak, calling on the public not to consume ivory products, and to report all types of wildlife crime to ENV's hotline. The text message read: "Do not trade or consume ivory products. Report violations related to ivory and other wildlife to the toll-free hotline 1800-1522". This demonstrates how the province continues to coordinate with ENV against this issue, raising public awareness and enhancing public participation in monitoring and reporting crimes.
We released the first issue of our Wildlife Crime Bulletin for 2022 in July, highlighting the need to target major trafficking networks, the proposal for a 'clean list', the rise of internet crime and other important developments concerning Vietnam's illegal wildlife trade. This was followed by our Law Enforcement Responsiveness Report 2021 in September, looking back at the handling of publicly reported wildlife crimes from 62 provinces across Vietnam last year. It showcased the provinces that have been exemplary in responding to wildlife crimes reported from the public, while also ensuring provincial leaders are aware of how well their province is performing on a national scale.
Our 52nd public service announcement (PSA) was released in September, "Do not expose yourself to wildlife diseases", highlighting the risk of zoonotic disease spreading from restaurants serving and keeping wildlife. It concludes with the message, "You don't have to eat wildlife to expose yourself to zoonotic diseases. Avoid restaurants and other establishments where wildlife is kept and consumed."
ENV printed and released 1,500 copies of the 2022 Vietnam Tortoise and Freshwater Turtle Identification Book. Identifying turtle species is vital in ensuring the law is correctly applied based on the species, and that the turtles are handled based on their ecological needs prior to transfer to a rescue center or release. The book supports authorities, rescue centers and other institutions in identifying 26 species of tortoise and freshwater turtle that are native to Vietnam.
ENV's public awareness campaigns have continued across social media, TV, radio and news outlets. Between January and September 2022, there have been 536 broadcasts on national radio, featuring criminal deterrence messaging, and raising awareness on the issue of traditional medicine made from wildlife.
We would like to thank you for making all of our work possible, enabling vital actions by our team in the fight against wildlife crime in Vietnam!