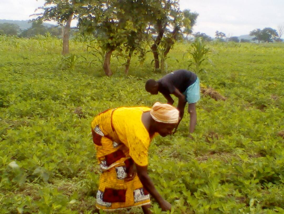 1.3 million children have been forced to flee their homes from conflict in North East Nigeria. There are thousands of families struggling in temporary camps where disease and hunger are rife. Street Child's project is empowering 160 families to set up small businesses to be able to afford basic care and education for their children.
Thanks to your support, we have been able to support mothers to set up and expand their business so they can support their children. Mothers like Naomi:
Naomi is the sole parent of 10 children. After her husband was killed by Boko Haram, she made the impossible decision to flee their home to save herself and her children.
She fled to the New Kuchingoro refugee camp, desparate, homeless and terrified for her children's futures.
"The situation has put me in a difficult position, by playing the role of father and mother to my children at the same time." she says.
"To flee from Boko Haram and further attack on us, we left Borno state to settle in New Kuchingoro refugee camp in Abuja. My children's education is a concern for me."
Naomi was determined to rebuild her life for the sake of her family, and to find a way to make money to support her children through their schooling.
Now, thanks to the support of people like you, Naomi has been able to get their lives back on track.
'I currently have one hectare of farmland,' adds Naomi, from her farm in Kaburu, in Nasarawa, nearby to the New Kuchingoro camp.
With Street Child's support Naomi could buy what she needed to develop a sustainable source of income. Naomi has been able to buy chemicals for her farm, putting an end to insect infestation and increase the value of her produce - meaning she can afford to take care of her children and begin to plan for the future.
'After harvesting the produce in the next two months, I will keep some for family consumption and
sell some. The money I make can then the re-invested for the next season.
'The grant has made life easier for me and my family, and I am proud of my children.'
Thank you for your support. Together we are changing lives.