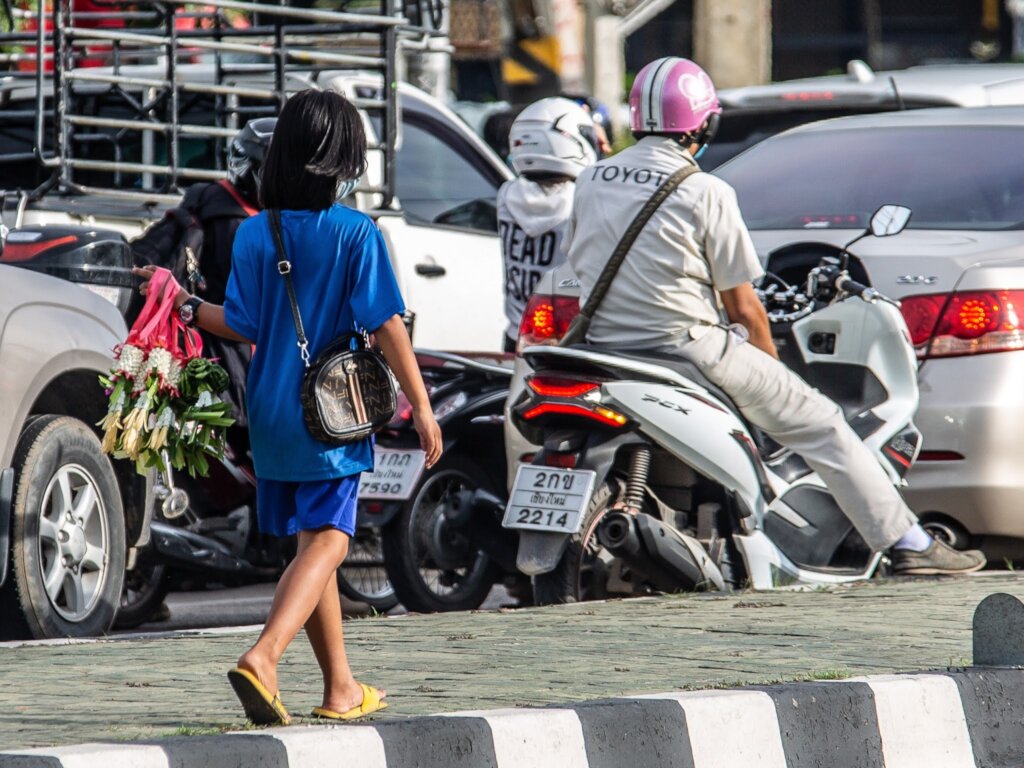 Recently, as I sat at a traffic light waiting for the signal to turn green, I watched a young girl walk up and down the intersection, weaving between cars, selling flowers. She stopped at my car window, hoping I would buy a garland of flowers for 20 baht (about 75 cents). She was wearing a mask, so I could not see her face well, but she was certainly no more than eight years old. In Thailand, it is illegal for children to be involved in this kind of work, but the only penalty is a small fine (about $12), and most of the time, the police simply ignore it.
I would see her every evening as I drove through this intersection on my way home from work. She was there every day. It didn't matter if it was over 100 degrees out with the sun beating down or pouring down rain. I would even see her out well after dark when there was a significant risk of getting hit by a car.
It made me angry to see this poor child out day after day working in such miserable conditions, but what could I do about it? The Hug Project is one of our projects that works in the area of anti-human trafficking. So, I asked them if they had any ideas how to help this child. With their help, we were able to identify the girl and discovered that it was her father who was taking her there every day to sell flowers! So, next, we decided to reach out to the family and find out more about their story.
After contacting the father, we learned that Tina was eight years old and was living with both parents. Her dad was unable to work because of health problems, and her mom was a day laborer at a construction site. However, the mom's job was not enough to cover their expenses, so that is why Tina was selling flowers. We also discovered that her parents grew up in a rural village where sending children into the city to sell flowers was common. In addition, her father had worked as a child selling flowers, so in their minds, this was a very legitimate way to help provide for their family. Tina would make about $60 per week, so paying the $12 fine on occasion was not going to be an incentive to stop!
It was clear that if we were ever going to get Tina off the street and set her free from selling flowers, we would need to provide some incentive to the family. This is where Education Matters came into the picture. We offered to provide scholarship help for Tina (and also her 5-year-old sister, who is next in line to sell flowers) with the condition that they would promise to stop taking Tina to sell flowers after school. They agreed, and since we have begun supporting Tina through Education Matters, they have kept their word! In addition, a mentor from the Hug Project regularly visits the family and checks in on Tina to see how she is doing.
Now Tina gets to be a kid and can focus on her schoolwork or playing with friends. She is getting help going to school but she is also getting help to just be a kid!