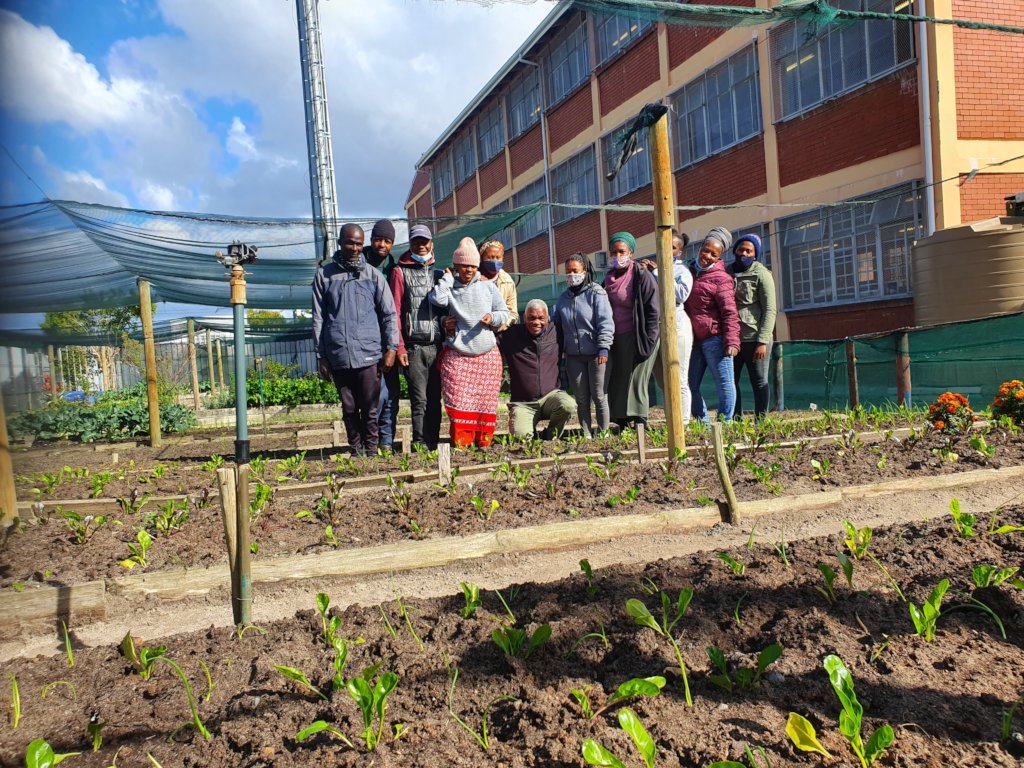 Dear GlobalGiving Friends, greetings again from Cape Town at the tip of Africa!
Abalimi forges ahead despite Covid, taxi wars and riots. Nothing stops us or our micro-farmers!
A shining example is the project called "Lukhanyo", or "to bring light" . Their full name is Lukhanyo Urban Farming Network. The garden featured here is the HQ and from here Jeremy Jones (the founder) reaches out and collaborates with many other community gardens township-wide.
Lukhanyo began in 2012, on school land, in a desolate sandy area. You can see the school building behind, in the picture. Jeremy (picture centre, crouching), a retired army colonel, is the initiator. He lives on his pension and devotes all his energy to micro-farming among the poor, to uplift others.
He is currently training young unemployed people to garden, and they have just planted their first spring crops. They come from all over Cape Town, from the poorest areas, where 40% unemployment (especially among the youth) is rife.
Jeremy has also placed about a hundred other youth at a number of other Abalimi-supported community gardens. They are all gaining skills in micro-farming and many are planting their own home gardens, while others now plan to take up farming as a livelihood.
Jeremy says: " I want to uplift the community by educating them about farming, which will result in sustainability in their communities". He plans one day to own a small farm in the rural areas, but near the city. But in the meantime he is giving his "all" to the micro-farming movement among the poor and unemployed.
Jeremy has collaborated with Abalimi for over 15 years in one way and another. He is an active participant in the Abalimi-supported farmer networks and organisations. Jeremy also sits on the Abalimi board in order to help guide our work forward.
If you want to correspond with Jeremy directly you can do so on jones.jeremy2018@gmail.com.
Jeremy and Lukhanyo are a huge inspiration to many hundreds and also a huge inspiration to Abalimi. Viva Lukhanyo and Jeremy viva!!
Thank you one and all, dear GlobalGiving Friends. Your continued interest and support is vital. We wont stop and you can be sure that thousands upon thousands are learning how to grow micro-farms. The seeds of a new organic gardening culture among the poor are sprouting and growing and producing, with your help.
Very best regards to one and all
Rob Small