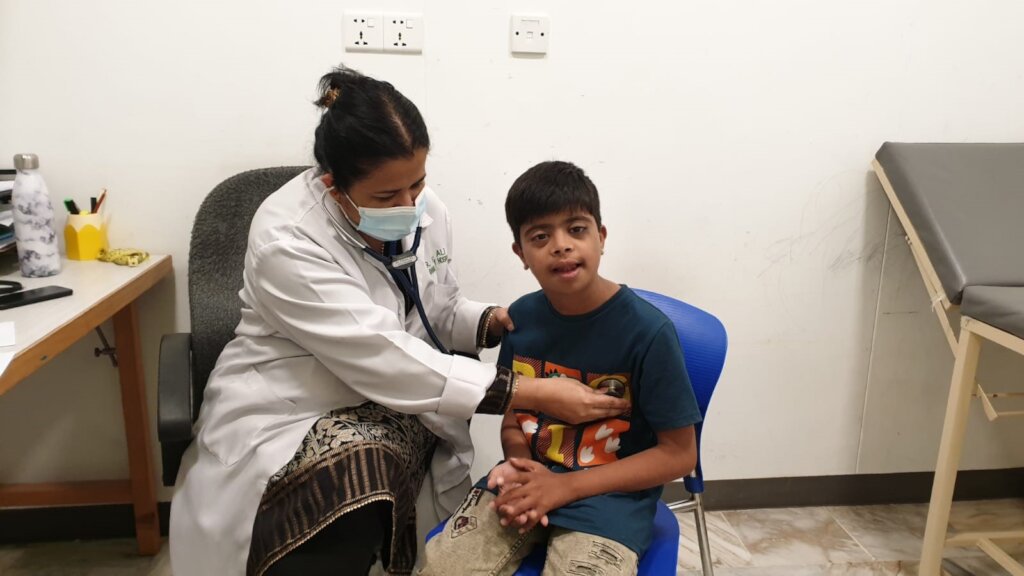 Dear Supporters,
Healthcare is a basic necessity and, we, at the Karachi Down Syndrome Program, work to provide different facilities to children with Down syndrome. It is with your utmost support that we are able to provide healthcare support to children with Down syndrome.
Following mentioned are some of the milestones that we were able to reach during this quarter:
Partnership with Aga Khan University Hospital:
In April 2022, the Healthcare Department at KDSP signed a MoU with Aga Khan University Hospital to provide high quality healthcare services at subsidized costs for individuals with Down syndrome all across Pakistan.
80 individuals have already benefited via this fruitful partnership, and we hope to continue aiding many more.
Cardiology Clinic at KDSP
KDSP hosted a Pediatric Cardiology Clinic with Dr. Fatima Ali (Pediatric Cardiologist, Aga Khan University Hospital) in June 2022. Dr. Fatima Ali held a clinical screening and parents counseling clinic for congenital heart diseases at KDSP.
10 individuals with Down syndrome consulted with Dr. Fatima at the clinic.
12 individuals had their test checkups completed. Dr. Fatima provided guidance on precautionary measures and future steps for individuals requiring treatment.
Workshop at Indus Hospital
KDSP organized a one-day workshop at Indus Hospital in April 2022. The workshop invited physicians and residents of the hospital to attend a three part training covering the basics of care delivery for individuals with Down syndrome. First, in-depth knowledge was provided for general Down syndrome Awareness, then the healthcare aspects of Down syndrome were covered in the session 'Managing a Child with Down Syndrome,' which was conducted by Dr. Sidra Kaleem. Lastly, 'Counseling and Guidance for Parents,' was conducted by Ms. Rida Khan. The workshop was divided into three parts because it is vital to involve multidisciplinary personnel to contribute to the team approach that is required to provide effective care and management of health concerns faced by individuals with Down syndrome as we make the shift to a more inclusive society.
Testimonials from the families
"I still remember my first time here at KDSP, I was crying as I was worried about my son's health. When Muayeed was born, his first 5 months were spent in the hospital as he had a hole in his heart and he got really bad pneumonia. KDSP's Healthcare services have enabled him to improve and live a healthy fulfilling life."
Anita - Mother of Muayeed
Due to the unwavering support of our donors, we were able to provide these healthcare facilities to children with Down syndrome. We look forward to your contributions so that we can continue in our mission of achieving a more equal and inclusive world by providing access to healthcare to individuals with Down syndrome.
Thank you!
Love,
Team KDSP