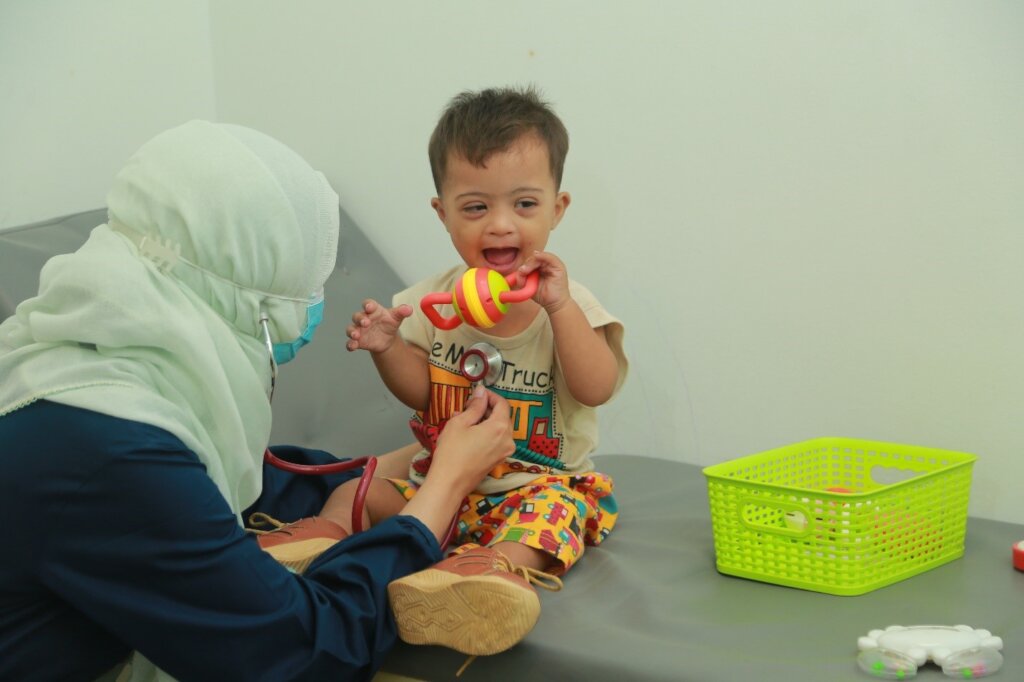 Dear Supporters,
We are delighted to share the highlight of this quarter with you. It is only with your contributions that KDSP was able to provide support and healthcare access to even more families of children with Down syndrome.
Here is all that your generous contributions were able to achieve:
48 children benefitted from KDSP referrals to the Down Syndrome Clinic at AKUH, where they received appropriate medical intervention from renowned specialists.
9 medical tests were facilitated at AKUH through KDSP's referrals
2 life-enhancing medical procedures were sponsored by KDSP
29 children benefitted from the Developmental Pediatrics Consulting Clinic at KDSP led by Dr. Sidra Kaleem, a renowned Developmental Pediatrician
In February, the Healthcare Department at KDSP signed an MoU with Dr. Essa Laboratory & Diagnostic Centre to provide medical testing services at subsidized costs for individuals with Down syndrome all across Pakistan.
KDSP organized an Eye Testing Clinic in March to help screen for common ophthalmological problems faced by individuals with Down syndrome. Testing was also done for refractive errors, and attendees were prescribed their glasses accordingly.
Through a collaboration with US-based eyewear company, "Specs4Us", KDSP also distributed free of cost eye glasses to the attendees requiring prescription glasses. These glasses have been specially designed for individuals with Down syndrome.
Some stories from the field
Huzaifa, a 15-year-old boy with Down syndrome, was registered at KDSP. His mother reported that he started experiencing fits and spasms back in 2021. After having a neurological assessment, Huzaifa was also diagnosed with epilepsy. Since then, he was put on a number of medications to help him manage his epilepsy diagnosis and prevent fits that could result in further neurological damage. KDSP helped provide Huzaifa with medicines, and all the support that was essential for his treatment.
Aged 6, Wasi was facing a drastic delay in his milestones. At the age of 5, his parents constantly worried about his health. Wasi's development faced further challenges because his spinal alignment was out of place, and this affected his ability to participate in tasks. KDSP sponsored a thoracolumbar sacral orthosis (TSO) for his posture correction, and customized it for Wasi. With the usage of the TSO, Wasi has shown improvement in performance during therapy sessions, including increased sitting tolerance and subsequent participation in activities.
Mauyeed, aged 8, came to KDSP under quite delicate circumstances. He was severely ill and had spent prolonged periods admitted to the hospital ICU. In January 2022, Mauyeed underwent another bout of pneumonia which affected his already weakened immune system and lungs. KDSP, along with AKUH welfare, sponsored Muayeed's treatment, and since then, he has recovered and is in good spirits.
A Testimonial from a family
"Finding KDSP was like a ray of hope in the dark. My daughter was a weak child when she was born and her heart condition put her under a lot of stress. Despite residing in Shikarpur, I travelled to Karachi after registering at KDSP to get Umaima the best help possible. They not only provided financial assistance for her angiography but also supported us regularly with her medicines which she must take until she is stable and healthy enough to undergo heart surgery. The team at KDSP has always been there to listen to our concerns and provide for my daughter. I do not have the words to thank them for their support." Mazhar, father of Umaima.
It is the unwavering support of donors like you that keeps us going in our mission of contributing towards healthier and happier lives of children with Down syndrome. We look forward to your contributions which will keep transforming lives and will create more beautiful success stories!
Thank you!
Love,
Team KDSP