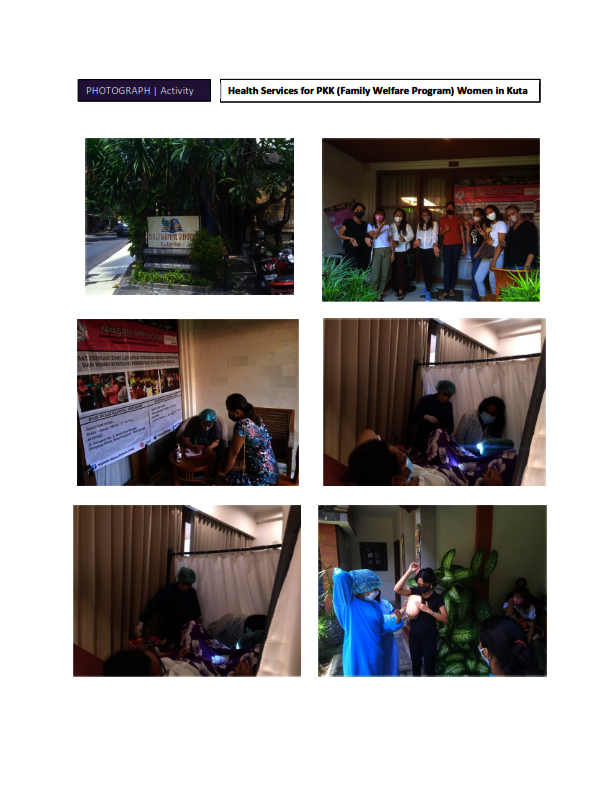 Health Services for PKK (Family Welfare Program) Women in Kuta

On 27 October 2021 YRS had the opportunity to provide health services in the form of a pap smear examination in the Kuta area. By recommendation of YRS partners, Kelian Banjar Pande Mas Kuta contacted YRS to provide services to PKK women. Located at the Bali Summer Hotel, the activity started at 09.00 – 12.00 and was attended by 28 people. Queues began to appear before the event started. With good health protocols, they register and take turns entering the hotel room that we have turned into an internal examination room. While waiting for the pap smear activity, the mothers were given counseling about women's reproductive health by dr. Sari. In addition, at the end of the event, the YRS Team conducted education on early detection of breast cancer (BSE) to mothers. There was a radiance of satisfaction from mothers and wanted them to be able to access breast ultrasound to detect breast cancer in the next opportunity. I hope this program is useful for maintaining the health of mothers in the Kuta area.
RS Peer Educator Refreshment Training in the clove plantation area of Buleleng
In October we run a lot of mobile programs to the regions. One of them is the Peer Educator training activity in Buleleng, which is a continuation of the YRS and HM Sampoerna collaboration program to empower the wives of clove farmers. The wives of farmers who have become cadres / PE were retrained to strengthen their knowledge and increase their confidence to spread education in their environment. The villages we visited in October were Selat, Gobleg, and Sidetapa villages.
This training is a refreshment training with the topic of women's health. Divided into 3 sessions, namely: brainstorming session, presentation exercise by PE, and role play scheme. This training is different from the previous one, because here the PE in charge is more active in presenting the material that has been learned. The material we provide is about cervical cancer, breast cancer, STIs, HIV, and family planning. In each training session, it was seen that PE had various abilities, some were passive but most were active and enthusiastic. Therefore, this refreshment training is needed to maintain and improve the ability of mothers to become health cadres. After conducting training, PE is expected to be able to help YRS to distribute education, increase awareness of the community around them about health, especially women's health. On the same occasion, we also provided health services in the form of pap smear examinations for PE who attended the training.
The Importance of Women's Empowerment in Sidatapa Village
Mrs. Wareni is a clove farmer's wife who also serves as the wife of Perbekel in the village of Sidetapa. She is also one of the PE/YRS Cadres who participated in the empowerment program for women's wives of clove farmers in Buleleng. For someone who is used to taking care of many people, Ibu Ketut feels that this activity for development and empowerment is very important, especially for the health of women in their village. She feels that many of the mothers in Sidatapa village are still ignorant about this. She told me that her sister-in-law used to have cervical cancer. And he did not expect that this disease is so dangerous. And caused her sister-in-law to die. Therefore, she wants the community around the Sidetapa area to be more aware of cervical cancer and breast cancer so that it can prevent what happened to his brother-in-law from happening again. In addition to cervical cancer, there are also many women's health materials that must be known, such as breast cancer, sexually transmitted infections, HIV/AIDS, and STDs.
Ms. Wareni hopes that this program will continue. Because this training requires continuity so that mothers can absorb knowledge and education optimally. And empowerment and it is not something instant. She also hopes for the development of the program, which means that more mothers can become health cadres. So that more and more women in the Sidetapa village get new training and knowledge. She also thanked YRS for the free pap smear examination and hoped that all mothers who took the test would get good results. Bu Ketut was happy to see Ibu PKK showing progress in her quality. Because she said, "smart and healthy mothers will give birth to good generations. And can lead to prosperity."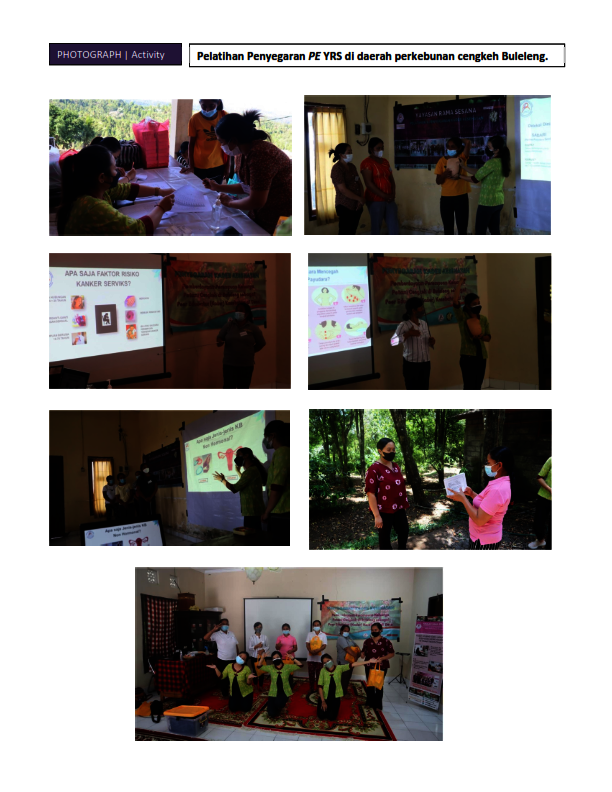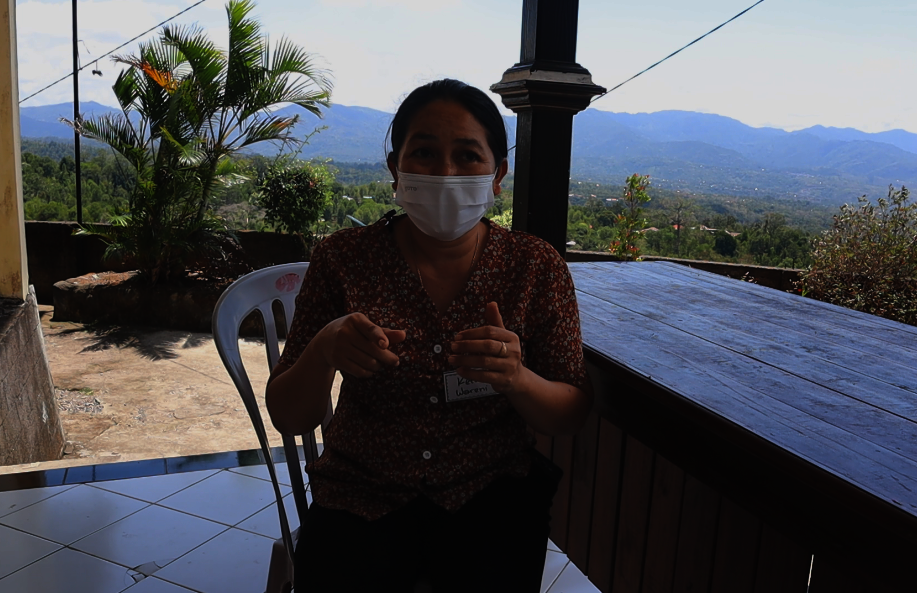 Links: