"Women Empowerment Program, Clove farmer's wife in Tamblang Village, Buleleng"
The decline in Covid cases in Bali has made government regulations for community activities also begun to be relaxed. YRS had the opportunity to launch a mobile program in the regions, after being delayed for almost a year. A total of 8 villages in the Buleleng area will be visited by YRS by the end of this year. This program is a continuation of the collaboration between YRS, PT. HM Sampoerna and Agro Cita Mandiri in the previous year to empower the wives and families of clove farmers. On September 25, the first village we visited was Tamblang village.
In the regions, we conduct training on women's reproductive health, the dangers of cervical cancer and breast cancer. This training is a refreshment training for our PEs in Tamblang village to test their understanding of women's reproductive health. In addition, we also sharpen PE skills so that they are able to deliver education to the surrounding environment so that they can reach a wider impact. Through the role-play scheme, we evaluate the skills of PEs to be able to distribute education properly and correctly using educational media such as flipcharts and brochures. We are very satisfied with their understanding plus the ability of the PEs who are starting to be fluent and fluent in educating.
In the last session of this mobile program, we also provided medical services in the form of general health and pap smears for PE and the environment around Tamblang village in limited numbers, to avoid crowding situations. This medical service also tests the awareness of PEs to implement their awareness about the importance of women's reproductive health. Hopefully, this program can run well and Covid cases in Indonesia will continue to decline so that in the future we are able to provide services and education that are more optimal and wider.
"The Outreach Program to the Field is back in Start"
After the easing of regulations regarding the handling of COVID-19, Bali has become a safer zone than before. We are continuing our face-to-face outreach which has been long overdue due to the second wave of COVID-19 that hit Indonesia, especially Bali. Our outreach targets traders in the Sanur Intaran market area. Because the online education program in the Sanur market environment is not optimal, it is important to take a face-to-face approach to clarify the delivery of education and anticipate the number of traders in the Sanur area who are not fluent in using social media.
By continuing to use health protocols, the team conducted educational visits to the market area to increase public awareness and vigilance about the dangers of breast cancer and cervical cancer. We distribute education + brochures so they can read it again anywhere during their free time or when they are not selling. With this consistent distribution of education, YRS hopes that the Sanur Inter market environment will have an impact on changing their behavior which leads to a better direction, thus making the Sanur environment healthier. We hope that the people of Sanur can be free from cervical cancer and breast cancer.
"Serving Clients (Deaf – Speech) Wholeheartedly"
A healthy life is a right for everyone. As an institution that accommodates this, we are obliged to provide access to health for everyone, including people with disabilities. Although our main field is providing health services in the field of female reproduction, we are still trying to help provide services for every complaint that the client has. Mrs. Gatmi is one of our clients who has a disability, she is a deaf person who works as a market trader at Badung Market.
Once upon a time, a daily market worker (tukang suun) took Mrs. Gatmi to visit the YRS clinic. She said that Mrs. Gatmi seemed to be sick and she also told that Mrs. Gatmi was a deaf – speech deaf. Handling a client with a disability like Mrs. Gatmi is something very new and special for YRS. Understanding the complaints they experience and providing appropriate treatment requires a different and careful approach. We try to understand, interpret and respond with simple sign language. After continuing to try to interact, we finally understood what complaints Mrs. Gatmi was experiencing at that time. She had a headache and ulcer symptoms.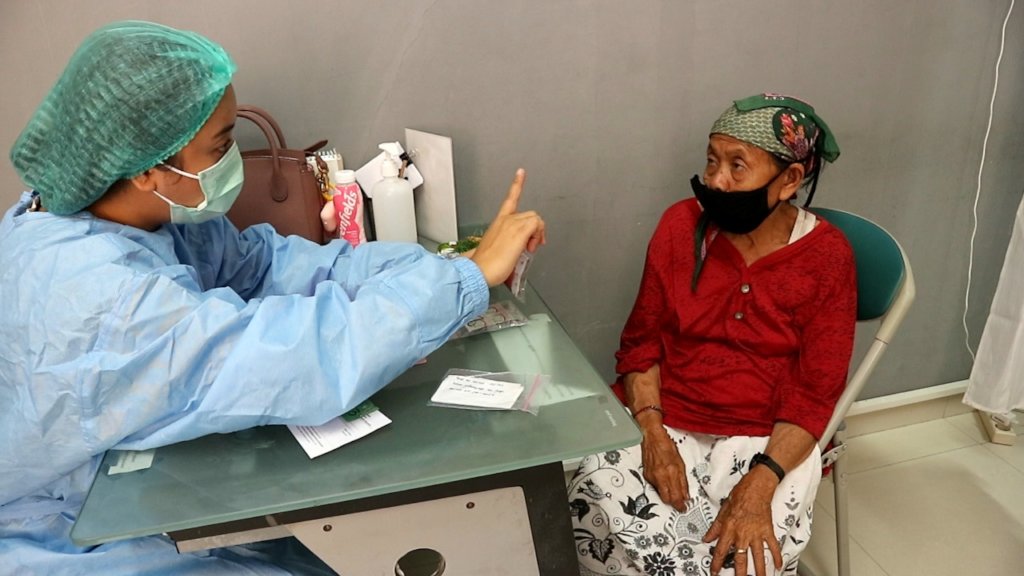 Links: