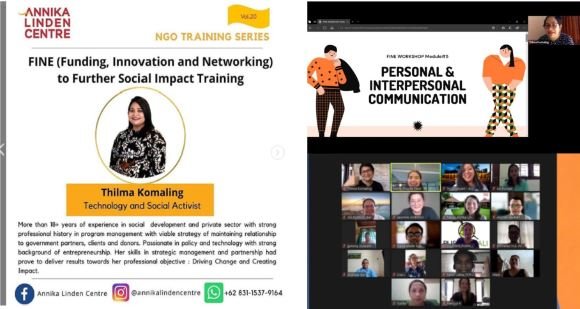 "Attend Fine (Funding, Innovation and Network) Training by ALC"
YRS, represented by 2 staff members, attended the FINE training organized by ALC by presenting resource person Thika Komaling who has competence in networking and fundraising. In this online training, it is divided into 5 sessions with different materials over several weeks. The materials provided are: Negotiation techniques, Partnership & initiative, data & knowledge management, Adaptability & Adoptability, and the last one is about Interpersonal Communication.
"Instagram Live Discussion "Don't Procastinate Breast Cancer Detection Before It's Too Late" with ALC"
ALC and YRS held a Live discussion on Instagram to discuss breast cancer comprehensively which was attended by dr. Sari (YRS) as resource person and Dewi (ALC) as moderator. The discussion about breast cancer emphasizes how we deal with it by detecting it as early as possible. Before the cancer progresses, it gets worse and causes death. On that occasion, Dewi practiced the correct early detection method (BSE) guided by dr. Sari. Besides that, dr. Sari also answered the questions that had been collected. Post live link on IGTV: https://www.instagram.com/tv/CSgeMQKl6V3/
"Celebrating the Independence Day of the Republic of Indonesia by holding a competition with the theme of health education through social media."

To maintain the spirit of independence during the Pandemic, YRS held a competition for social media users by making creative short videos with the theme of health (BSE, how to wash hands, how to apply the correct health protocol, and so on). The winner of the competition will get a total of 175 thousand rupiah pulse vouchers plus a free examination voucher to YRS. Link for the winner of the competition: https://www.instagram.com/p/CSqGzEQl-sw/
"Webinar Series 7 "Recognizing menopause and its symptoms""

At the end of August YRS held a Webinar series which was attended by 30 people, most of whom were YRS Online Peer Educators. This webinar presents speakers dr. Sari. The topics selected were based on the request of many participants, most of whom were going through menopause.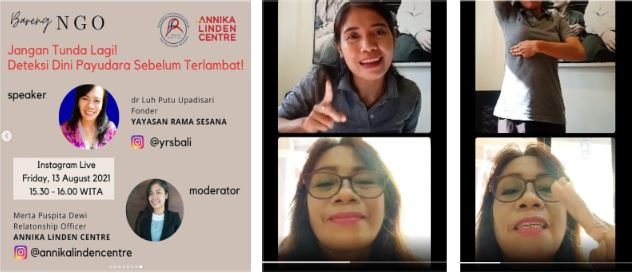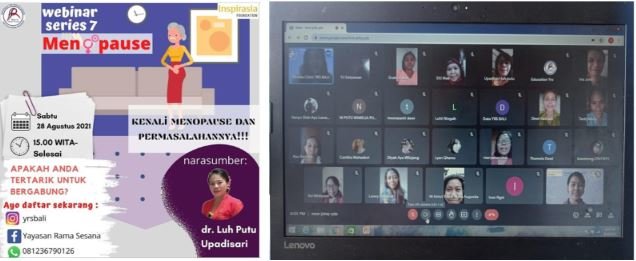 Links: