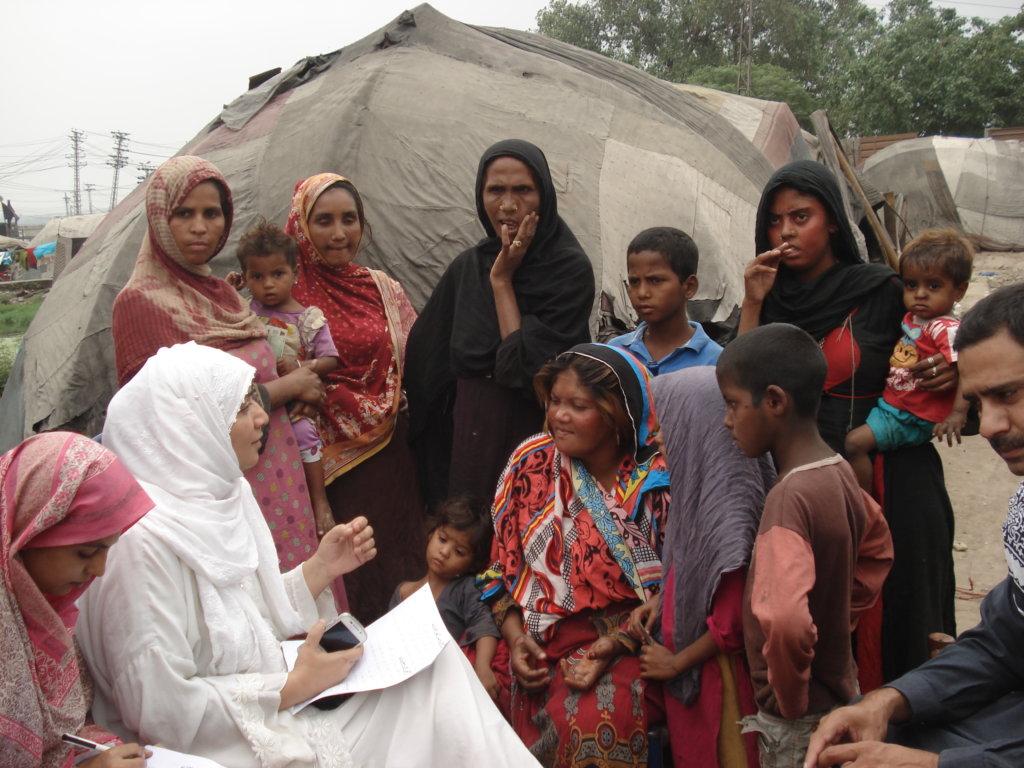 Background for Need Assessment Survey
Muwakhat Foundation team started a project to help homeless women and children since July 2016 with a distribution of new clothes to children age zero till twelve years on Eid-ul-fitar.( Muslim festival). It was observed that these women and children are most neglected and vulnerable group, lack basic needs and most important these families ignored and not treated as a respectable citizen of Pakistan. People help once in a while by food, dry ration, and clothes but no one did the effort to bring them in society who excluded.
April 16 & 17, 2017 Muwakhat Foundation conducted need assessment survey income to identify needs, their income generation activities and poverty level. This helps to develop the roadmap of homeless families for the transformation of their life from neglected to a respectable citizen. Women and children are given warm welcome to our team members. This was the first time that women were interviewed. They were shared their life challenges and dreams.
Areas focused in survey
In survey form, questions related to basic needs i.e health, education, water, sanitation, income, and expenses details were asked to women. This survey will help to understand homeless families living pattern, life challenges & threat, income generation sources and household expenses.
Highlights of Survey
Muwakhat Team did one to one interview with fifteen families and did focus group discussion with women and children. Survey data will be analyzed and Report will be published in mid of June 2017. Here we are sharing some snapshots to give and the idea of their life:
Biggest challenge: There is no concept of birth registration within the community, which makes it difficult for them to get Computerized National Identity Cards (CNIC).
They do not have a permanent place and all families living in a tent for 30 years.
Community lives below the poverty line, in severely unhygienic conditions.
100% women and children illiterate.
Most of their children send for force labour at age of seven
100% women birth their children at their tent which is so called house due to not have the facility of a health center.
No clean water available
Do not have facility of electricity and gas
No proper sanitation
85% families sleep with empty stomach twice in a week
More than 80% women have embroidery skills and some of them show their work ( see pictures)
Plan of Action
Muwakhat Foundation will work with homeless families in three phases. Phase I will start soon and plan of action of phase II & phase III will set after survey report.
Phase I: In this phase Muwakhat Foundation will do the following action
Register homeless families and issue card for receive help from Muwakhat Foundation
Ramadan Month (fasting & holy month for Muslims) will start in next week, Food package distributes to homeless families to assure food in the holy month.
After 30 days Eid festival coming, the Muwakhat team will collect the donation, purchase food and clothes for children and women and distribute before the festival.
Join us for this noble cause. Your small contribution bring big change in their life