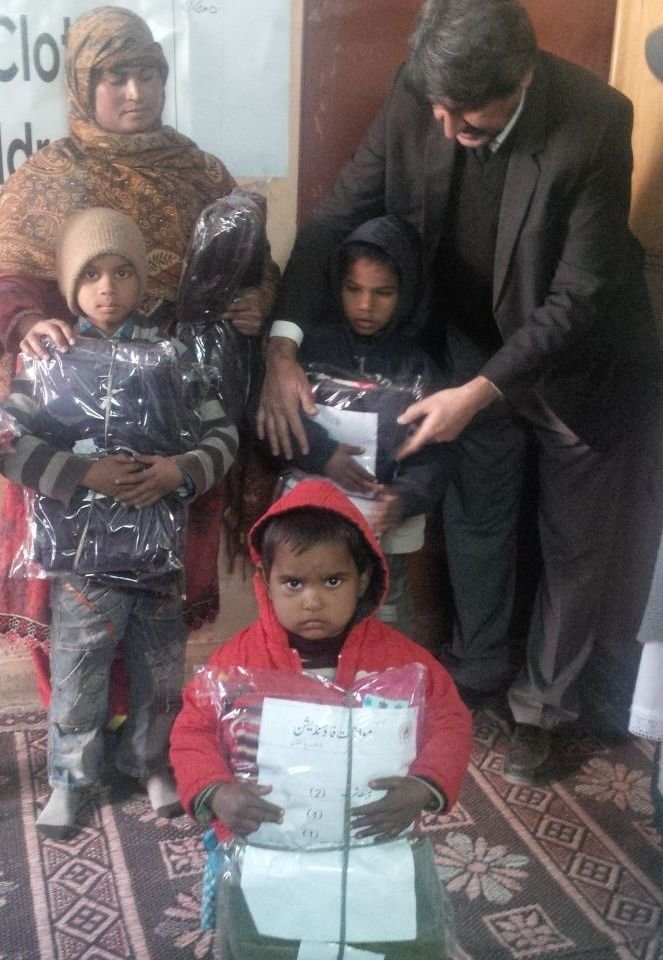 Muwakhat Foundation's team is working on project "to help homeless women and children" since July 2016. The purpose of this project is to provide food and clothes street children and homeless families
Winter Clothes and Dry ration distribution to street children: Phase 1
Muwakaht registered 235 children and 40 homeless families registered. Winter has come and these poor people need help to safe from winter especially children age from 0 to 12. Winter clothes distribution is planning to conduct in three phases with collaboration of GlobalGiving, Lahore Royal LION Club and SJ Law Firm, LEO Youth Club Lahore.
This was the 6th distribution of new clothes and dry ration to children and all community people knew that this activity is mostly funded by donors of GlobalGiving. So all kids did thanks to GlobalGiving by shake hand and say "thankyou"
PROCESS OF DISTRIBUTION OF CLOTHES
60 children were attended this event and received warm clothes and dry from team of Muwakhat Foundation.
Numbers
# of homeless families registered 40
# of household members 242
# of women 53
(Above age 18 years)
# of Children 228
(Age from 0 months till 14 years)
FUNDING SOURCES
This event is supported by three partners
GlobalGiving
Lahore Royal Lion Club Pakistan (International LION CLUB)
Leo (Youth) Club Lahore
Way Forward:
On this event, families requested for Blanks and Dry Ration which Muwakhat Foundation team committed to will write micro project at GlobalGiving and distribute blankets early of January 2018.
Our Next step for children to develop " Child Rehabilitation and Preschool center" for children where awareness provide on future, focus on alleviate their bad habits and prepare them for regular school. All they will learn through fun activities.
We request to support for developing "Child Rehabilitation and Preschool Center" to help see dreams, overcome malnourished and go to regular school.
Link of Project: https://www.globalgiving.org/projects/child-rehabilitation-and-pre-school-center/
Muwakhat Foundation especially thanks to all donors through the platform of GlobalGiving, who trust our cause.