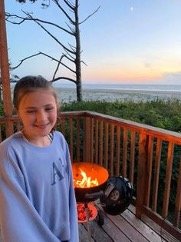 For 15 years, Children's Healing Art Project (CHAP) has enjoyed bringing healing art experiences to tens of thousands of children facing medical challenges. Every healing art interaction is unique and special - both to that child and their family as well as to CHAP Teaching Artists. Recently, one Teaching Artist had this interaction on social media with a grateful parent:
May 2021 comment on Facebook:
One Father: 'This team made a world of difference when our daughter was on 10S [OHSU Doernbecher Children's Hospital, 10th Floor South]. 8 months of chemo and she looked forward to working with them no matter how difficult the day was for her. She still has every project she made in CHAP and treasures them to this day, three years later. Thank you, thank you, thank you for all you did and still do.'
CHAP Teaching Artist: 'Sending so much love to your family. I still have the bath bomb that your amazing girl gave me. I haven't had the heart to use it yet. Your note means so much to us, your CHAP art ladies forever!
May 2021 [two days later] comment on Facebook:
Same Father: 'Here is [my daughter] today. Living life to the fullest.'
CHAP Teaching Artist: 'Gorgeous! This does our hearts good!'
The bath bomb is still in the CHAP Teaching Artist's desk drawer, three years after it was so thoughtfully gifted. Its colors have faded and it's pretty soft and squishy. The note card is still attached. It says "Thanks" and [she] wrote her name on the back. Upon her discharge, [she] gave these out to the hospital nurses, doctors, CNAs, Child Life staff … and to CHAP!
At CHAP, our mission is to bring the healing power of art to children and families facing medical challenges. Whether it's distraction or an emotional outlet a child or parent may need at that very moment, CHAP brings art, joy, and healing in so many forms and we treasure every single interaction.