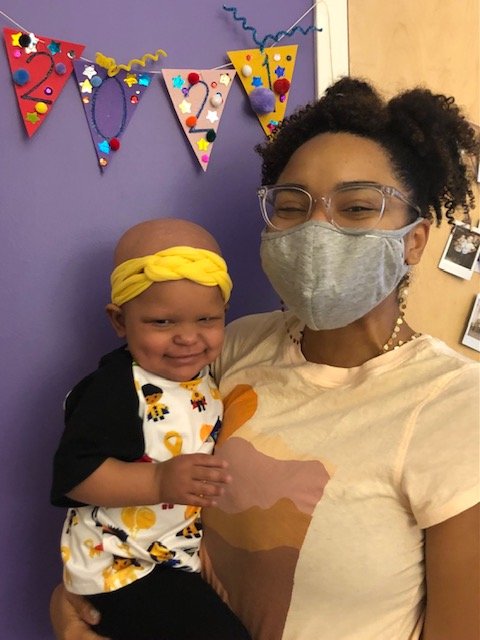 During this time of limited access to one another, Children's Healing Art Project (CHAP) now delivers hundreds of packets of art supplies to area hospitals for children and families to enjoy instead of providing one-on-one interactions. To mark the hopeful new year of 2021, CHAP created a special Healing Art Care Package for OHSU Doernbecher Children's Hospital with an inspiring and festive New Year's theme to brighten the days for the children.
CHAP staff thought long and hard about what should be included in these packets of new art supplies, and found beautiful thick 12" x 12" felt in a beautiful array of 40 colors. To set the children up for success, the squares were cut into isosceles triangles. Each child would receive five triangles. Day in and day out, CHAP lovingly cut hundreds of colorful triangles that were 3" across the top and 4" long. Each care package included a length of ribbon fastened into a tidy little bundle and cinched around its middle with a paper belt so the children could display their banners in their rooms. Two 3/8" slits were pre-cut in the middle of each pennant so the artist could easily thread the ribbon through each hole. As the care packages were assembled, CHAP carefully selected the 5 felt triangles and ribbon and place them inside the boxes. A small hand-made greeting card was included showing a visual reference of the banner with the numbers '2021' printed on the pennant flags.
When completed, CHAP happily delivered the kits to the staff at Doernbecher Children's Hospital on December 30, 2020, in time for New Year's Eve. Since CHAP is unable to even step foot into the hospital, delivery was safely made outside the main entrance of the building. And then poof! it's out of CHAP's hands. We just turn it over to the universe, hoping the children have fun with the supplies and get the idea about the New Year's banner.
On January 7th, a little miracle happened. A hospital Child Life Specialist sent CHAP a photograph of a real mom, holding her real baby on her hip. The mom is wearing a mask, but you can tell that her eyes are shining. The baby is smiling, too. The location of the photo was instantly recognizable to CHAP staff as a room on a floor CHAP staff and volunteers used to visit every week with a cart full of art supplies and endless inspiration. Behind the mother and baby was their 2021 New Year's banner. And guess what? It was perfect. They used all the fun spangles that had been included, the numbers '2021' were written in blue glitter glue, and they had coiled up their pipe-cleaners into joyful little corkscrews. It was a vision realized. That little morsel of feedback did our hearts a world of good.
These and hundreds of other free Healing Art Care Packages are one way in which CHAP is able to deliver healing art experiences to children and families during this pandemic. In addition, CHAP hosts a wide variety of online interactive art sessions, sends free CHAP in a Box deliveries of art supplies to families at home, and is getting ready to host Inclusive Summer Art Workshops for the children CHAP serves. Until CHAP can safely visit with children and families in area hospitals one-on-one again, these are the next best way to deliver on our mission and support children and families during some of their most difficult times.
Links: