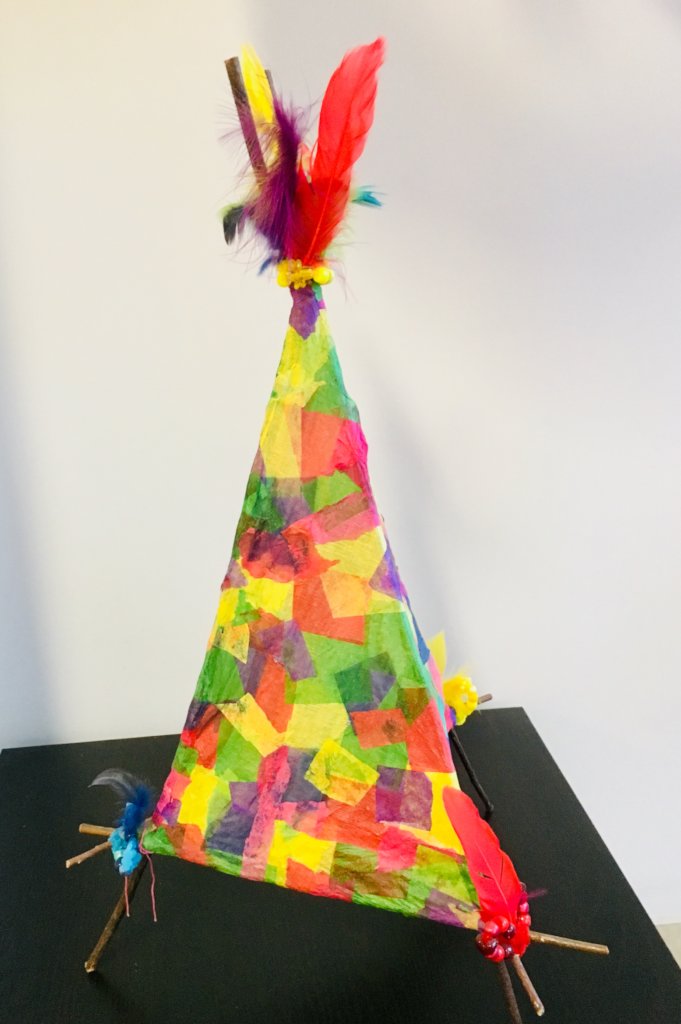 As CHAP expands weekly art-making service to 17 different locations Portland, Salem, and Eugene this year, we never take for granted how every single healing art experience makes a difference. Here is the story of one woman and her colorful Spirit House:
Every Wednesday, CHAP teaching artists and volunteers are at OHSU Knight Cancer Institute bringing healing art opportunities to children and families. On this particular Wednesday, a woman strolls into the room around 4:30pm – nearly the end of CHAP's time there. Alone at the table, the CHAP teaching artist is sorting colorful beads that children had been using earlier. She invites the woman to participate. The woman declines, saying that she is simply looking for a quiet place to work on her scrapbooking while her husband sleeps. She places her supplies on the small round table, yet is drawn to the long folding table that CHAP had set up for artists and would-be artists. The table is full of a selection of acrylic paint, canvases, Sharpie markers, beads, mandalas, colored pencils and watercolors to spark the imagination.
The visiting woman is instantly drawn to a Spirit House that had been started and then left on the table by someone. Constructed with sticks and wrapped in white cheesecloth, it is ready to be decorated. The woman is curious about it and plops down in one of the empty chairs. She says, "Okay, why not?" She seems charmed by the idea that it can function as a nightlight; she and her husband have not been sleeping very well.
Quickly, the teaching artist pulls out a collection of colorful tissue paper squares. She waters down some Elmer's glue so the woman can apply the tissue pieces to the walls of the Spirit House. She's hard at work in minutes. Scrapbooking abandoned, she starts chatting with the CHAP teaching artist.
The woman says she is sad that her husband is so sick. He has been fighting cancer for 5 years now. She confesses that she has spent much of that time being angry. The cancer has affected every facet of their life; her husband now requires full-time care (he cannot so much as lift a frying pan on his own) and she is the one to do it. She does it with love. They have 2 children, one in college and one in high school. The oldest just recently dropped out of college in order to come home and help take care of her younger brother still living at home. The parents did not ask for this, but they are struck by her kindness and selflessness. The daughter said, "This is what I can do for you right now. Mom, you take care of Dad. I will take care of brother to ease your burden." It's an incredible pulling together.
The teaching artist asks her how she met her husband. They met when she was 18 years old. She had just finished high school. As a graduation gift, her parents gave her a one-way ticket to Greece. Her grandfather was Greek and she herself has a classically Greek name. She departed on this huge trip knowing how to say two things in Greek, "Hello" and "I love you." After being in Greece for 2 months, she crossed paths with her now husband. He caught her eye. A few weeks later, they had their first date. A romance followed.
After 3 exciting months in Greece, she flew back to the Pacific Northwest. After a 4-month courtship, they were married.
Fast forward thirty years and they are still married. She said it's been so hard to see him so sick. She said, "I really like him. I love him." The chemo has been brutal and although it is viewed as the medicine to help him regain his health, it doesn't always feel this way. It goes without saying that cancer has changed the trajectory of their life. She does not feel comfortable leaving his side nor does her husband want her to. She has since given up the idea that she will sleep at home when her husband is in the hospital.
All this comes pouring out of her heart. The whole time she is talking, her colorful Spirit House is taking shape. She asks for advice on how she should complete the top. When the teaching artists mention that we have feathers, her eyes light up. She said, "Oh, I love feathers!" Her Spirit House is finished with a sprout of colorful feathers coming out of the rooftop. She's grateful for this opportunity to create something. She's pleasantly surprised that this act of making a Spirit House has been so helpful to her. By now, it's approaching 5:30pm but there's no rushing this moment.
She leaves the room with her untouched scrapbooking and a sweet Spirit House with feathers at the top. The teaching artist thanks her for coming down to the Family Room to be a part of CHAP. She tells the woman that she hopes the Spirit House helps her and her husband get a good night of sleep...at last.