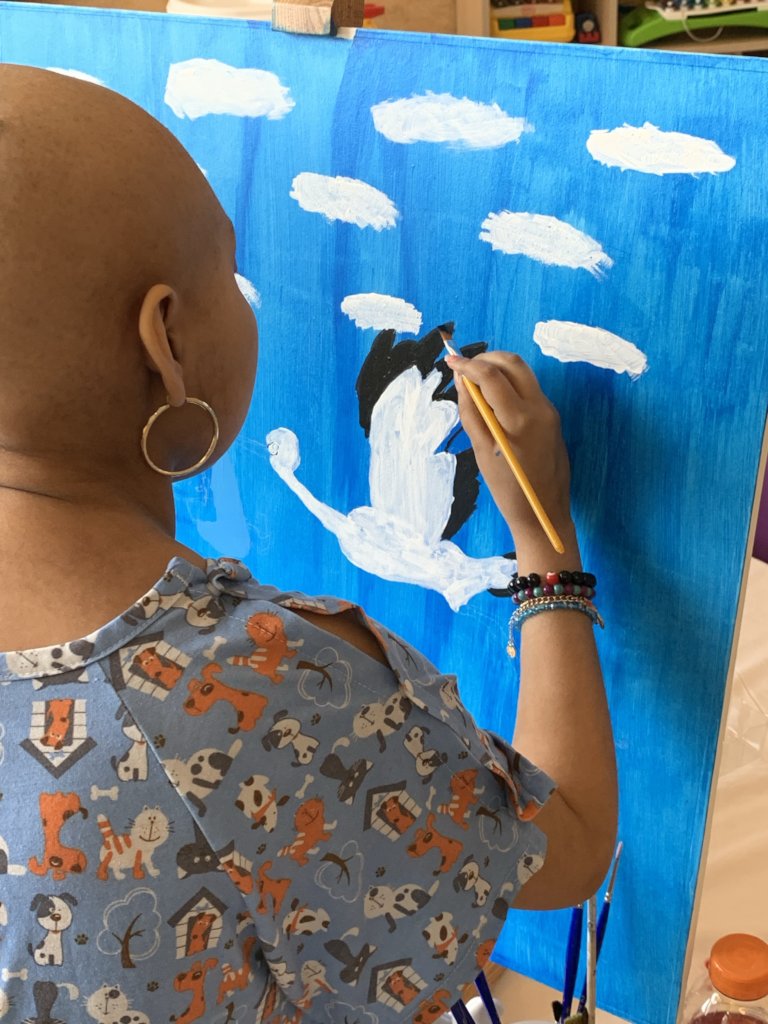 "I'd like a BIG canvas, please."
Walking into the room wearing a hospital gown with her IV pole trailing behind her, she tells the CHAP volunteers that she wants to paint today...and she'll need a BIG canvas. She knows exactly what she wants to do.
Between her medical procedures this afternoon at OHSU Doernbecher Children's Hospital, she plans to paint the arrival of her new baby brother as a surprise for her mother! His birth was so exciting for the family. She was at his delivery last month, so she knows that storks really don't bring babies - but she prefers to paint that particular whimsical image for her Mom.
With her large canvas ready on an easel, she requests only blue and white paint. Moments later the CHAP staff and volunteers turn to see her painting bold and broad strokes with a four inch paintbrush, covering the entire canvas. Her plan was perfectly clear from the start, as she proceeded to paint the billowing clouds in the sky. With a little outlining and technique help from CHAP staff, she began painting an elegant stork carrying its small bundle through the bright sky.
Everyone who came into the playroom that afternoon was mesmerized, watching her meticulously applying the paint with smaller and smaller brushes to form feathers, wings, legs, and a baby in a blanket.
While she was immersed in her painting, a nurse came to remove her for a few minutes to put another bag on her IV pole. Later, another nurse took her away for a few more minutes to take her vitals. It was almost time for her medical procedure, but she continued with her painting amid all the disruptions. Then the nurse arrived with a bottle of "contrast fluid" that needed to be consumed in a specific way. "Just try" the nurse said, to drink down to this line in the next thirty minutes. "Just do your best," she requests. With a little encouragement, she drinks down to the line on the bottle, as she paints. The nurse returns later, with instructions to drink to the next line in 15 minutes.
Again she paints as she drinks the liquid, finishing with her brother's name below the stork, written in large cloud letters.
Painting completed, CHAP staff and volunteers all follow her to her hospital room to surprise her Mom with the painting. What an honor to witness her amazing creative process and see her so happy and proud of the gift she so lovingly created for her mother and new brother.
Just as her painting is completed and the surprise delivered, her "ride" arrives and she is taken off for her procedure.
Healing art experience like this happen every day through CHAP's work at area hospitals and creative art studio. CHAP hospital teaching artists and dedicated volunteers provide nearly 50 hours of healing art experiences for children and families throughout the Portland-metro area every week. Hospitals include Doernbecher Children's Hospital, OHSU Knight Cancer Institute, Shriners Hospital for Children, and Providence St. Vincent Medical Center. And expansion for the first time in CHAP's history to Salem and Eugene (Oregon) are planned for next month!
Because of donors like you, CHAP is able to continue providing beautiful healing art experiences like the creation of the stork painting for mom - making an enormous difference in the lives of childrten and families facing otherwise difficult times. Your support is felt and appreciated every day.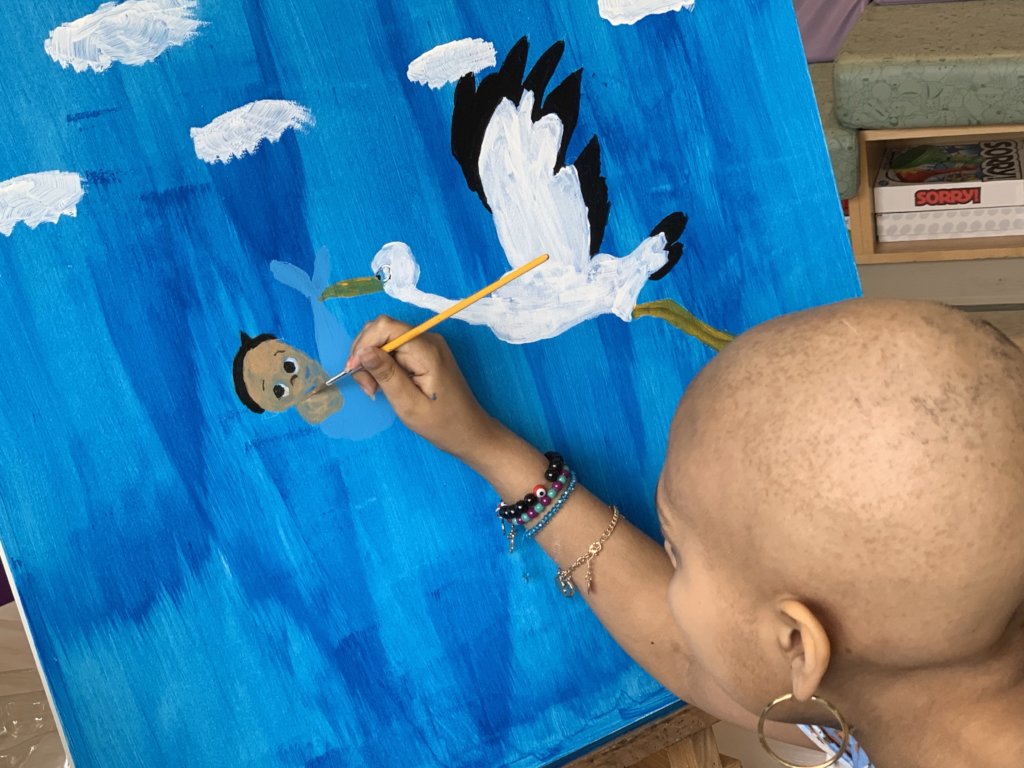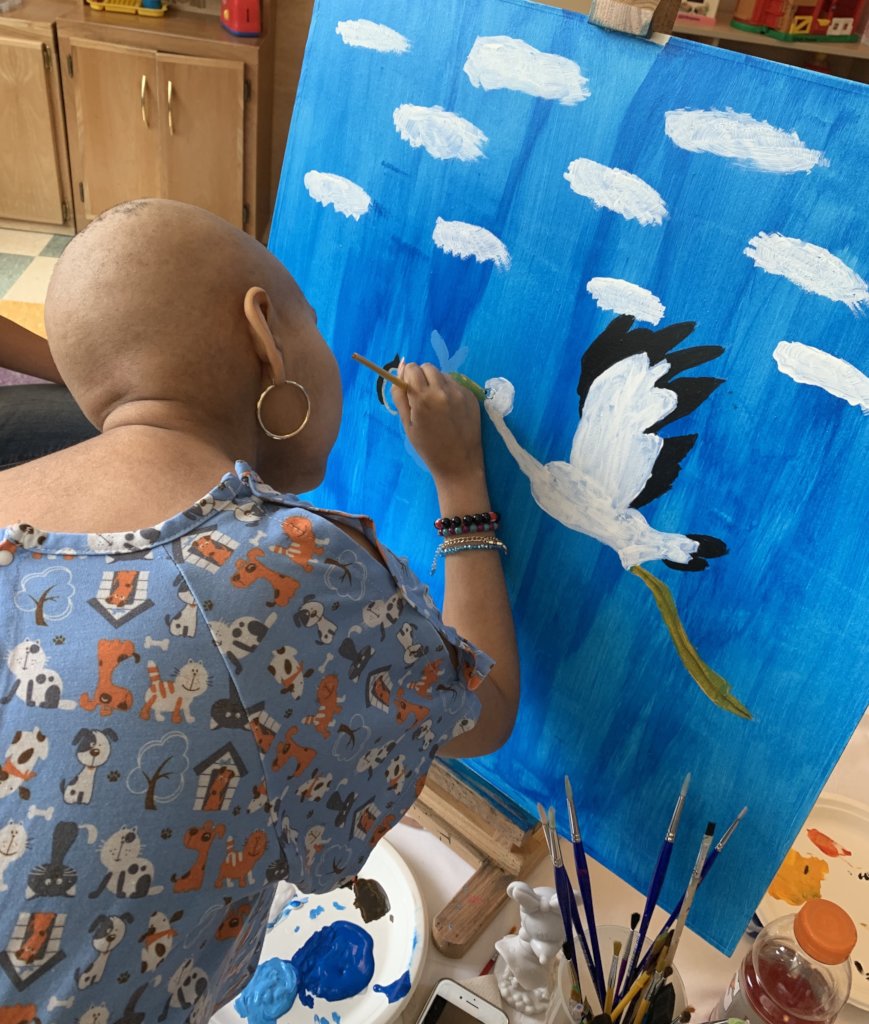 Links: