The Foundation for National Parks & Wildlife (FNPW) is committed to continuing its critical regeneration efforts post bushfires, which left over 12 million hectares burned and over a billion native animals affected. Healing our land is FNPW's global emergency appeal to help recover the land affected by the 2019/20 bushfires. Its aim is to restore habitats for threatened species, regenerate national parks with tree plantings and landscape management and purchase land for the purpose of creating new national parks.
The Foundation for National Parks & Wildlife has awarded an additional five new grants to Bushfire Recovery Nurseries bringing the total to nine plant nurseries as part of its mission to plant a million trees in bushfire affected regions by 2025.
FNPW's grants will expand the capacity of these tree nurseries to propagate thousands more native plants for erosion prevention and animal habitats. Seedlings will be established from indigenous tree species in each of the nursery locations and will be planted in national parks across Australia, as well as other public and private lands that have been affected by bushfires.
The five new bushfire recovery nurseries are located in New South Wales (NSW) and South Australia (SA).
Grant awardees include:
Ngullingah Jugun (Our Country) Aboriginal Corporation RNTBC (NSW)
With its grant, the Corporation plans to establish a small nursery facility at its premises at Mallangaree, which will propagate and harden 10,000 eucalypt and non-eucalypt flowering and fruiting species to support threatened species such as the Koala, Yellow- bellied Glider and Grey-headed Flying Fox. The nursery will be used as a training opportunity for Western Bundjalung people as part of their development as bush regenerators and land managers, as well as support the bushfire affected regions of Gondwana Rainforest World Heritage area and NSW North Coast. Plants will be offered to bushfire affected landholders as well as planting on burnt country which is the process of transfer to the Corporation as part of its ILUA with the State Government.
Mount Barker District Council (SA)
In partnership with Hills Biodiversity, the Council will expand its nursery facility and upscale its resources to plant a total of 16,000 additional seedlings to support 35 threatened native species, with a particular focus on SA Blue Gum, Wirilda and Varnish Wattle. These seedlings will contribute to the bushfire recovery efforts in the Mount Lofty to Kangaroo Island Connection and cater for volunteers working on Council projects, with many of the plants grown by Hills Biodiversity and the Goolwa to Wellington Local Action Planning group to be planted on private land.
Trees in Newcastle (NSW)
Trees In Newcastle (TIN) is a long-established community environmental organisation made up mainly of volunteers. Since 1989, the native plant nursery has been committed to conserving native vegetation, supporting the community with environmental initiatives and offering bush regeneration and consultation services.
Since the bushfires of 2019 – 2020, TIN has been involved with landowners in the Laguna-Wollombi, Port Stephens and Merriwa areas to collect seed, provide planting advice and supply native trees. With the grant provided by FNPW, the Nursery will expand its capacity by an additional 10,000 trees to plant a total of 33,000 native trees. These trees will support the Wollemi NP, Lower and Upper Hunter, Central Coast and Blue Mountains World Heritage Area regions.
The native trees, including the Grey Ironbark, Forest Redgum, Spotted Gum and Black Sheoak, will support threatened species such as the Glossy Black Cockatoo, Powerful Owl, Regent Honeyeater and Koala.
Hunter Region Landcare Network Incorporated (NSW)
Hunter Region Landcare Network (HRLN) has been working with Merriwa Landcare and the Upper Hunter Shire Council's sponsored "Green Thumbs" project (created for the community during 2020's COVID-19 uncertainty) to train community members in plant propagation. Participants took plants home to grow prior to transferring them to Muscle Creek Landcare's nursery in Muswellbrook, with approximately 800 native plants produced – the bulk of which were included in the revegetation of areas affected by the Sir Ivan fire of 2017.Few species currently in the Muscle Creek Landcare nursery are suitable for areas burnt by the 2019/20 fires however targeted seed collection activities in conjunction with Wollombi, Broke-Bulga, Three Valleys (Putty), Congewai and Martindale Creek Catchment Landcare groups will be undertaken in adjoining areas later this year to support the recovery of Wollemi National Park and Blue Mountains World Heritage areas.
The awarded grant will go towards establishing a 10,000 capacity community nursery in Merriwa run by volunteers passionate about restoring wildlife habitat and improving local biodiversity. Hunter Region Landcare Network has ongoing assistance from Hunter Local Land Services to collect and grow primarily Grassy Box Woodland species in the region.
The Upper Shoalhaven Landcare Council (NSW)
Given recent droughts and bushfires, it is an important time to bring the Braidwood and surrounds community together to help collect a local seed bank and propagate more native tubestock. This grant will allow for the launch of a five-year-in-planning community nursery program, with the capacity for 16,000 seedlings across 20 tree species, including Blackwood, Brittle Gum, Ribbon Gum and Snow Gum, as well as threatened species such as the Araluen Gum and the Mongarlowe Mallee.
Update:
District Council of Yankalilla Nursery
Corey Jackson, the Coastal Conservation Officer at the District Council of Yankalilla, said "It's a privilege to support FNPW's mission to plant one million trees over the next five years. Our ultimate goal has always been to plant and restore native vegetation and this grant will ensure we can expand our scope to regenerate even more land affected by the bushfires."
The Yankalilla Community Nursery has grown 25,000 seedlings with the support of its volunteers and partners. These seedlings have been planted out in the Yankalilla area to support the habitat restoration for the Glossy Black Cockatoo (Calyptorhynchus lathami). Once common on the Fleurieu Peninsula, the cockatoos are now found only on Kangaroo Island and were heavily impacted by the recent bushfires.
Mr. Ian Darbyshire, Chief Executive Officer for the Foundation for National Parks & Wildlife.said: "Yankalilla Community Nursery will play a significant role in our mission to restore our national ecosystem. Tree planting is essential for the regeneration of our future and plays a vital role in restoring natural habitats, native vegetation and wildlife rehabilitation efforts across Australia."
A community planting event was completed to infill last year's planting on the banks of the Bungala River at Normanville with volunteers from the Fleurieu Environment Centre. Volunteers collected tree guards from previous plantings for reuse and planted seedlings grown at the Fleurieu Coast Community Nursery.
Glossy Black Cockatoo community revegetation projects continued at Cape Jervis (Fishery Beach and Morgans Beach), Carrickalinga (Fork Tree Project) and Sellicks Cliffs/ Cactus Canyon/ Buddhist Temple site. This project is in partnership with Conservation Volunteers and local community groups. All seedlings for this project have been grown at the Fleurieu Coast Community Nursery.
At Sellicks we planted with volunteers from the Buddhist Temple and the community to add to last years planting and undertook tree guard and plant maintenance.
Other planting events occurred at Moana Sands Conservation Park with the Friends of Moana Sands, Aldinga Washpool with the Friends of Aldinga Scrub, Watsons Gap with the Watsons Gap Dune Care Group, Green Bay with the Green Bay Recovery Group, Freeman Knob with the Freeman Knob's Coastcare, Middleton with the Paradise Plant Club, Carrickalinga with the Fleurieu Environment Centre, Cape Jervis with the Cape Jervis Coastal Community Group and Cape Jervis Progress Association, Hindmarsh River Estuary with the Friends of the Hindmarsh River and Dump Beach with Victor Harbor Coastcare.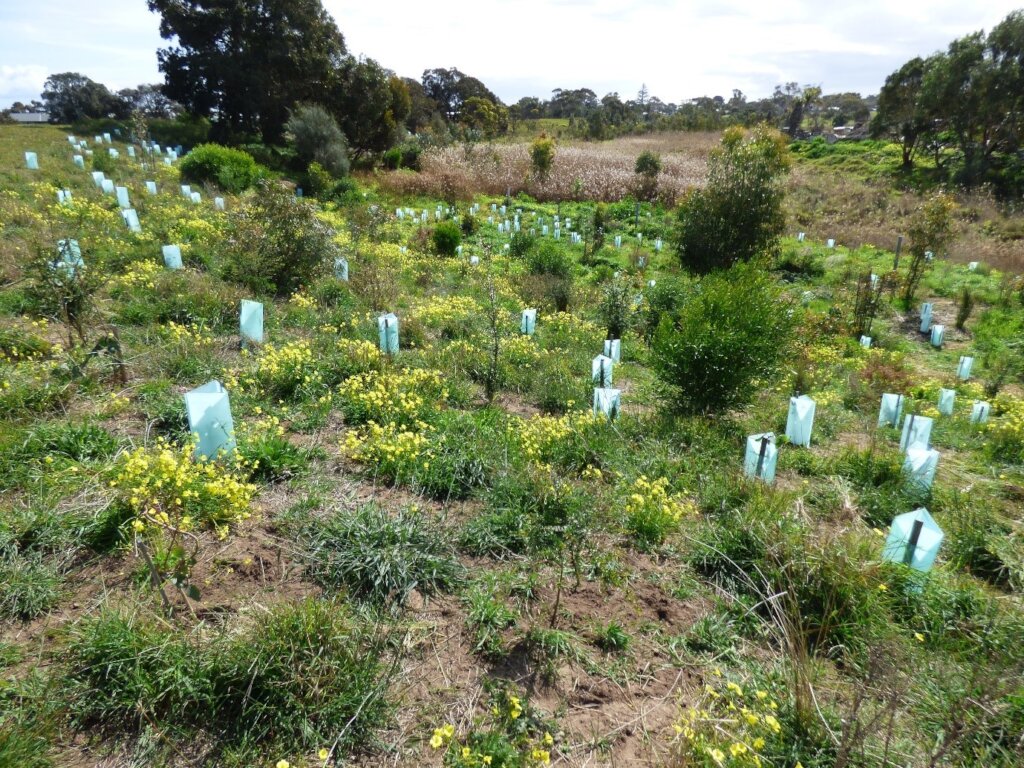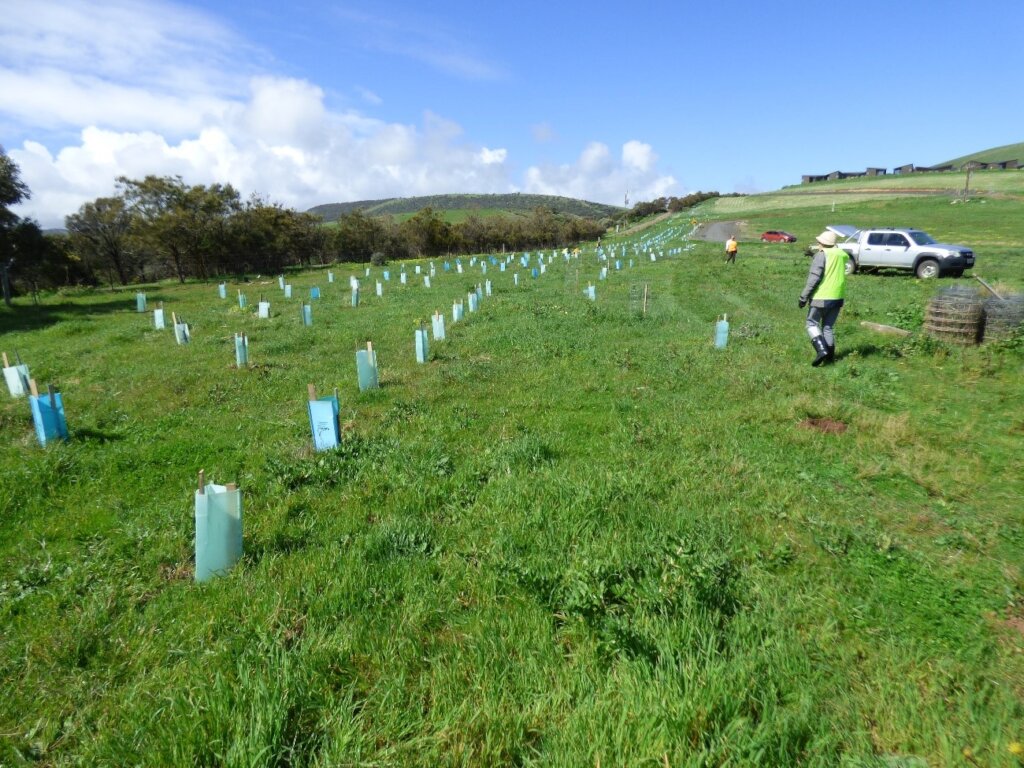 Links: