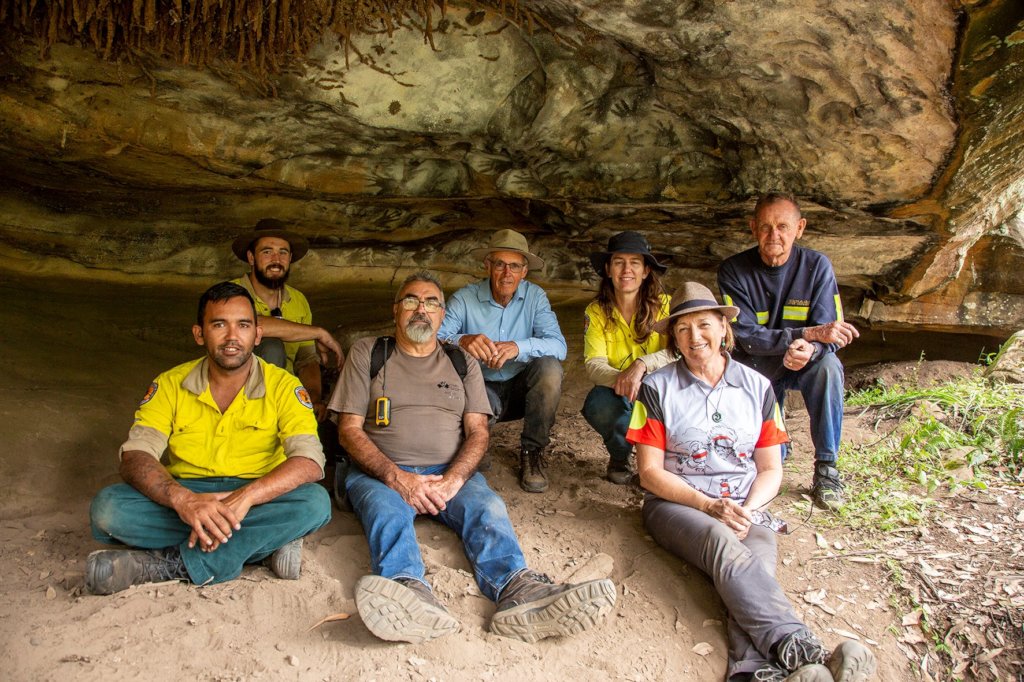 In December, FNPW received the final report from one of our Bushfire Recovery Grants: Aboriginal Site Recording Yengo NP and Surrounding Country. The project aimed to map 40 sites, however from May through to December the team surveyed more than 67 sites.
The area was severely impacted by the 2019-20 bushres and the grant has allowed many Aboriginal sites in the Yengo NP and surrounding country to be surveyed and photographed. The team surveyed 41 known cave sites (listed AHIMS) with signicant art – drawings, artefact stencils and hand stencils – photographed and GPS conrmed. In addition, there were 22 engraving sites visited and recorded with some photographed at night, with the team continuing to check on well known sites mainly in the Yengo NP. The survey list also includes many grinding groove sites, water 'tanks' and stone arrangements.
Highlights from the survey include unrecorded sites – two caves with signicant drawings and stencils, several stone arrangements (dicult to specify quantity), engravings (some partial that could be added to known engravings at the same site) and many new grinding groove sites. Some cave sites also contained artefacts such as knapping stone akes, ochre fragments, animal bones (most likely macropod) and mussel shells.
Below are some of the photos they have taken from the sites that were mapped after the fires.
The images from the caves (Yengo 1 and 2) show art work on walls and engravings of circles believed to be in excess of 4,000 years.
These caves were excavated by archeologist Jo McDonald in 1987 and are believed to be the oldest in NSW.

Most of the sites survived the res, although there was some damage to at least two caves due to the impact of eroding winds in the restorm and trees that burnt into the cave overhangs. On the sandstone platforms, the leaf litter and fallen trees will have an impact as vegetation regrows and possibly cover engraving sites. The team has removed leaf litter on a number of engraving sites to protect the site.
The team have worked with the national parks rangers and this very successful relationship will continue, especially in regard to updating AHIMS and the protection/management of cultural sites. The team are developing their skills and sharing their knowledge of photography, mapping and survey planning. A great outcome from the grant has been achieved.
Top group photo shows Kiama, Ben, Liza, Jim Mitchell (team volunteer who works on survey, maps and planning), Allan Chawner (team volunteer who works with survey and photography), Carol Carter (team volunteer who works with survey, lighting and administration) and Warren Taggart, Wonnarua Elder and team leader.
Links: