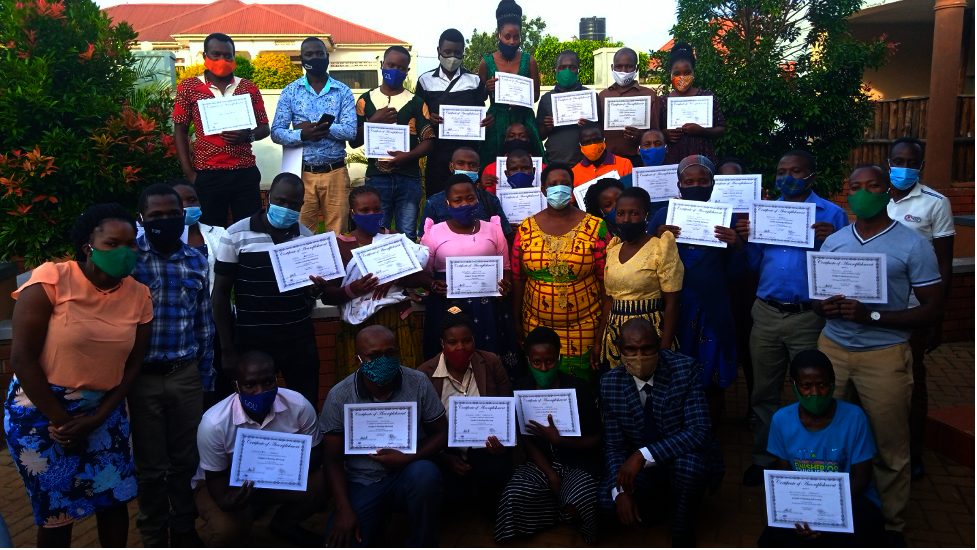 As COVID-19 cases continue to rise in East Africa, so too have reports of gender based violence.
With your generous support, we collaborated with our longtime partner in southwest Uganda, Nyaka, to train 38 more local leaders - from healthcare workers to community educators specializing in gender equality - on how to heal and prevent cycles of trauma and gender based violence.
Both male and female participants engaged in lively discussions about how, in some villages, women and girls don't have the right to use a pit latrine (a toilet that consists of a hole in the ground) and are denied the right to an education.
Participants also learned how to give Emotional First Aid and Counseling to survivors of violence, and discussed how "Hurt People Hurt People" - therefore healing trauma prevents further violence.
Upon graduation, the participants declared their commitments to the community and what they learned from the training:
"As a Healing Advocate I will help other mean speak up about violence."
"I will help the church in emotional first aid and promote gender equality."
"I have learnt the steps of giving [emotional] first aid to traumatised victims."
"I have learnt that before giving help to others, I must first heal my own trauma."
Our local trainers were equally inspired:
"The participants were busy concentraing and taking notes as they watched the videos. This will change many people's mindset for the better. I wish this training can be taken all over the country."
With momentum from this experience, we look forward to supporting Nyaka with further trainings for Boda Boda (motorcycle taxi) drivers - who are often the first crisis responders for survivors of violence in the community.
Thank you for your continued support! Your generosity is empowering whole communities to transform violence into healing.
With gratitude,
Gratitude Alliance