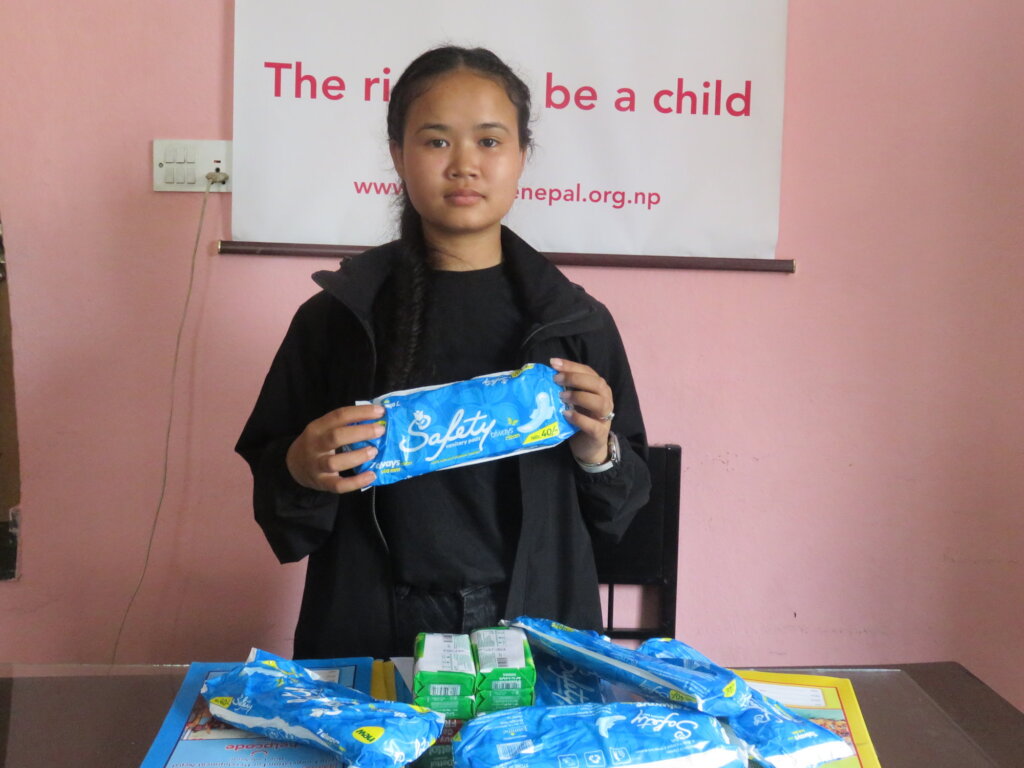 Menstrual health and equity are major factors in gender equality, a situation acknowledged by the UN Human Rights Council in recent years. Integrating menstrual health into programs for sexual and reproductive health and hygiene, sanitation and clean water is an important step in achieving SDGs 3 (Good Health and Well-Being), 4 (Quality Education), 5 (Gender Equality) and 6 (Clean Water and Sanitation). The United nations are calling upon states to "address the widespread stigma and shame surrounding menstruation and menstrual hygiene by ensuring access to factual information thereon, addressing the negative social norms around the issue and ensuring universal access to hygienic products and gender-sensitive facilities, including disposal options for menstrual products."
Helpcode as humanitarian organization promote in Nepal the support of 7 local communities in Chitwan to address the physical challenges of menstruation (obtaining, using and disposing of menstrual products), but also the societal challenges (stigma, social norms and education) with the project HAPPY PERIOD.
Menstruation signals a girl's entry into womanhood, sexual activity, and reproduction and as such, is a crucial time for adolescent girls to learn about their bodies and their health. In Nepal, less than half of adolescent girls have adequate knowledge about menstruation, and only one in ten practices good menstrual hygiene. Adolescent girls' inability to effectively manage menstrual hygiene affects their education, physical health, psychological and emotional well-being, and general quality of life.
Menstruation is a natural process that signals a girl's entry into womanhood. While it affects around 50% of the global population, discriminatory practices and policies prevail around the world. In Nepal, 8.8 million girls and women face a complex set of challenges relating to menstruation, these challenges are often influenced by deeply entrenched cultural and religious beliefs.
Thanks to the HAPPY PERIOD intervention, Helpcode was able to support a total 4000 sanitary pads to girls in Chitwan for a total of 9 schools. Sanitary pads were provided to schools and Menstruation hygiene awareness was also conducted in the schools. Moreover, 150 dignity kits were distributed in Chitwan school adolescents. A total of 610 adolescent girls received the kits and orientation at schools. Helpcode staff conducted orientation on Menstrual Hygiene Management to all the targeted girls who receive the hygiene kits in all the Secondary and Lower Secondary schools in Chitwan in 2021, thanks to the funds raised by the campaign.
Covid-19 situation
Nepal is currently experiencing the second wave of COVID-19, with far greater effects and deaths than last year. As of 26 October 2021, 904,513 people have tested positive. According to a national data, up to 68 per cent of the population may have been exposed. With 11,337 deaths reported, making Nepal among the highest fatality rate in the Asia Pacific when compared to the country's population.
As the current situation of lockdown and social distancing that is still very strong in Nepal rural area, Helpcode staff find very difficult to reach the place to distribute the items, as many schools are closed. Moreover, floods and landslides during the monsoon in November 2021 affected 72 districts across the country, including Chitwan. Communication and transport are very complex, with many roads blocked due to floods and landslides. This situation creates the condition for Helpcode to slow down these activities and close the fundraising campaign.
We would like to express a big thanks you to all the globalgiving friends which supported the HAPPY PERIOD project, which represented a strong message on the importance of girl's health and education for all in Nepal!