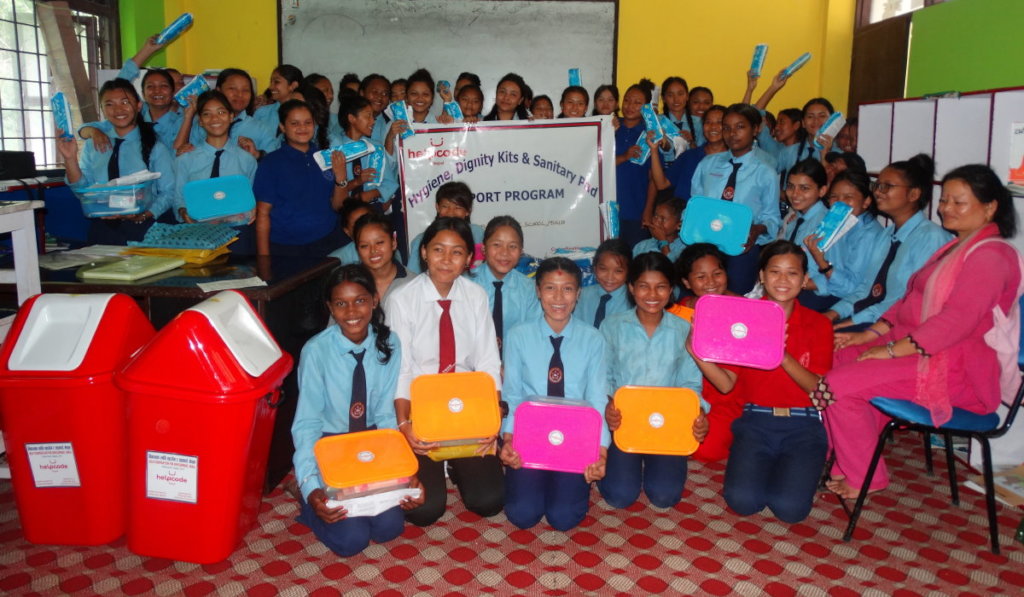 Menstruation signals a girl's entry into womanhood, sexual activity, and reproduction and as such, is a crucial time for adolescent girls to learn about their bodies and their health. Arati, Helpcode Program Manager in Chitwan is telling us that effective solutions to improve menstrual healthcare is still lacking, as evidenced by girls' lack of knowledge and unhealthy practices. In Nepal, less than half of adolescent girls have adequate knowledge about menstruation, and only one in ten practices good menstrual hygiene. Adolescent girls' inability to effectively manage menstrual hygiene affects their education, physical health, psychological and emotional well-being, and general quality of life.
Menstruation is a natural process that signals a girl's entry into womanhood. While it affects around 50% of the global population, discriminatory practices and policies prevail around the world. In Nepal, 8.8 million girls and women face a complex set of challenges relating to menstruation, these challenges are often influenced by deeply entrenched cultural and religious beliefs.
Some of the practical concerns relating to periods are due to lack of access to sanitary pads and poor hygiene in many public schools and communities and the traditional practice of Chhaupadi persists, where girls are separated from the rest of their family and confined to a cow shed during menstruation. Such challenges and beliefs do not only have fatal consequences for girls and women, but can also exclude them from actively participating in their community, education and work.
Thanks to the HAPPY PERIOD intervention, Helpcode was able to support total 3000 sanitary pads to girls in Chitwan in 7 schools. Sanitary pads were provided to schools and Menstruation hygiene awareness was also conducted in the school. Moreover, 120 dignity kits were distributed in Chitwan school adolescents. Dignity kits included underwear, sanitary pads, nail cutter, hair comb, and cloths washing soaps, bathing soaps, hand washing soap, shampoo and towel. A gift by all the globalgiving friends which represents a strong message on the importance of girl's health and education for all.