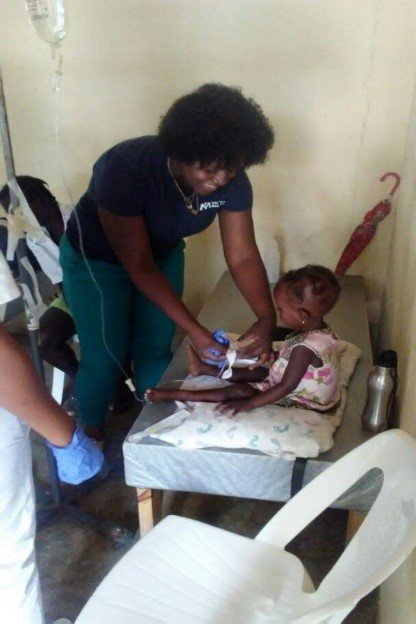 The morning of Tuesday, August 8, Witchina sat up upon her bed, like many a morning for the young four-year-old in the rural commune of Limbé, in northern Haiti. Witchina's day however, would be different. In a few hours, International Medical Corp's mobile medical team would set out as part of a routine surveillance for cholera in Witchina's hometown, the 8th Massabiel district of Limbé. Here, a local community member would tell them of a girl who had been experiencing diarrhea since late the previous evening. Next, they would arrive at a house to see a young girl as small as a 13-month-old baby sitting atop a bed with her arms resting calmly at her side. They would finally discover that this girl was Witchina, and she had cholera, was severely malnourished, and was in need of emergency medical assistance.
Upon this realization, International Medical Corps' team rushed Witchina by car to a cholera treatment center, where she was immediately rehydrated to prevent her cholera from worsening—a step which on that day, may have saved her life. After recovering from cholera, International Medical Corps transferred Witchina to the nutritional recovery center of the Justinian University Hospital where the she spent five days in further rehabilitation for her malnutrition. After the five days, Witchina's health had improved and her mother, while holding Witchina in her arms, thanked our team. Without them, "I would have lost my child," she said.
To prevent the spread of cholera and save the lives of those like Witchina, International Medical Corps is reaching the communities in Artibonite and Nord in Haiti with roving mobile medical units to identify, transport, and treat individuals with cholera and other health concerns, such as malnutrition. Through these teams, International Medical is also providing surge support to 24 existing cholera treatment centers to meet the needs of communities with a high number of diarrhea alerts. Lastly, we are training local health facility staff in holistic cholera case management, revamping local cholera surveillance networks, and conducting awareness sessions on cholera and proper hygiene practices.
Today, Witchina is recovering and making strides towards a healthy weight. Still, even with the awareness of proper hygiene and common symptoms of disease, Witchina's mother may not have been able to seek treatment for her daughter any sooner. The 27 year-old mother has three other children and is five months pregnant with another, struggling to feed all of them just one time day. Were International Medical Corps not able to reach her on that August 8th, she may not have been able to afford transportation to a health facility, which can be double or triple the rate for cholera patients. International Medical Corps will continue to strive for a sustainable reduction in cholera by spreading awareness and treating cases in Haiti to prevent others from being trapped in the situation Witchina's mother was in that day—having neither the knowledge nor the resources to care for her child's emergency.
We thank the GlobalGiving family for their continued support of our cholera initiatives in Haiti as we work to provide health care and build resilience within vulnerable communities.