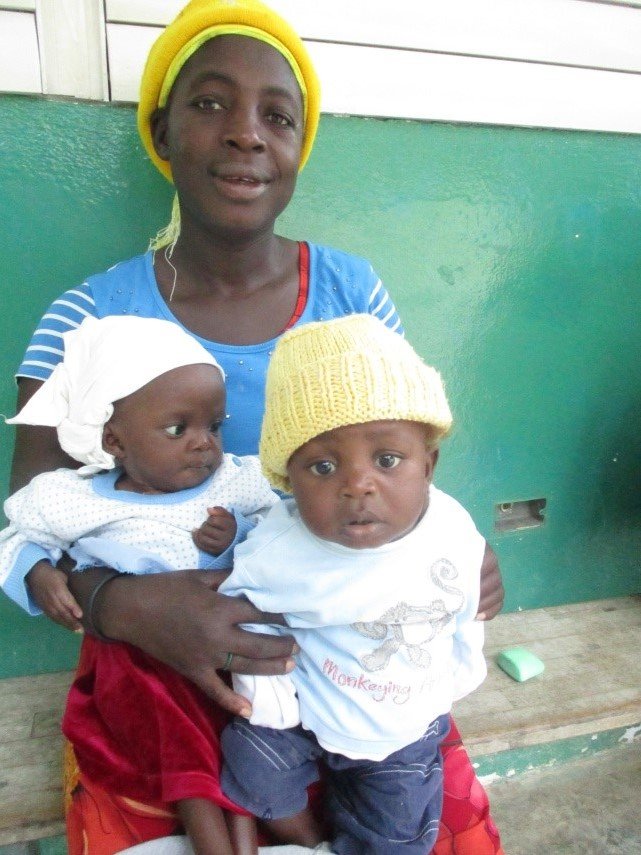 A community health worker volunteering with International Medical Corps was leading an outreach activity at a Mothers' Club for breastfeeding support in Gros-Cheval, near Fonds-Verrettes, when she heard about an 11-month-old girl weighing only 2.7kg (5.9lbs). When she told Franck, the program manager, about this child, his first reaction was, "This child cannot exist!!!"
Amazingly, she did exist. Sanatus and her twin brother were orphaned soon after birth and were living in the custody of an aunt. Sanatus was found to be in a serious wasting condition and needed appropriate care, nourishment and follow-up. Franck made sure she was referred to our nearest nutrition stabilization unit. After 2 weeks of inpatient treatment, she had gained a kilo (2.2lbs) and was discharged to outpatient care. We made sure her aunt understood how to follow the treatment and agreed to visit our local mobile clinic every week for a checkup.
Even before the devastating 2010 earthquake, Haiti suffered from one of the heaviest burdens of hunger and malnutrition in the Western Hemisphere. Today, an estimated 1.5 million Haitians face hunger because of poor harvests and rising food prices. The decline in production has led to households reducing the size of meal portions or reducing the number of meals. In many cases they have also sold their livestock or their land and homes just to survive.
In Fond-Verrettes, located near the southern end of Haiti's border with the Dominican Republic, we are collaborating with the Ministry of Public and Population Health to identify and treat some 1,840 malnourished children under 5. Fonds-Verrettes has a population of about 50,000 with an emergency-level global acute malnutrition rate of 27.7%. The severe acute malnutrition of 12.6% is also well above emergency thresholds.
We are also providing counseling and hands-on support for best practices in infant and young child feeding to about 1,800 pregnant and lactating women with children under 2, and involving fathers in positive nutritional behavior change. Finally, we are helping to build the capacity of local health care workers to treat and prevent malnutrition with training and supportive supervision.
We thank the GlobalGiving community for your continued support as we provide lifesaving medical and support services to young, undernourished Haitian children and their mothers.