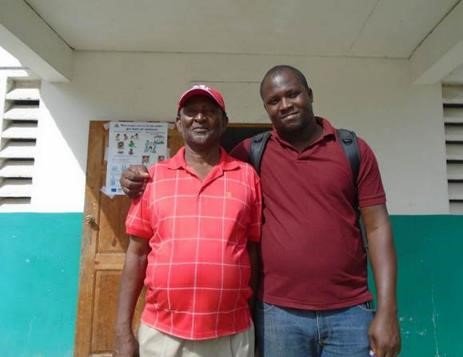 Jean is a 56-year-old security guard at the St. Raphaël Health Facility in Haiti, the hospital where he was born. He survived the January 2010 earthquake and remembers when the cholera epidemic began, nine months later, in September. At the height of the outbreak, the St. Raphaël Health Facility received up to 20 cholera patients a day, with only two nurses to support the overwhelming influx of patients. "Our services were not very good," Jean recalls. "The facility only had six beds so our patients had to lie down on the ground outside. People were dying every week."
A combination of a history of poverty, natural disaster, neglected public water and sanitation systems, and under-resourced health infrastructure have magnified the impact of cholera in Haiti. International Medical Corps has been responding since 2010 with rapid treatment and long-term prevention services in the North Department and the North East Department of Haiti.
"Since International Medical Corps came here we started seeing fewer and fewer cases of cholera almost immediately," says Jean.
Despite this progress, rapid response to cholera remains critical, particularly for the men, women and children living in remote and hard-to-reach areas. Due to mountainous terrain and a lack of roads, seeking health care can be a challenge—as can getting to the communities. As cholera can kill within hours if left untreated, our Mobile Medical Units respond to reports of cases within 24-48 hours. These teams are staffed by doctors and nurses and carry medicines and medical supplies that may be needed.
Because cholera thrives in places where clean water and proper sanitation are not consistently available, Mobile Medical Units are a critical piece of a total response that includes providing Cholera Kits to affected households. These kits include a bucket, soap, aquatabs, and oral rehydration solution. We also disinfect the home itself along with the ten closest homes and latrines, using the cordon sanitaire strategy, effectively creating a barrier against further infection.
International Medical Corps trains community health workers in disease surveillance and medical response. We also empower local communities to change behaviors favorable to the spread of cholera. Our cholera treatment and prevention campaigns include teaching the importance of hand-washing and using latrines, and keeping livestock from defecating in homes. We demonstrate the importance of boiling water to avoid contamination and the risk for cholera.
Our focus group discussions, educational campaigns in the schools, coordination meetings between health facility staff and community health workers, and radio messaging all contribute to stopping the spread of cholera.
Now thirty-four years into his job, Jean has many roles. In addition to being a security guard, he trains and supervises a team of 17 hygienists and cleaners, and works as a logistician for nutritional medical supplies and as a technician to ensure clean water at the St. Raphaël Health Facility. Jean shares International Medical Corps' dedication to reaching those most in need.
We thank you and GlobalGiving for your support as we continue to address the most urgent medical needs in Haiti.