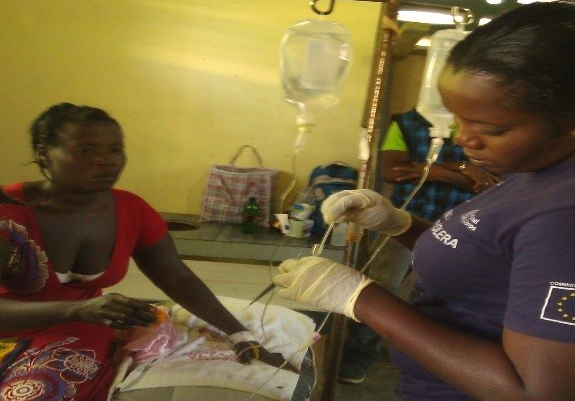 Cholera, an acute intestinal infection caused by ingestion of contaminated food or water with the bacteria that causes it, can kill within hours if left untreated. However, with proper care the mortality rate is under 1%. The deadly cholera epidemic in Haiti is still on the rise, with an estimated 50,000 new cases this past year, up from the approximate 28,000 in 2014. More than 8,800 people have died from cholera and more than 736,000 Haitians have been infected since the outbreak began in 2010, months after the devastating earthquake.
International Medical Corps is proud to be the only international aid organization operating in the North and Northeast departments nearest Cap-Haitien, where the need for cholera treatment is great. International Medical Corps' applies a holistic approach to cholera case management, recently training 90 health professionals and providing education for remote affected communities on prevention. When a cholera victim is identified, the teams disinfect his or her home to prevent the spread of cases. International Medical Corps is also advocating for, and repairing and building new cholera beds, which are specifically designed to accommodate the needs of cholera patients. The beds are typically simple to maintain, promoting hygiene and allowing for ease of access to bed pans.
With 33 cases already reported in the first two days of 2016, fighting cholera in Haiti is as critical as ever. Our mobile medical units are working every day to treat patients in cholera treatment units and in communities. As cholera is caused by contaminated water, we are also constantly working to reduce its risk by building sanitary infrastructures, including clean water sources, latrines, showers, foot baths and handwashing stations, as well as by building kitchens with access to clean water in local schools.
With the support of GlobalGiving and other generous donors, International Medical Corps continues its commitment to serve the most vulnerable populations and administer lifesaving treatment for cholera in Haiti.